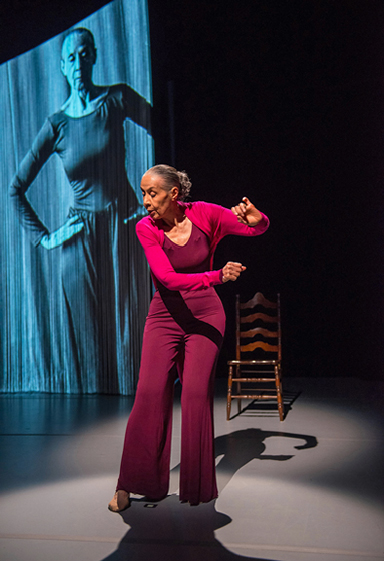 Carmen de Lavallade
As I Remember It – New York City Premiere
February 20, 2015
Baryshnikov Arts Center
All Photos by Stephanie Berger
.
As I Remember It is a celebration of a life given to the arts, as told by Carmen de Lavallade. To see her, telling her life story, looking willowy, strong and gorgeous at age 83, moving with grace and purpose, performing this hour long one woman show, is to be inspired.
.
One refrain from the show has Ms. de Lavallade saying "Everything with a purpose," before she inventories the details of movement that make up a dancer's work. As she dances, we can see the results of a lifetime spent paying attention to every small detail while still delivering the overarching emotion of each phrase. We can also see the spectrum of expression that can be achieved when a dancer is also an actress.
.
The bare stage is set with an asymmetrical frame from which hangs material resembling white silk strands. The network of strands becomes the projection screen or the curtain behind the proscenium arch. The strands can ripple to lovely effect, as if being blown by the wind. Ms. de Lavallade wears the clothes of the dance studio, a leotard, jazz pants and a magenta colored sweater with long ties. Throughout the evening the sweater becomes part of her movement.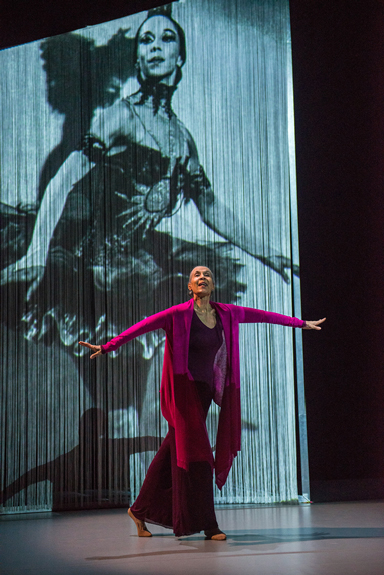 Though dance fans will devour this performance, I felt that it could be just as accessible to those who aren't familiar with dance. It's the story of a life well lived, and the humanity of the woman who lived it. The story is also set within the context of the American experience throughout the decades in which Ms. de Lavallade has lived and worked, including the struggle for civil rights, and the pressures brought to bear on artists during the Red Scare.
.
She recreates her childhood in East LA by listing the fragrances of flowers and citrus fruits that grew there. She recreates wisps of childhood dances that she and her sisters acted out to accompany their favorite radio programs. She speaks of her grandmother and each one of her aunts by citing something special about them — with just one well crafted phrase we begin to get a feel for who they were, from artists and educators to activists. She speaks with great affection about her father, who worked as a master bricklayer and who raised all of the food that the family ate.
.
Her cousin Janet Collins was the first black ballerina to perform at the Metropolitan Opera House. Determined to follow in her cousin's footsteps, Ms. de Lavallade begins to take ballet classes in which she is the only person of color. During this era, it was not uncommon for a group of white girls to walk out of a ballet class if an African American girl was present. Of this time, Ms. de Lavallade says, "I focus on my dance. I rarely go out."
.
When she came of age, she found that her prospects were limited because very few companies would even consider hiring a black dancer. She was hired by Lester Horton.
.
Most modern dancers have taken class in Horton technique, but Ms. de Lavallade gives us living breathing insight into Lester Horton and his company. His company practiced on stage, not in a studio. There were no mirrors. They worked on complex stage sets and rehearsed getting around the stage with their eyes closed. The dancers were also expected to do chores. "Clean the bathrooms, sweep the floors." They worked seven days a week.
After carefully observing Bella Lewitsky, Lester Horton's muse, in the role of Salome, Ms. de Lavallade was called upon to perform it at age eighteen. Horton encouraged her to dance the role in her own artistic voice. She reenacts how, on her opening night, she stepped through the curtain, only to have the tape with her music break.
.
The Horton Company came to the 92nd Street Y in New York City, having crossed the country in a caravan of station wagons. In a wonderful sequence, Ms. de Lavallade re-enacts phrases of a dance, using the long tails of her sweater as a stretchy modern dance costume, wrapped around her head and shoulders. She peeks out at the audience from behind the fabric and her brow furrows. "The house is half empty!" With no advance publicity, the Horton Company's season turns out to be a financial disaster for the company, who had to wire back to California for emergency funds just to get home. It is weeks later that the reviews appear, and the company wins critical acclaim.
.
They struggled financially, so Horton took to choreographing for the movies. As Ms. de Lavallade shows footage of her first speaking role in a film, she cautions the audience, "Don't blink."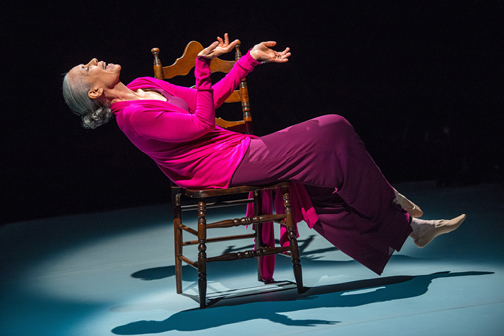 There is a lovely informality to her telling of the story. When she plants her foot on an ottoman and nearly misses, she just wags her finger at the thing and does it again, this time getting it right. When she forgets the name of someone in her story, she moans that it's terrible to get old. Someone off stage feeds her the person's name. It's all done so easily and organically that we don't know if she intended it that way or not.
.
After Horton's death, company member Alvin Ailey begins choreographing. They both wind up in the cast of the musical _House of Flowers_, along with Pearl Bailey, Arthur Mitchell and her future husband, Geoffrey Holder. It's around this time that Ailey and Mitchell begin to form their own companies. She goes on to work with Ailey in a venture called the American Dance Company, but she receives top billing and this creates trouble.
We're shown a clip of the opening of a 1961 episode of The Ed Sullivan Show. At first I was so surprised. Had there really been dance of this caliber regularly shown on TV in this era?
.
But before we can become nostalgic, Ms. de Lavallade reminds us of the political climate of the day. Not only did she have to deal with racism and segregation on the set — the Powers That Be did not want her dancing with her partner Claude Thompson who was black, but instead with choreographer John Butler. She also had to swear an oath that she wasn't a Communist, as did everyone who appeared on the Sullivan show. She quoted Bella Lewitsky, who when appearing before the House Un-American Activities Committee, said "I'm a dancer, not a singer."
.
Though Ms. de Lavallade's stories are riveting and left me longing to hear more, it was her charm, humor and her affection for the stories and the people she knew, that made the performance so memorable. She is a woman who achieved the heights of artistry, worked with a host of renowned artists, and made history along the way.