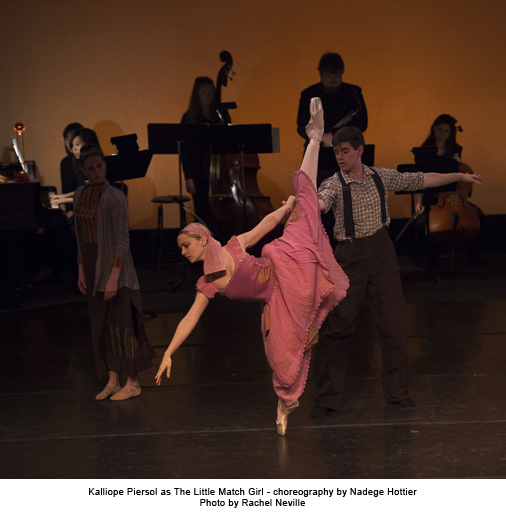 Premiere Division
January 4, 2015 – Matinee
The Winter Show
DiCapo Opera Theatre
.
Premiere Division's Winter Show delivered well crafted performances of three story ballets choreographed by Artistic Director Nadege Hottier.
.
The Little Match Girl was heart breaking in its beauty and sadness. Ms. Hottier's choreography captures the isolation of poverty and exclusion against the backdrop of glamorous life in a big city. Players from The Bleecker Street Septet are lined up across the back of the stage as the dancers bring mid-twentieth century New York City to life, complete with gangsters and paper boys roving the street alongside Ziegfeld Girls dressed in lovely period costumes. The stage lighting, which is often on the dark side and sometimes done in sepia tones, enhances the atmosphere of a bygone era of the city.
.
As each group dances, others remain on stage, posed like figures in a wax museum. The Ziegfeld Girls dance on pointe, but Ms. Hottier adds lovely jazz details, like an occasional dip into the hip, a flexed foot as a musical accent or finger snapping to the bassline. Mac Twining, Salim Ingram and Julian Watson provide strong solos. Their turns and leaps are powerful, but it's their musicality that really impresses me. This has to be said of the entire company. I've rarely seen a group of dancers this young who are as sensitive to the music as they are to their technique.
.
Kalliope Piersol, in the role of the Little Match Girl, gave one of the standout performances of the afternoon for me. She seemed so confident in her technique and the execution of the choreography that she was able to disappear into her role and conjure such compassion for her downtrodden character. She watches the glittering lives of the city's characters from the sidelines. When she dances, she infuses each step with emotion. She reaches out, her hand tense with desperation. Her torso contracts as she hugs herself against the cold and we can feel the chill. She sails easily through turns which, along with her rose colored costume, seem to symbolize the strength of her dreams and her spirit, and her will to go on in spite of the hardships she endures. Her sadness and suffering stands out in sharp relief against the frolic of the characters she watches on the street.
.
Finally ground down by her hard life, she sinks to the floor. Soprano Allison Clare sings Rachmaninoff's mournful Vocalise as the Match Girl is visited by an angel dressed in black, danced by Kellyann Pintauro. Ms. Piersol and Ms. Pintauro dance together in solemn beauty, often in unison. Even though the story of this ballet is so sad, it is danced with such uncommon heart and sophistication, and staged with such style, that I'd love to see it again.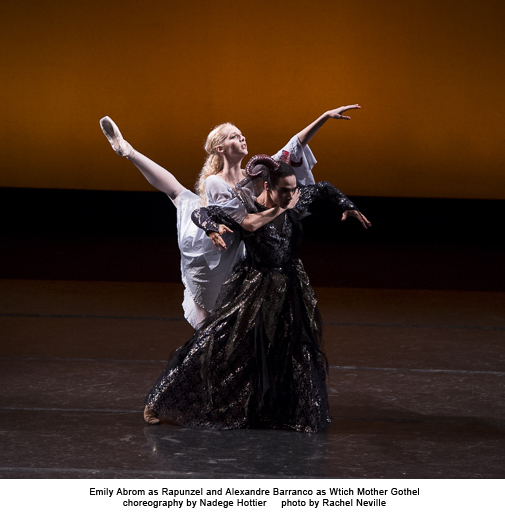 Guest artist Alexandre Barranco plays the part of the Witch Mother Gothel in Rapunzel. Dressed in a sensational floor length black and gold gown with ram's horns sprouting from his head, he alternately lurks and raises his chest like a sleek animal on guard.
.
In the role of Rapunzel, Emily Abrom is angelic. A long legged ballerina dressed in white, wearing her long blonde hair loose, she enters the scene like a beam of ethereal light. Her adagio movement is regal and her developpes are luscious, unfurling till the very last tone of a phrase. The Adventurous Prince who courts her is danced by Mac Twining, a young man who moves with assuredness and exudes charisma. Their pas de deux begins with the two of them holding hands while standing back to back, which seems to captures the sweet and tentative movement of a new young love, as well as Rapunzel's apprehension about retaliation from the Witch if she gives in to her heart. The Prince carries Rapunzel on his back, but soon enough she embraces him, even as the Witch looks on and eventually drives the two apart.
.
Mr. Barranco is arresting as the Witch twists and plots and attempts to intervene and control the fate of the two young lovers. He moves slowly, wielding a sword with power and ferocity, and we fear it will be used as a weapon against the young ones. A defiant Rapunzel returns to the Prince and their love vanquishes the Witch, who writhes on the ground until she lays still.
.
Ms. Hottier's take on The Nutcracker is stylish, original, and full of risks given the familiarity that many ballet fans have with all the different Nutcracker choreography so heavily influenced by Marius Petipa and Lev Ivanov. Ms. Hottier's Nutcracker also has the flavor of the mid-twentieth century city.
.
The Housekeeper in the Party Scene, played by Kellyann Pintaruo, is adorable as she struggles to balance a stack of brightly wrapped Christmas presents to be placed alongside a diminutive tree. The guests are hilarious, moving in modern dress, low in plie, duck walking and thrusting their chins forward, changing focus with comical timing. The women look as if they'd stepped out of the pages of an old time issue of Vogue. Clara, played by Kalliope Piersol , drifts off to sleep hugging the Nutcracker doll given to her by a Dandy, a guest at the party. She wakes to find herself with the Dandy, traveling through the Swirl of Snowflakes, and arriving at a Toy Store with a Machiavellian owner. Emily Abrom is all icy elegance in a white fur coat, dancing the role of The Lady Snow Queen with her Cavalier, Jacob Hiss. Wayfarers dance in raincoats and pop open their umbrellas while one lone Snowflake, Micayla Frank, lies on her stomach, facing the audience with a cute dreamy smile as she flutters her legs.
.
The Toy Store scene features the variations that we all know and love, Spanish, Chinese, Marzipan, Arabian and Harlequin. The dancers are most entertaining and theatrical, and the costumes by Noriko Hara are magnificent. Alexandre Barranco is formidable as the Dandy, in a solo full of striking leaps and turns. His footwork is precise, silent and clean. Again, I am thrilled to see that his technique is matched by wonderful musicality.
.
The Waltz of the Flowers is so far removed from any other version that I've ever seen. It is steep in technical demands, yet the dancers are up to it and appear to execute the dance effortlessly. Instead of being a big colorful production number, most of the movement is adagio. Kalliope Piersol's Clara  is girlish, innocent and lovely, even as she demonstrates great strength, performing challenging promenades, penches and long balances on pointe.  She is expertly partnered by Mac Twining.
.
I'm impressed with Premiere Division and I look forward to seeing future work from them.
.
Founded in 2013, Premiere Division offers year round training and summer intensive programs for strong dedicated dancer, focused on high quality individualized training and an enriched stage experience. While the core training is rooted in strict European traditions, they also, by the means of in-program workshops, establish training in modern and contemporary techniques and styles. Their training emphasizes strength, endurance and precision. Artistic Director Nadege Hottier has trained in contemporary ballet with Maurice Bejart, and with neoclassical masters Valery Panov and Uwe Scholz.