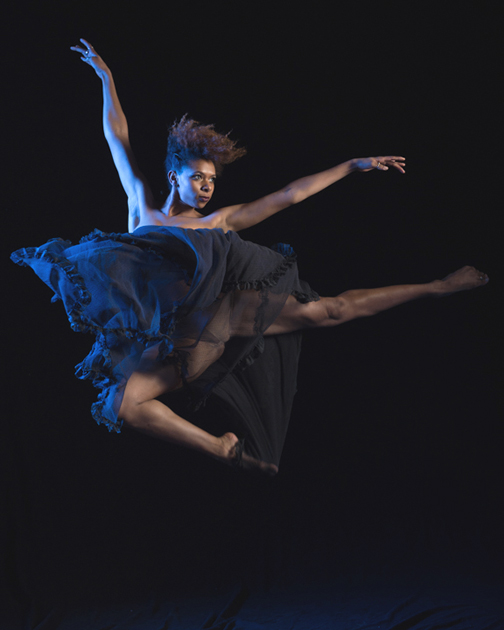 Panel Discussion with Dance Iquail
Riverside Theatre
February 2, 2015
.
On February 13th and 14th, Dance Iquail will be presenting a ballet titled Black Swan at the Ailey Citigroup Theater.   Executive and Artistic Director Iquail Shaheed and Harlem Arts Alliance presented a powerful program of dance, talk, film and video, along with a panel discussion on the subject of the ongoing segregation, diminished resources and social disenfranchisement that still exists in the dance world in 2015.  The evening went from strength to strength and left us with much to consider.
.
The program opened with a short excerpt from Carmen de Lavallade's As I Remember It, a solo performance in which poignant movement, film, and storytelling weave an unforgettable memoir about her venerable life on stage.  The full length show will be presented at the Baryshnikov Arts Center, February 19th – 25th.  Producer Anna Glass referred to the event as "Carmen giving a master class on stage."  Ms. de Lavallade, who at 84 remains fit and beautiful, moving with grace and elegance, talked about her experiences with theater and dance, and how study and work in each discipline enhanced her abilities and expression in the other.
.
Dance Iquail presented But Beautiful, an excerpt from Black Swan, choreographed by Iquail Shaheed with music by Nina Simone.  I was impressed by the unique voice of the choreographer and the dance's fresh approach to combining classical and modern movement.  The dancers are barefoot, the women wearing black leotards and black tutus that are short in front and longer in the back.  Several references are made to iconic ballets.  The dancers stand still on the diagonal, their right arms raised, reminiscent of Balanchine's _Serenade_.  Then with what seems like telepathic timing, their arms softened with classical grace, and I couldn't help but sigh at the power and the beauty of that little gesture.  Four women take hands to form the line of the Cygnets from Swan Lake, and they execute the port de tete from the classic choreography.  But their torsos contract and they peel off from the group, one by one, as if to display their individuality and to reject the conformity demanded of the present day classical ballerina in body shape and skin color.  Dance Iquail's mission is to use the art of dance as a conduit for combating issues of social injustice primarily experienced by the disadvantaged.  This was expressed beautifully in the dance.  This is the type of mission that I deliberately seek out in the arts.  I look forward to seeing their evening length performance at Ailey and their future work.
.
Panel discussions that pack the punch of Black Swan: Solidarity Beyond Colored Pointe Shoes are way too few in the dance world.  Panelists included Karen KB Brown, former principal dancer with Dance Theatre of Harlem and Artistic Director of Oakland Ballet, Andrea Long-Naidu, who danced with New York City Ballet and Dance Theatre of Harlem, Iquail Shaheed, Zita Allen, dance writer, journalist and historian, and moderator Baraka Sele, former Assistant Vice President of Programming for the NJPAC Alternate Routes series.
.
Recurring themes in the discussion included our generation's awareness (or lack of awareness) of dance history, and what we're passing on to the generation now coming up. Not just the performance highlights, but the struggles and resilience faced by black dancers in the context of racism and segregation in American history.  Iquail Shaheed talked about the need for a community engagement campaign.  This is so vitally important.  We have to call things by their right name.
.
Zita Allen, the first black critic for Dance Magazine, talked about her early ballet training in Austin, Texas, where she was only allowed to come to the studio if she came in through the back door, accompanied by eleven other students (and no fewer) after everyone else had already gone home.  When one student quit, the rest of the group was no longer welcome.
.
The story was told about the career of Raven Wilkinson, a light skinned black ballerina who was invited to join the Ballet Russes de Monte Carlo in the 1950's, provided that audiences never found out that she was black.  She was often made to wear white makeup on stage, to travel separately, and she was excluded from performing in certain towns in the American south.  While the company was in Atlanta, word was leaked that there was a black dancer in the company.  In response, the Ku Klux Klan sprang into action.  They barged into rehearsal, cornered Alicia Alonso, and demanded to know if she was the "n" in the company.
.
Not all displays of racism are as blatant, but they are just as damaging.  Alicia Graf would be told "you're too tall" for a specific role.  Josephine Baker had to become a caricature in order to draw an American audience, while in Paris she could be glamorous.  It's said that Balanchine wanted ballerinas to have skin the color of a peeled apple.  Courtney Lavine and Aesha Ash were corps dancers who were never able to move up the company hierarchy.  Iquail Shaheed overheard his teachers, while casting a ballet, saying of him that he needed to stay out of the sun.
.
Baraka Sele pointed out that the demographics of ballet companies do not reflect the demographics of the country, yet the companies receive funding from, among other entities, the American government.
.
She also encouraged ballet students and fans to read and know history.  "It's not enough to raise your leg high."
.
Zita Allen echoed this, stressing the importance of understanding the historic context of favorite ballets.  It enhances a dance fan's appreciation of Revelations if she understands what was going on in America circa 1960.  Ms. Allen encouraged young choreographers to care about the world that they are living in and to address the political in their works "even if it's done obliquely".
.
Karen KB Brown talked about the absurdity of putting black ballerinas in pink tights and pink pointe shoes.  This type of costuming cuts the look of the dark skinned ballerina in half.  For choreographers and artistic directors who protest that they can't use a black ballerina because she will stand out too much, Ms. Brown's "solution oriented" advice was that they should hire more than one.
.
Several of the panelists gave book recommendations.  Books mentioned included The Black Dancing Body and Joan Myers Brown & the Audacious Hope of the Black Ballerina by Brenda Dixon Gottschild, The New Jim Crow  by Michelle Alexander and The Autobiography of Malcolm X as told to Alex Haley.  Andrea Long-Naidu advocated reading spiritual books, to help dancers develop the inner strength that they will need to progress in the dance world.  Iquail Shaheed talked about sending his students to the web to research dance history.  He recommended Jacob's Pillow's Interactive Web Site, where he was able to learn about the genesis of Creole Giselle.  He put out a call for dancers to put their archives up online, where they'd be available to everyone.
.
I loved this event.  Those who made up the panel were so inspiring.  They raised thoughtful questions, they taught me and they left me with a thirst to learn more.  I'm hoping that there will be more talks like this to come, because they are sorely needed.
.
The video below, Sun Moon Child with music by Imani Uzuri was shown at the end of the evening.  Take a look.  If you're older,  it will bring back great memories that might drive you to tears.  If you're young, it will school you.