I'm on my way out, hoping to catch the Latin Choreographers Festival tonight.  Here are a few things that caught my eye this week: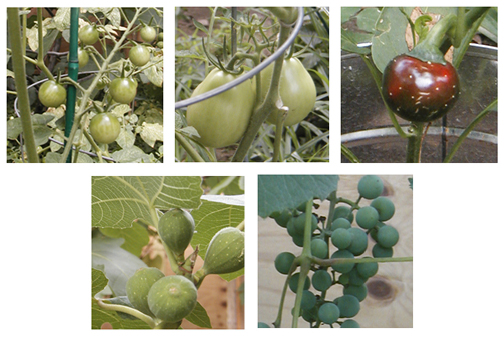 Scenes from our backyard "farm".  Cherry tomatoes, plum tomatoes, red cherry peppers, figs and grapes.  Last spring, the local feral kitten population mistook our young plants for toys.  They wound up destroying more than half of the crops, but we've figured out a way to peacefully co-exist with the kittens for the rest of the summer and for next year.
::   ::   ::   ::   ::
I heard Rulan Tangen, Artistic Director of  Dancing Earth, interviewed on the radio earlier this week.  I was so drawn to the things she was saying and I wish that I could see her company's upcoming performances.  But their concert is in Santa Fe and I am here in Brooklyn, so instead of seeing the concert I spent some time viewing the galleries and videos on the company's web site.  They're really beautiful.
If you're lucky enough to find yourself in Santa Fe this month, you can see Dancing Earth's  acclaimed eco-production Bodies of Elements – Friday, August 19, 2011 at 8:00 p.m. at the James A. Little Theater campus of  NM School for the Deaf on Cerrillos Road
::   ::   ::   ::   ::
Another reason why I would love to visit Santa Fe this summer would be to see Robert Mirabal perform Po'Pay Speaks.  I saw Mirabal playing drums, shakers and Native flute for Eiko and Koma's Water last weekend (I'm still finishing up an article about this performance) and I really loved his music.  His web site and blogs are well worth the visit — they're full of good words, images, video and sound.
I'd never heard the name Po'Pay before visiting Mirabal's blog, but the more that I read about him, the more I wanted to know.  He was a visionary and mystic who in 1680 organized a unified revolt against the Spanish, and saved the people of the New Mexico Pueblos from extinction.   Mirabal will be telling the story in songs, dances and words, throughout August and early September.  Details about the performances can be found here.
::   ::   ::   ::   ::
So did you hear a word about this on your cable news channel?
Israelis Chant, "Mubarak, Assad, Bibi Netanyahu!"
Didn't think so.  Me either.
Tens of thousands of Israelis in nine cities have poured out on to the streets, demanding that Israeli Prime Minister Bibi Netanyahu resign.  70,000 came out in Tel Aviv alone.
I know that there is a resistance within Israel and I know that their government clamps down hard on it and that our media won't bring it in to the conversation.  But the video below,  courtesy of TheRealNews.com, is a real eye opener.  These are my people.
"They only talk about security.  Terrorism, terrorism, terrorism.  ( . . . )  They have to stop telling us fairy tales that because of security, we must tolerate everything."