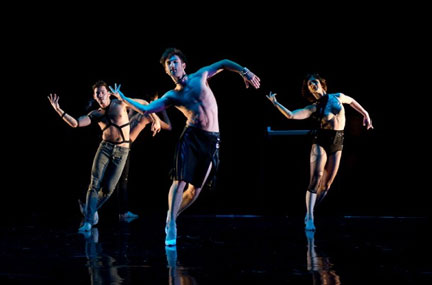 Keigwin + Company
Exit
Joyce Theater
Sunday, March 13, 2011
Keigwin + Company's Exit was a great time from beginning to end.  The evening length dance is set in a dark smokey night club.  Along the back of the stage, there is an unadorned black wall containing an exit door that seems to lead to a back alley.  The dancers are decked out in full club regalia, down to their torn fishnets.
They move with abandon and aggression, shedding costume pieces without inhibition.  Several of the ensemble passages were just so exuberant and such pure entertainment.  On the way out of the theater, I overheard someone in the audience say, "It would be fun to party with them!"  I loved the dynamics of these dances, especially as the aggressive movement seems to melt into something unpredictably supple, silent and almost balletic at times.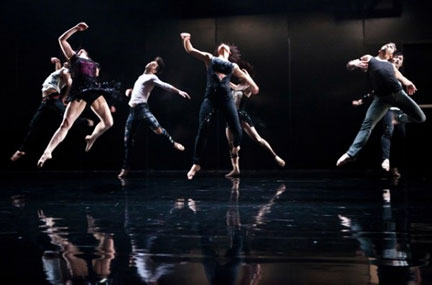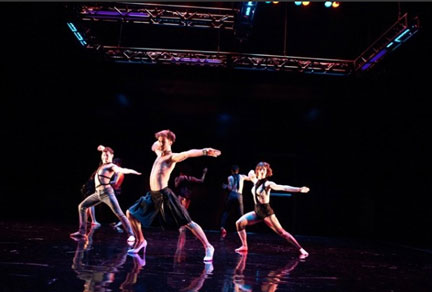 There were low key passages too, in which couples and trios mostly dealt with conflict amongst themselves.  The women sought affection from the men and found themselves rejected.  One man spurned the advances of another, while keeping his eye on a third man who had no interest in him.  Along the black wall one dancer pins another, either for romance or for a fight.  We've seen this behavior before and we've seen it dramatized on stage, yet nothing in the dance seems cliche.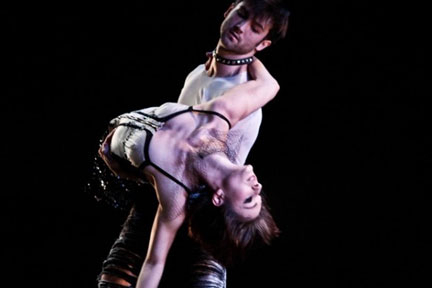 There was also plenty of camp.  While one couple struggled with each other, a third man, dressed in nothing but a dance belt, a sheer shirt and a pair of skyscraper heels, paraded in through the exit door and lip synched to Sammy Davis Jr.'s I Gotta Be Me.  In another scene, lit as if with a black light on Day Glo paint, the company, including the men, danced (and I mean really danced!) in white high heel pumps.  They moved with ease and exhilaration, carrying it off in high style.  Toward the end of the evening, poppers exploded from the wings launching confetti and metallic silver streamers, which stayed on the stage for the remainder of the dance.  This worked beautifully when the streamers got caught on the dancers' feet and swirled around them as they turned.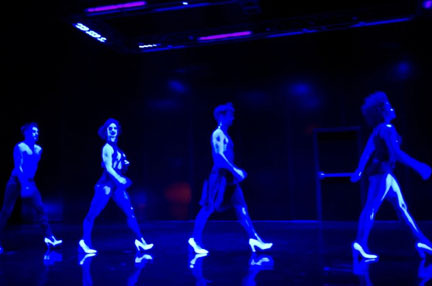 The fabulous music for this dance was composed by Jerome Begin and Christopher Lancaster, and performed by Jerome Begin.  This was electronica at its best, with the beloved synth drums of club music sometimes accompanying beautiful noise and sometimes set against haunting melodies.
By the end of the evening, I felt as if I had a passing acquaintance with each of the dancers, caught a glimpse of their flamboyant side and their darkness, and was reminded of how great it feels just to get together, to dance and to party.
The company received a standing ovation.  The woman sitting behind me squealed, "Can they do the whole thing over again?  Right now?"