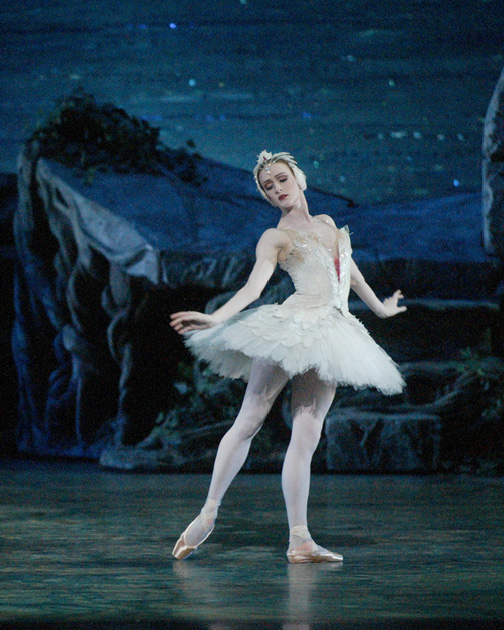 Swan Lake
American Ballet Theatre
June 28, 2011
Even after having spent decades at the theater watching dance concerts, I continue to hold a special place in my heart for American Ballet Theatre's production of Swan Lake, choreographed by Kevin McKenzie.  For me, every last detail of the ballet is just beautiful.  The pastoral sets and swirling  skirts in so many shades of blue, all designed by Zack Brown, just delight my eye from the moment the dancing begins.  Even though everything involved with the production is so purely classical and pleasing to the eye and the ear, still the story always carries that undercurrent of edginess, to give it an added spark.
This season I saw the lead roles performed by Gillian Murphy and David Hallberg.  Both dancers disappeared into their characters.  Throughout the entire evening, there was never a moment when I felt that I had to suspend disbelief.  Mr. Hallberg's Siegfried seemed to possess a mischievous streak, as if he was almost a bit of a rebel.  Even though he appeared young and almost boyish in Act I, there were moments when he seemed to have a devilish gleam in his eye, and this showed itself in his movement too.  I was so happy to see Susan Jaffe playing the role of the Queen Mother and I enjoyed the few brief moments that she shared with Hallberg.  The Pas de Trois, danced by Renata Pavam, Simone Messmer and Sascha Radetsky, was especially lively and lyrical.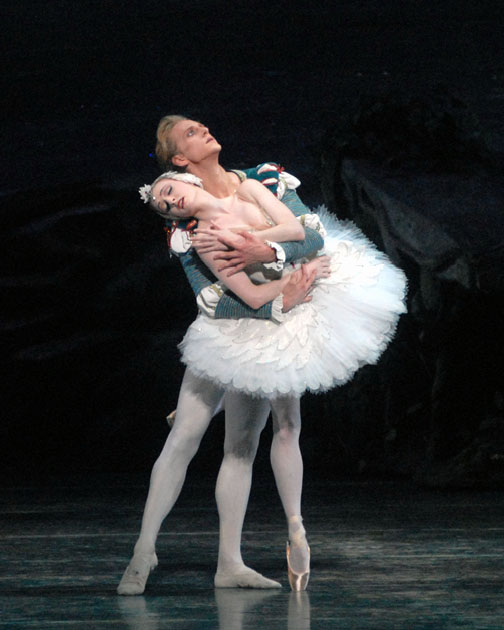 Ms. Murphy made the most vulnerable Odette.  She is such a convincing actress and her movement is so organic to her character.  This was especially evident in a breathtaking sequence of pirouettes and pique turns toward the end of Act II in which she just sailed as if weightless and riding on the wind, the way that a bird would.  As the dynamics of the music shifted and built, she picked up speed in a seamless transition.  When she is partnered with Mr. Hallberg, their dancing seems effortless.  There is such strong chemistry between them.  They moved through balances, penches, turns and lifts as if they were one entity.   At times, it was almost as if they weren't even touching, but instead just floating along together side by side.
In sharp contrast to her guileless Odette, Ms. Murphy blazed on to the stage as Odile.  From the moment that she made her fiery entrance in Act III, she appeared to be in complete control of the moment, a combination of defiant bad girl and femme fatal.  Her spirit was every bit as convincing as her dancing.  For me, this act was the crescendo of the evening, and I hung on every single gesture and step.
The entire cast, from the players in the party scenes to the swans, were just magnificent.  The big ensemble dances were so uplifting and full of life.  Every formation struck by the swans is just so achingly beautiful and the sets at the lake completely capture the atmosphere of the forest.  They are among my favorite in all of ballet.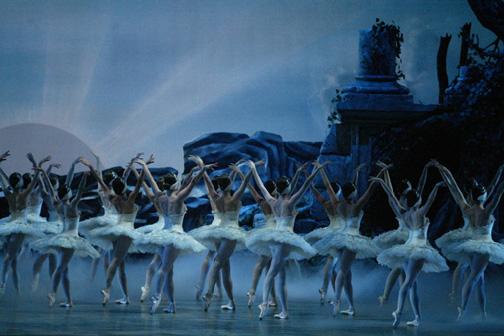 It seemed as if the evening was over almost moments after it started. At just the moment when I was sure that I'd witnessed something close ballet perfection, I was reminded of the things that are sometimes in store when you go to see live theater.  When it came time for the bows, the swans were assembled on stage, behind the scrim.  The scrim began to slide in to the left wing, but it only made it about a third of the way across the stage before it got stuck.  We could see that it was being yanked, but it was stubbornly refusing to move, so finally it was lifted vertically, clearing the stage and vanishing above.  What a relief that this didn't happen earlier to mar this beautiful performance.
I look forward to ABT's Swan Lake every year and I always feel a little heartbroken when it's over.  This year was no exception.