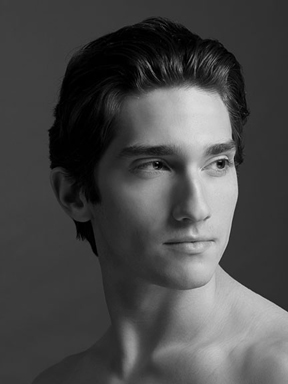 New York City Ballet
Dancers Chat with Zachary Catazaro
January 28, 2011
Photo by Paul Kolnik
On selected Friday evenings during New York City Ballet's season, they offer an event called Dancers Chat about an hour and a half before curtain.  Across the street from Lincoln Center, in a studio in the School of American Ballet (SAB – the official school of New York City Ballet), there are about one hundred chairs set up for guests who reserve seats.  A moderator interviews one of the company's dancers and opens the floor to questions from the audience.  This was my first visit to a Dancers Chat and it turned out to be a wonderful experience that I highly recommend.
On this Friday evening, we met Zachary Catazaro, who dances in the corps.  Throughout the informal 45 minute discussion, he was friendly and very forthcoming.  The audience seemed very friendly too, and even joined in sharing anecdotes about performances that they'd seen while firing questions at him.
One of the highlights of the chat came when he shared his reflections on the experience of playing the Cavalier in a performance of The Nutcracker last year, with Rebecca Krohn as his Sugar Plum Fairy.  He had one month to prepare for the role.  He mentioned that he wanted to be in fighting shape because the costume has white tights.  He said that throughout all the years that he'd watched the role of the Cavalier being performed, he'd always felt that it was a role he'd love to dance.  But the reality of it was that the role is very hard.  Once the Cavalier comes out, he doesn't leave the stage.  The dancers who had experience with this role advised him about just how to expend his energy.
Throughout the evening, the subject of the economical use of a dancer's energy came up again and again.  The host quoted Margot Fonteyn as saying that the hardest thing in dancing a ballet was knowing how to pace oneself and knowing when to breathe.  I would have thought that the hardest thing would be remembering all that choreography, but he said that it's relatively easy to remember.
He mentioned that years ago, the Second Act soloists in the Nutcracker also had to play  Parents in the Party Scene and Mice in the Battle Scene and still have the stamina and focus left to perform their featured roles in the Second Act.  It's no longer done that way.
It was heartwarming to hear him say that on the night that he danced the Cavalier, the other dancers cheered him from the wings.  He kept saying how supportive the company members are of one another even though they are always engaged in 'friendly competition'.  No barracudas in the company, regardless of what Hollywood films have to say on the subject.
He also said, though I'm not sure if he was joking, that the dancer who is in the role of Mother Ginger receives hazard pay for having to get up on stilts.
When asked about his favorite ballets, he listed Cortege Hongrois and Opus Jazz.  He's currently rehearsing Cortege, as well as Prince Siegfried in Swan Lake with Ana Sophia Scheller.  He said he also hopes to dance the role of the Brown Boy in Dances At A Gathering.
He attended Public School, finishing High School in two years time so that he'd be able to devote himself full time to his ballet training when he joined SAB at the age of 16.  He talked about some of the dancers who are taking college courses.  Once he went into detail of the exhausting schedule that a ballet dancer must maintain, it's absolutely amazing to me that any dancer could take on college courses on top of all that.  He mentioned that some of them get together and study on Sunday evening, because that and Monday is the only time they have off.
About Alexei Ratmansky, he said that he loved working with him.  He was very nice, very particular, and that he knows exactly what he wants, but he also listens carefully to the dancers.  He is steeped in the history of Russian ballet.
Regarding partnering, he said that a dancer has to train in partnering from a young age.  The type of build that a dancer has can affect his partnering skills.  Short slender men are usually not as good at partnering, but he mentioned that Joaquin De Luz was the exception to this generalization.
He told us that Mr. B (George Balanchine) wanted "fingertip partnering".  As Mr. B taught it, the man does not help the woman spin in turns.  He pointed out that at NYCB, partners do not hold hands in the "handshaking" position as the woman performs a promenade; instead the woman lays her hand on top of her partner's and uses it for balance, the way she'd use the barre.  When he said it, I could remember so many famous photos in which I'd seen the hands placed in that position.  It's so interesting to have these little details pointed out.  It makes the ballet even that much more compelling to me.  He also said that Peter Martins teaches the men to use their thumbs against the ballerina's back to help her stay on her legs.
Our host recommended Merrill Ashley's book Dancing for Balanchine, saying that Ashley is one of the best when it came to explaining exactly what Mr. B wanted from the dancers.
I'm really grateful to New York City Ballet for offering this program.  It goes a very long way toward enriching the audience's experience at the theater.  I'd also like to send reverence to the moderator — I think that her name is Joan Quintano — who kept the conversation moving so easily that the time just flew by.
Related Reading:
Ballerinas Take a New Approach: Talking