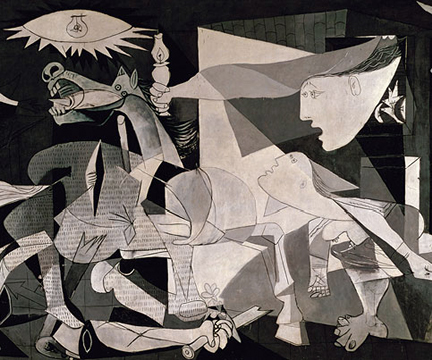 Choreographer and Artistic Director Yesid Lopez's latest work for the DeMa Dance Company was inspired by Pablo Picasso's mural Guernica (detail pictured above),which depicts the ravages of the Spanish Civil War.
I had the opportunity to watch Yesid set this dance on the company last month and to speak to him a little about his process.  I felt that this dance was a huge undertaking, in that Yesid was attempting to deal with the horror and tragedy of war through the lens of the humanity of its victims.
Last weekend, at APAP at Dance New Amsterdam, the DeMa Dance Company performed a sneak preview of what will become an evening length piece based on the life and work of  Picasso.   This piece is called Bolero Stravaganza.
I'd seen Yesid explore darker themes before, as he did in Thirst of Ruin.   But Bolero takes things to a more heart wrenching level.
The piece opens with the dancers standing still, their backs to the audience.  One dancer faces the audience and begins the piece, her face contorted in a silent scream, her fingers tensed into claws, her movement sharp and staccato as she begins to sink.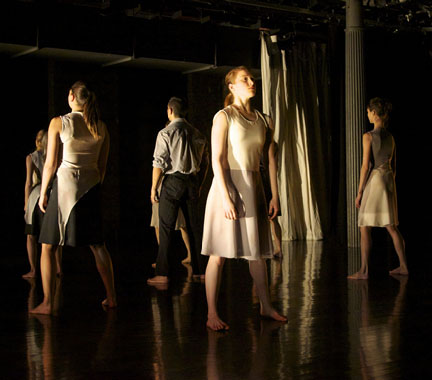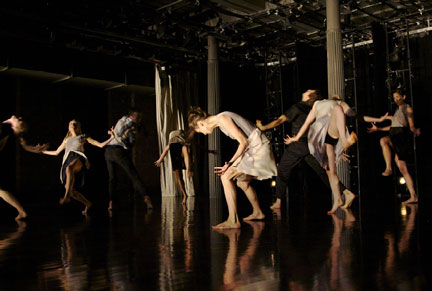 The dancers represent a civilian population, being made to pay the ultimate price in the battle between warring factions of those with power.   Each dancer, individually or with a partner, is put through the paces of facing the brutality and the horror of war.  They strike poses and use gestures which reflect those of Picasso's subjects in the Guernica, and Peggy Casey's costumes in muted grays and greens echo the colors of the mural.
Even while the dancers are holding their own places within the formation, a stormy atmosphere of chaos erupts.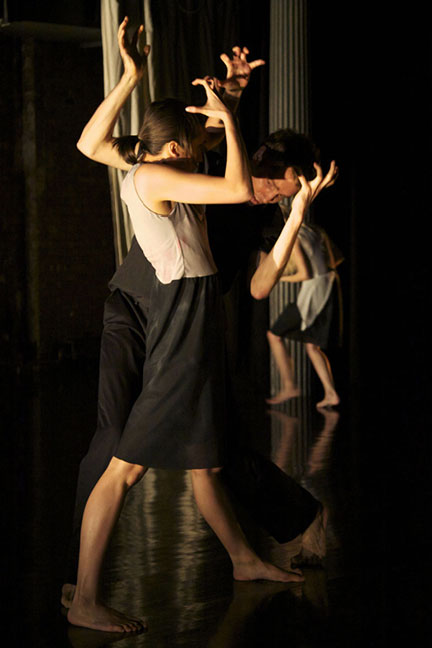 In a very dramatic moment, the dancers line up to face a firing squad.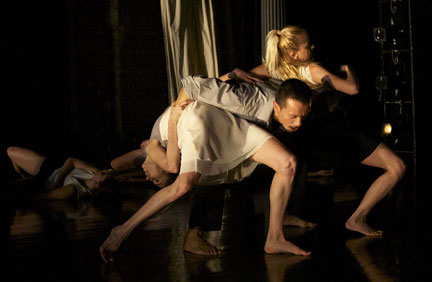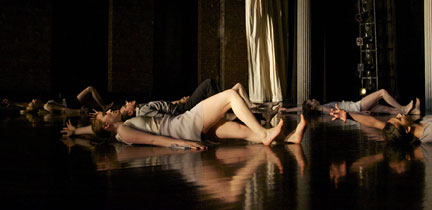 As I said when I first saw this piece in rehearsal, from the very beginning of this dance  it struck me that even in the midst of the turmoil of war, when its victims face one another, it is with expressions of compassion.  The bodies of the wounded are carried.  The dancers run to one another and find shelter.     When they are moving in unison, even if the movement seems to convey nothing but pain and fear, it also seems to be creating an expression of their brotherhood.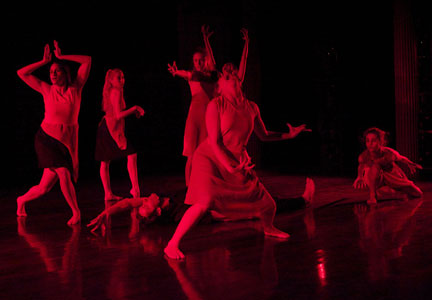 I have seen this company grow from humble beginnings in the summer of 2009 to where they've arrived today, as a cohesive unit with a distinctive and edgy style emerging.  Still the dancers remain as fierce individuals in their own right.  They gave a couple of great performances last weekend and I was gratified to see how well received they were.
Big congratulations are in order for Yesid Lopez and the DeMa Dance Company.
All photos by Ceren Salman