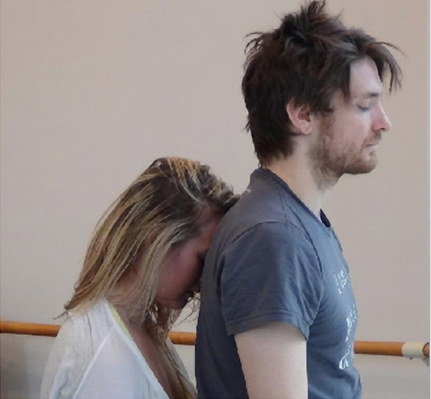 TAKE Dance at Galapagos Art Space
Thursday, April 10, 2014
In the cabaret setting of Galapagos Art Space, TAKE Dance Company presented two world premieres, each one choreographed by a dancer from the company.
The dance made by Kile Hotchkiss titled I Only Recognize Your Face At Night has a dreamlike quality full of mystery.  In the opening passage, Gina Ianni is all restless energy, moving rapidly, changing direction, changing focus and traveling.  Her highly charged activity is interrupted briefly by lovely gestures, such as one in which she pauses and moves one leg forward, as if testing the water with her toes.  But even as she lays on her back, she cannot keep still.  Hotchkiss portrays her agitation with such imaginative phrases of movement.  Brynt Beitman joins her and the mood softens.  The two dance together to a stark accompaniment of sighing strings.  They don't often face each other, though they seem to be reaching for each other in an other-worldly kind of way, like spirits passing in the night.  Beitman dances alone, sometimes pushing his head with his hand, sometimes with one foot moving the other, as if he is detached from his body and still working to manipulate it.  He uses a skating motion, and a series of taps across his chest.  I felt that the dance really captured the experience of dreaming, without ever resorting to being obviously romantic or menacing.
The feeling of dreams and spirits also seems to be present in Brynt Beitman's Ode.  The piece opens with an ambient sound that could be digging in the earth.  Kile Hotchkiss bends backward, rubs his eyes, covers his forehead and then slumps.  When Kristen Arnold joins him, the dance becomes marked by lovely passages of rolling movement to a hypnotic accompaniment, as if a story is unfolding upon the waves of an ocean, or being propelled by an unseen energy.  The  partnering is exquisite.  In the quartet including Gina Ianni and John Eirich, there seemed to be an underlying current in which the movement of one dancer, usually Hotchkiss, influenced or propelled the others.  Ode contained beautiful and original movement and dancing, which was especially dramatized in some of the unison phrases.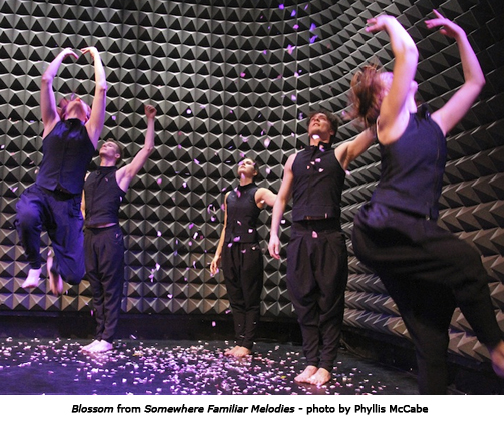 Somewhere Familiar Melodies was even more fun than I remember when I first saw it on the tiny stage of Joe's Pub last year.  A tribute to the pop music of Take Ueyama's childhood in Japan, it's athletic, artistic and full of high energy.  His choreography is tongue in cheek as his characters let loose, portraying various pop culture figures, such as cheerleaders, rock stars, martial arts masters and G-Men.  I love this piece from beginning to end and it was great to see it open up on the larger stage of Galapagos.  The entrances that were made from the audience took on a special quality as the dancers' bodies were reflected in the pools which flank the main aisle of the floor at this venue.  And I've got to cite the dancers for their tremendous energy and artistry and the wide range of characters whom they portray.
I have a real soft spot for this company — they are one of my favorites.  I love the apparent ease with which Take tells the stories of life, from its most frivolous and humorous aspects to its most serious and heart breaking.  As I said good-bye to him and thanked him for the show, he told me that the dances created by Hotchkiss and Beitman inspired him in his own work.  It's no small thing, the give and take between dancers and choreographers, and it was wonderful to see this company bring it to the stage.