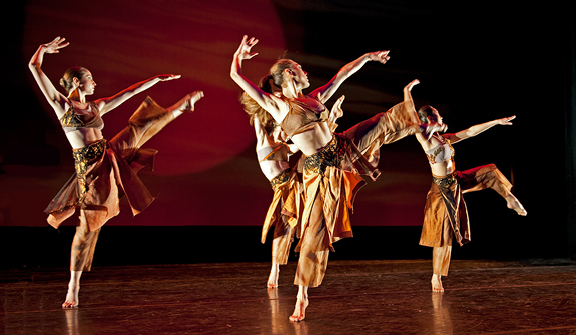 Nai-Ni Chen Dance Company
Open Rehearsal at Red Bean Studio
Friday, March 21, 2014
photo by Joseph Wagner
On April 26 and 27, the Nai-Ni Chen Dance Company will be presenting A Celebration of Live Music & Dance at the Salvatore Capezio Theatre at Peridance Center to mark their 25th Anniversary New York Season.  This week Ms. Chen hosted an informal open rehearsal at Red Bean Studio, where she talked about her work and took questions from her guests.  I love events like these because they go such a long way toward helping me, as an audience member, have a deeper appreciation of the work being presented.  Based upon this small sampling of dance, I can tell you in all confidence that this looks like it will be a fantastic concert.  Each dance will be performed to live musical accompaniment.
The company presented an excerpt from Ms. Chen's Concrete Stream, to music by Kenji Bunch which will be performed live by The Ahn Trio.  Part of this work involves Ms. Chen taking on the challenge of creating a "true physical integration", not only between the dance and the music, but also between the dancers and the musicians.  She made the deliberate decision to showcase the way that a cellist or violinist might move to bring expression to their music.  She imagined the musicians seated in different corners of the stage while a vessel of water sits at the center.  The dancers will flow like a stream around the musicians and the vessel.  This dance contains such a beautiful vocabulary of movement, describing all the sensations one would feel while watching water, or being immersed in it, or maybe even being water.  We see how a rush of water might affect a person's balance, or how it might bring us back to our primitive origins, or how it might inspire us to prayer.  There are gorgeous trills on the piano which sound like lovely little droplets of water.  In one especially beautiful passage, the dancers roll softly over one another and across the floor on the diagonal, creating moving images of the stream itself.  Ms. Chen also dramatizes the more aggressive aspects of water in strong athletic passages.  There is wonderful chemistry among the dancers, beautiful counterpoint and partnering.
Whirlwind depicts the effects of an unseen outside force on a group or a landscape.  The energy moves the dancers, not only through the physical world, but also from one dimension or passage through to another.  As the dance opens, six dancers stand apart from one another on the diagonal, each facing the same direction.  There is a distant drone in the music that conjures the feeling of a faraway energy drawing nearer.  The dancers don't leave their spots, yet they are drawn toward this energy or blown back by it.  They remind me of a country field of tall grass rippling on the wind and the dance seems to breathe on its own.  At times the movement is very slow and hypnotic, rising and falling and never stopping.  I saw this piece performed at the New Jersey Center for the Performing Arts last winter and its spirit has stayed with me all this time.  It was such a treat to see it again.
For their New York Season, the company will present the World Premiere of Not Alone, a work that Ms. Chen is still in the process of creating.  Improvisation from the dancers figured heavily into this piece.  They spoke with enthusiasm about their processes, including an exercise of improvisation in an art gallery, working out how to express through the body just how one approaches a wall and studies a painting.  Maybe it's a function of my having spent a lot of time in the subway, watching how others behave when they're in their own secret worlds, or how they treat those around them — but some of the groupings that I saw in this dance reminded me of formations of people that I've seen in the subway.  I found the staging and the movement of this dance to be really original, very compelling and full of surprises.  Each dancer seemed like a soloist with his or her own story to tell, even within the ensemble passages.  I'm looking forward to seeing this dance when it's set and performed in concert.
Ms. Chen was so down to earth and forthcoming as she talked about her work.  I especially admired the ease with which she spoke about embracing the unpredictability that will come in the final days of rehearsal, especially concerning her decision to separate the players of the Ahn Trio on stage, and how this will work in terms of the musicians being able to hear one another.
Having seen this rehearsal, I'm reminded of how fond I am of this company.  Ms. Chen's work so beautifully incorporates elements of the unseen world and the natural world in movement that is so imaginative.  Her dancers are like a dream — each one is a strong and intensely focused versatile individual in his or her own right, yet the chemistry among them is really something to see.
Tickets are on sale now for Nai-Ni Chen Dance Company's 25th Anniversary New York Season – Saturday, April 26 at 800 p.m. and Sunday, April 27, 2014 at 300 p.m. at the Salvatore Capezio Theater – 126 East 13th Street – New York, New York – 800.650.0246
www.nainichen.org/NYSeason
info@nainichen.org