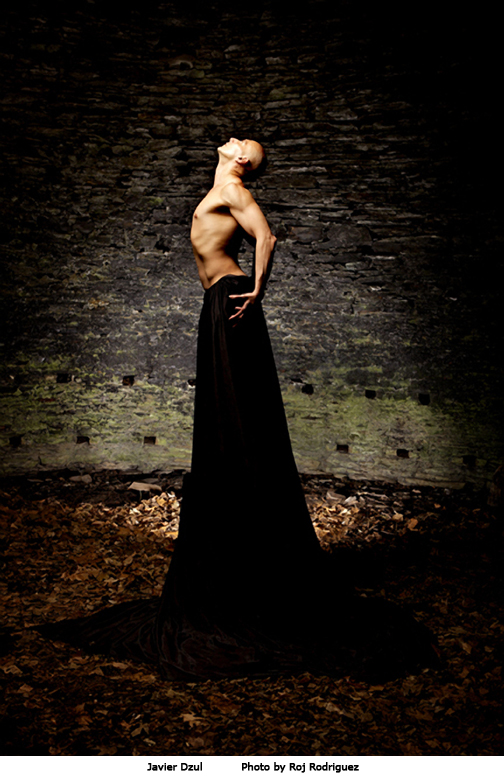 Dzul Dance
Mexico Maya
Baruch Performing Arts Center
Friday, January 24, 2014
Mexico Maya is a gorgeous atmospheric evening length concert performed in a unique artistic voice by Dzul Dance. Choreographed by Artistic Director Javier Dzul, the evening begins with an ancient Maya story and moves through works focused on contemporary Mexico, Cuba and America.
Memories of Maya tells a Maya creation story.  Bird songs and drums play as dancer and aerialist Robin Taylor Dzul spins on silks high above the floor, her posture regal, like a creature of the jungle.  Light filters in as if from beneath a thick canopy of trees.  Dancers cross the floor, their movement low to the ground, their focus sharp with the awareness of what's around them.  Noriko Naraoka bourees on pointe and carries her arms with the grace of a wild bird.  The women lay on their stomachs, arching their backs, raising their heads, their arms and legs swaying like branches on a tree responding to a gust of wind, their bodies moving like those of animals alert to the sounds of the forest.  When the men lift the women, they seem less like partners and more like another exotic being with two torsos and multiple limbs.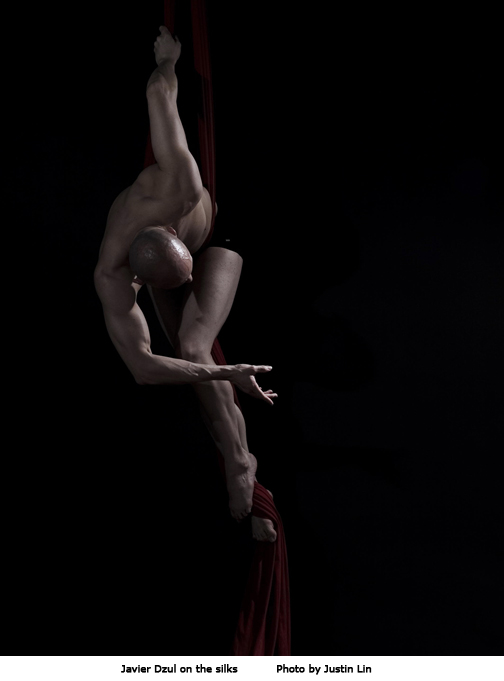 In the closing section, Dzul appears dressed only in bike shorts, hanging upside down on silks, personifying the forbidden fruit hanging on a tree.  Contortionist Anna Venizelos works on the floor, the princess who will give in to the temptation of the fruit.  As Dzul descends to earth, she wraps herself around him, his spirit entering her body which, according to legend, gives birth to the first human.  In the hands of this company, the aerial tricks and the contortion is executed with such artistry and such heart that they seem intrinsic to the dance, helping it to move in unaccustomed dimensions.
Memories of Mexico is danced in festive costumes to a Cumbia beat.  The faces of the dancers are intense with focus as they strike sharp poses.  Then hips undulate and isolations complement the music.  Again, we see the company performing lifts that are far from the beaten path, each one beautiful in motion and composition.  The dance closes as the dancers all come together as if to create one wild entity.  The familiar driving carnival drumbeat of Sergio Mendes' Magalenha fills the theatre for P'a chi. Javier Dzul dances this piece alone.  He is bare chested and he hardly travels, but his muscles dance, rippling in isolations along his back, curving in his shoulder blades, rippling in his torso and his arms.
Memories of Life & Love describes Dzul's own personal journey out of the jungle and into Mexico.  With Anne O'Donnell, he performs It Is Hard For Me To Forget You.  Ms. O'Donnell is lovely as she stands on a chair behind the seated Dzul, unfurling arms and legs to the accompaniment of piano music and words spoken about absence and longing.  So much emotion is expressed through her body every time that she arches her back.  A second woman joins them for The Air and The Wind. The three work together as if they are one body whose breath rises and falls.  With So Young An, Dzul dances Little Thorn, an unusual and beautiful pas de deux in which An melts across his back and shoulders, her face pained with longing, her arms sometimes fluttering.  Dzul leaves, and Ms. An performs Letting Go alone on pointe,  I am so moved by the emotion expressed through her body in big expansive movements and in smaller things, like a glance over her shoulder.
Tension builds in Revolution.  The company is fierce and they dance with palpable intensity, which seemed to suggest the energy of the EZLN and the uprising in Mexico led by Indigenous peoples twenty years ago.  The tension resolves into Mambo, a sensual ballroom piece danced by Robin Taylor Dzul, Stephany Dzul and Nelly Patron with Javier Dzul.  The women are sexy and flirtatious.  Mr. Dzul starts out as a spectator, but is drawn into the dance.  This piece is great fun and it shows a humorous light hearted side to the company.
The music and spoken word narration for Thinking of You is full of longing and heartache.  Dressed in magenta, Robin Taylor Dzul steps on to a wood frame suspended on chains and she ascends.  There is a floating celestial feel to her movement and the vocalist is nearly crying in sorrow.  On the floor, Mr. Dzul dances with Ms. Naraoka.  They perform this moody pas de deux separately, finally touching at the end of the song.
The evening ends with Freedom, which includes a breathtaking aerial performance by Mr. Dzul complete with falls from the ceiling which stop only inches above the floor.  His sudden sharp flips backward, his drops, and the artistry of his choreography had the audience gasping.
This evening affected me deeply.  The dances transition seamlessly from tribal movement to modern to contemporary ballet on pointe before leaving the ground in breath taking aerial movement.  Javier Dzul's choreography and his company work with an uncommon honesty and kinship with the natural world. Dzul has lived an uncommon life, having been born and raised in the ancestral Maya lands of Campeche.  In a recent interview he spoke of coming from a family of priests who preserve Maya culture. He grew up naked, among animals, as part of the earth, with the jungle as his house.  When, as a young man, he moved into the formal dance world, he felt that the energy of his tribal dances didn't connect with the audience.  He went on to study ballet and modern dance, and to pursue a career performing the works of other choreographers.  It was in the founding of his own company that he was able to bring together the sacred energy of indigenous dance and its reverence for earth with the beauty and expression of modern dance and ballet, and have it connect with an audience.