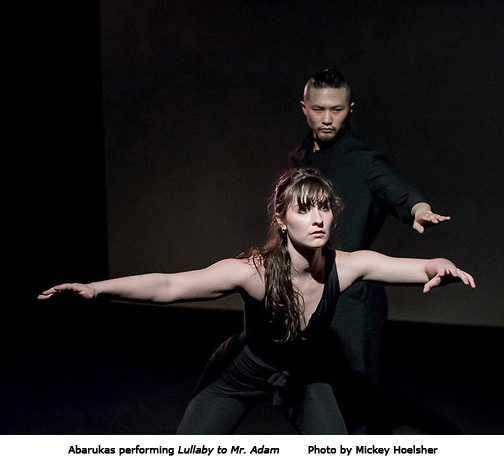 APAP at Peridance
Sunday, January 12, 2014
Program B – 630 p.m.
Peridance's APAP showcase never disappoints.  They always put together a diverse program of interesting companies and compelling choreography.
This year's Program B opened with Mettin Movement's Aeon, an abstract modern piece filled with original movement, especially in the arms and hands.  The dancers are expressive and musical as the choreography weaves soft port des bras set against abrupt contractions.  I especially liked the energy of the group in the unison sections.
Heather Cooper and Brian Fisher of San Francisco based Mark Foehringer Dance Project, danced a wistful romantic pas de deux titled Another Time.  The dancers remain at close quarters throughout, alternately pulling away from each other while still holding hands, then coming back together with gestures of trust and intimacy.  The adagio movement is lovely and liquid with one gesture flowing beautifully into the next.
Nikki Holck and Natalie Deryn Johnson of NatalieInMotion performed an excerpt from KEYp me.  Both women wear costumes adorned with keys that chime when they move, in the same way that a Native jingle dress would do.  Personal spoken word conversations are voiced over the music and the dancers react to the statements being made.  The atmosphere of the piece, the overheard conversations, the tension, and the presence of the keys made me think of all the contrasting interactions that go on at any given moment inside an apartment building in the city. I liked the originality of the piece and the use of the keys.
Mystic Ballet presented Imaginary Love.  Ting-Yu Tsai personified the euphoria of being in love, her face radiant, her movement swooning.  She performed a stylish and romantic pas de deux before a trio of men danced a muscular ensemble piece around her partner, complete with dramatic lifts.  This was wonderful theatrical dancing, exciting to watch.
TAKE Dance's Salaryman was one of my favorite evening length pieces for all of 2012.  So I was thrilled to see his company perform the excerpt Breaking News.  The dancers, who remind me of rush hour commuters,  move swiftly, their focus turned to their newspapers as their sense of alarm builds.  Take uses a phrase in which the dancers tap their chests, a shoulder, a hip, and as it's repeated throughout the dance, its pace getting frantically fast, it seems to be transmitting a message of its own throughout the consciousness of the group.  I love the intensity of this piece and the fearlessness of Take's dancers and his choreography.
Abarukas is new to me.  Their Lullaby to Mr. Adam really knocked me out.  An abstract piece choreographed by Yoshito Sakuraba, it's performed on a dark stage with dancers dressed in black, moving to a stark drumbeat as the piece opens.  The company's work is unique and artistically inventive.  Wisps of a story seem to emerge.  I was especially taken by a passage in which a group manipulates one character, and when she succumbs, a second falls with her, as if to show how every action ripples out into the world and influences others.  This short excerpt left me longing to see the entire piece.  The dancers and the choreography are strong, soulful and expressive.  I'm looking forward to seeing more work from this company.
Parsons veteran Patricia Kenny and her company Dance Collection presented Quanta, choreographed by Irada Dejassi and Katherine Hooper.  The women make a particularly dramatic entrance in this piece, lifting one dancer who continues to tumble through the air almost like a pinwheel as the group crosses the floor.  I especially liked the larger group sections, which were quite powerful.  They felt to me as if they had a strong influence from Anna Sokolow.  The unison movement and the composition were electrifying.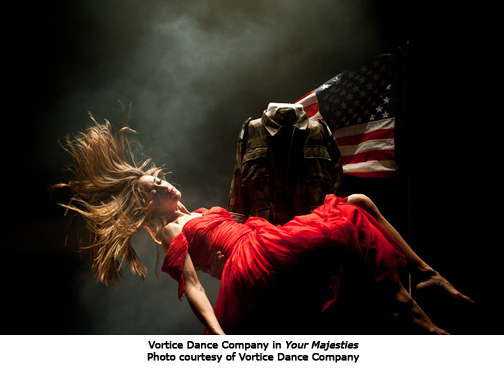 Portugal's Vortice Dance Company's excerpt from Your Majesties really resonated with me.  Performed by artistic directors and choreographers Claudia Martins and Rafael Carrico,  the piece opens with a recording of Barak Obama's acceptance speech to the Norwegian Nobel Committee.  Ms. Martins, dressed in a bright red suit, carries a handgun which remains trained on an imaginary enemy, or on Mr. Carrico's character.  There are moments when she seems poised to point the gun at her own temple.  Mr. Carrico's character, barechested and dressed in jeans, works to disarm her, emotionally and literally, even as she seems to be reflexively hell bent on retrieving the gun.  Their adagio pas de deux is moving and heartfelt.  I'd love to see the longer piece from which this excerpt comes. It's especially gratifying when a dance can make a political statement with such beauty.
An excerpt from Emery LeCrone's Divergence bore the choreographer's unique contemporary ballet trademark.  A lovely pas de deux danced on pointe, the piece is uncluttered, showcasing ballerina Kaitlyn Gilliland's beautiful lines and swooping penches.  Alfredo Solivan provided strong partnering and the two moved together in a fluid and lush fashion with phrasing and poses that are off the beaten path.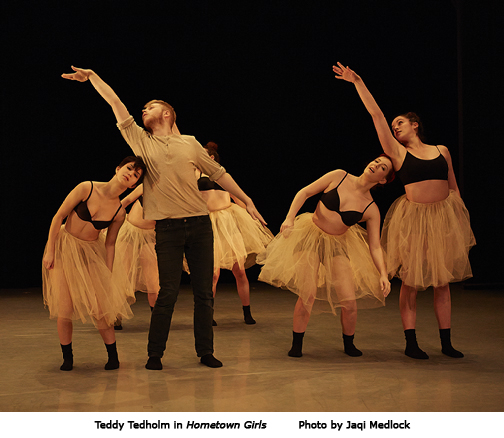 Teddy Tedholm presented Hometown Girls, a piece that was wonderfully quirky yet still easily accessible.  He danced with an ensemble of girls in white tutus, black bra tops and black socks whose movement was at times robotic, and at times limp like that of a rag doll.  The dance was hip, whimsical and endearing, understated without a lot of bravura, but so entertaining.  It would have been at home on a competition stage, yet it carried the humor and sophistication that could make it work on a concert stage as well.  I especially liked the attention Tedholm gave to the smallest details and transitions.  This was great fun to watch.
Peridance Contemporary Dance Company's  Infinity is a beautiful adagio piece set to Beethoven's Hammerklavier.  Four couples dance, sometimes in unison, sometimes taking turns in the spotlight.  The partnering is so strong — each couple moves together as if they were one entity.  There's a timeless and classical feel behind the contemporary movement.  Some of the group formations had the echoes of traditional reels.  The soft lighting and the muted colors of the costumes give this piece a lovely dreamy quality.
The program closed with Flight, a series of three solos choreographed by Jae Man Joo, performed by Jourdan Epstein, Samantha Figgins and Terk Waters of Complexions Contemporary Ballet.  The first solo, an adagio, stayed low to the floor and seemed to voice frustration at being held down.  Even as the light fades to black, the dancer sits up straight, only to melt into a deep contraction, as if being pulled back down by gravity, maybe against her will.  In the second section, the dancer is on his feet, moving quickly, almost frantically.  His balance is challenged, and I loved the fight in his big grand ronde, which resembled a martial arts wheelhouse kick.  The dance closes with a woman running off the stage, her arms rippling as if she has taken off.