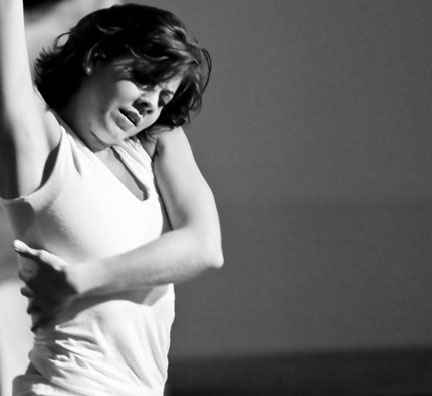 Years ago I read an interview with a musician.  He was asked to name the people who had influenced his work.  He replied that he'd been influenced by every single person he'd ever met.
This line has been with me all day long as I collect my thoughts about The White Room.  Last night I had the opportunity to attend the Stages of Creation Fall Benefit at the Ailey studios, where I saw a draft of the first act of this new dance, the first evening length work that Jennifer Muller has created in 15 years.
It was presented in a raw form, the dancers' costumes having come from their wardrobes, the studio bare.  The dancers moved to a series of gorgeous cello pieces performed by artists from Zoe Keating to Yo Yo Ma
We meet an innocent young girl, alone on stage at the beginning of the piece.  She encounters and interacts with a procession of characters.  The girl approaches a disinterested and distracted mother figure, a girl who is reluctant to befriend her, a boy with whom she falls in love, and then a another boy who steps in with all the swagger of a tom cat invading the turf of another.  He's ready to come between her and the boy, and he seems more interested in domination than tenderness.
A group of women slowly drift across the floor.  They are wearing dresses and ballroom shoes, looking more sophisticated and jaded than the innocent girl.  The girl finds the mother figure again, but the woman is still unavailable to her, and winds up pawning her off on an authority figure; a teacher, a nun, or a babysitter?  The girl is clearly unhappy about this.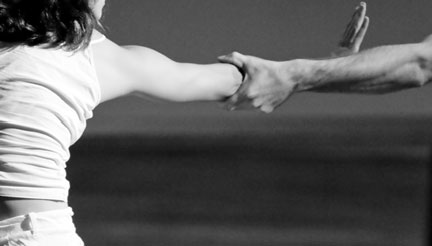 It will be exciting to see where this piece goes when its finished and ready for performance.
Today, as I was getting my notes together to write this, and remembering the musician's quote about his influences, I began to feel that while the girl had been encountering others,  she was also encountering what might become aspects of herself.
I was very impressed with all the dancers.  Hsing-Hua Wang, an apprentice who had stepped in for an injured dancer, performed the role of the innocent girl and she was just brilliant.  The piece opened with her standing still, her back to the audience.  Even in the simple gesture of looking over her shoulder to face the audience and then turning toward us, she was exquisite.  Neither understated nor overblown, her movement really captured what is so natural among humans, and not so easy to reproduce on the stage.
This was true for all of the dancers.  We easily recognize the characters they are playing.  We've all known people exactly like them.  In playing their parts, I felt that the dancers ran the risk of going over the top, presenting these familiar characters as caricatures, yet each one managed to get their point across in an organic fashion.  The movement, though very recognizable, was never predictable.
I also have to say that everyone, from the board members, to the administrators, to the dancers, to Ms. Muller herself was so extraordinarily kind and welcoming.  The dance world can sometimes be such an abrasive place, but there was no sign of this anywhere in the entire evening.  When I had the privilege to meet and speak with Ms. Muller, she said that she makes sure that the company works with an attitude of respect in the studio.  She said that while she presented conflict in her art,  she didn't enjoy conflict in real life, so it was important for her to keep it out of her studio.
This becomes obvious when you see the dancers of the company working together.  Each dancer is a strong individual who complements the others beautifully.
I'm really sorry that it's taken me so long to finally see this company.  They are fabulous.  And I am so grateful for their hospitality.
The full length work is scheduled to be performed in June 2011.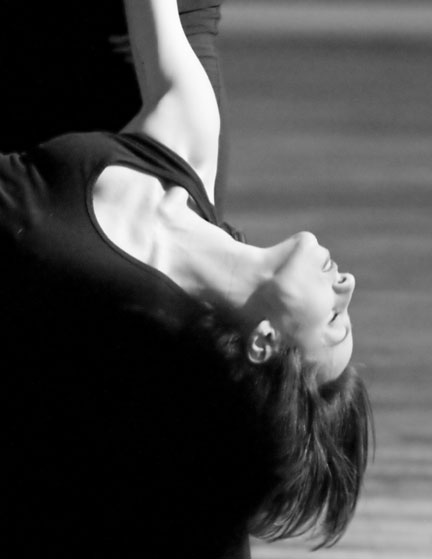 Jennifer Muller/The Works on Facebook
All photos by Paula Lobo