Latin Choreographers Festival
Founded and Directed by Ursula Verduzco
Baruch Performing Arts Center
Friday, August 5, 2011
All photos by Rachel Neville
This year's Latin Choreographers Festival in New York City delivered some of the most imaginative choreography and heartfelt dancing that I've seen all year.  The Festival featured the work of thirteen different choreographers in styles ranging from modern and contemporary to pointe.  Many of the dances had strong narratives while others were more abstract.  Each choreographer brought a unique perspective to the festival and it was pure pleasure to watch each group perform in its own artistic voice.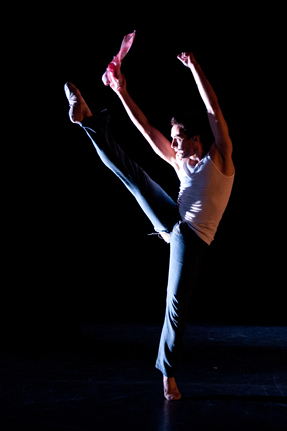 In La Danza Del Fernando, based on a true story, the protagonist (danced by Roberto Lara) is a laborer.  To the accompaniment of traditional Mexican music, he drags himself across the stage and pauses to tend to his sore muscles.  We can feel the burden he endures.  When his work is finally done, he learns that his employer has shortchanged him.  Against the wishes of his woman (danced by Ursula Verduzco), he chooses to hunt him down and attempt to settle the score. Before he leaves, he is on his knees, and in a dramatic moment his woman performs the sign of the cross over him before the stage goes dark.  The blackout seems to be an omen that things will not go well for him.  When he finds the man, a struggle ensues, the laborer's humanity is disregarded and he is treated as if he were disposable.  The result is even more heartbreaking when you consider that the same scenario will probably be played out with another worker on another day.
Triangulo, choreographed by Alejandro Chavez, tells the story of a love triangle between three men (danced by Chavez, Mariano Aviles and Isaac Santana).  Dressed in black, the men swagger across  the darkened stage.  They seem like tightly wound coils.  I felt as if a confrontation was liable to erupt at any moment, and just as I was expecting the fight to start, one man drew another into a warm embrace.  The dancing in this piece was intense and electrifying.  The men move with such abandon.  I especially liked the counterpoint of the faster sections.  The movement was lightning quick and then it would be so well synchronized when it came together in unison.  The very high lifts were dazzling too.  At one point, the dancer being lifted executed a cabriole to the front as he reached the top of the lift.  These lifts were so much more than tricks – they were fearless displays of intense emotion.  The choreography of this piece was especially imaginative and the dancers carried out the intricate quick steps with clean technique, making it look effortless.
Benjamin Briones' Lights On navigated the rocky waters of a stormy relationship.  The dance opens with a young couple (Fredrick Davis and Ursula Verduzco) holding hands but pulling apart until they lose their balance.  The woman keeps egging on her man, looking for a fight, at moments even striking out at him or throwing punches in the air in rapid succession, as if she was working with a speed bag.  Then she'd count on her fingers as she scolded him, presumably listing her many grievances against him.  At first, he does what he can to keep from rising to the bait.  He covers his ears and even kisses her.   They dance together but ultimately, she strikes out at him again.  This time she's really hurt him and she's consumed with remorse.  She wants to make peace and they slow dance together, but it won't be long before their pattern is repeated again in one way or another.   The choreography was very clever.  Even as we are laughing with recognition at their troubles, the dancers break our hearts with their very emotional portrayal of these characters.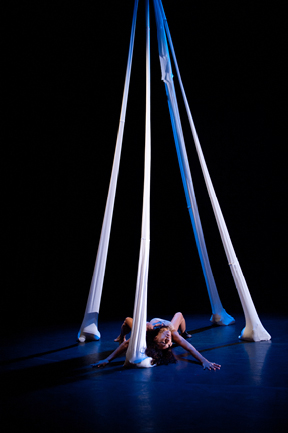 In Nothing To Hide, choreographed by Ursula Verduzco, dancer Nicole Correa awakens suddenly within a cage of white fabric.  Throughout the dance, she attempts to get out, but it takes some doing before she has the wherewithal to accomplish this.  At times, she makes it out, but she stays on the floor and finds her way back inside.  Again and again, she pulls her hair in front of her face. At times she clings to the fabric as if it's part of her — maybe she is even finding comfort in hiding within it.  When she finally breaks free and moves toward the center of the stage, her movement, especially her port des bras, becomes big and expansive.  She still resorts to sometimes pulling her hair in front of her face, until near the end of the dance when she can finally open her mouth wide and extend her arm, staking her claim and reaching out.
The piece titled No Regrets drove me to tears.  A traveler meets the angel who is about to take him to heaven.  I felt as if the choreography was so quiet and reverential while delivering such a huge emotional wallop.  There was no drama or hysterics.  The portrayal of this man's last moments was so sweet and heartwarming that it almost gave me solace about the fate of friends of mine who have recently passed away.  The dying man is reluctant to leave earth, but the angel convinces him that his time has come, and he serves as a reassuring companion as the transition begins.  This piece was so extraordinarily beautiful.  It was choreographed by Marcos Vedoveto and danced by Dante Puleio and Robert Johnston to music by Ennio Marricone.
Some Day, choreographed by Eloy Barragan and danced by Jennifer Pray and Steven Gray, told the story of lovers who seem to be dancing at cross purposes.  They are dressed in gray which seems to demonstrate the limits on their relationship – it never manages to get going, let alone heat up.  The movement in this dance was especially original, lyrical and lovely, as the dancers approach one another but never quite meet.  It's as if they can't find each other.  Maybe they exist in two different dimensions.  Finally, they do come together in a kiss, and as they execute a turning lift, she is hanging on to him, but he is not holding her.  Exquisite dancing by Pray and Gray.
The dancers in Belo Corpo delivered a bravura performance of intricate choreography executed at breakneck speed.  The dance, choreographed by Tony Powell, pays tribute to the power and vitality of the female body.  The women are dressed in flesh tone bras and boy shorts, and they're dancing to skat music.  The movement is quirky and lots of fun and the choreography is so clever.  The dancers do not stop for a moment, and it must take incredible athletic strength to get through this piece.  But they show no signs of exertion.  They all seem so happy, as if they've lost themselves in the music and they are enjoying themselves completely.
The festival closed with Blue Soup, choreographed by Aszure Barton (the one non-Latin choreographer in the festival) and performed by the Steps Repertory Ensemble. The dancers are dressed in business suits and they execute very quick steps to the accompaniment of Latin percussion.  There seems to be movement to every single beat and it's great fun to watch.  Then the movement slows way down as we hear Randy Newman singing I'm Different.  The dancers, all but one, move in unison while the rugged individualist does his own thing.  The final piece was a lovely duet, ending with a little sadness when the woman looks over her shoulder to see the man, but he's missing.  He scoots back into his place when she's no longer looking.
I wish that time and space allowed for me to write at length about every choreographer and dance in this festival, because each dance was so beautiful, passionate, and so well done.  This is the second time that I've seen the Latin Choreographers Festival and I think it's become my favorite in New York City.