Latin Choreographer's Festival
Dance New Amsterdam
Sunday, July 15, 2012 – Program A
All Photos by Rachel Neville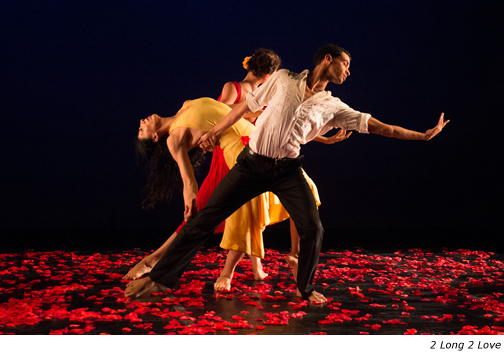 Every year at this time I open a new file and begin typing up superlatives about the Latin Choreographer's Festival.  This year is no different.  Once again, the festival brought a diverse program featuring numerous Latin voices in choreography, and an array of beautiful dancers to present the work.
The festival, dedicated to the memory of Jose Limon, opened with a short black and white film made in Mexico about Limon's life and work.  It covered the ways in which Limon's masculine choreography "electrified the world".  Included was a short discussion of the ways in which Limon was challenged to assimilate in America.  Variations on this theme showed up again in some of the other dances presented at the festival.
Another theme that ran through some of the pieces was the depiction of the stresses of everyday life, and the search for a way in which to move beyond them.  Zachary Tracz danced Carolina Rivera's Bodhi with great style and expression.  His torso contracts and his arms are thrown forward, as if he's negotiating some kind of rough terrain, and moving forward under adverse conditions.  His hands tremble as he looks toward the heavens.  Then his body tenses and his hands close into fists.  The tension builds until he finds himself pressed against the floor, where he finds a very small gong.  Once the gong is rung, the transformation into serenity begins.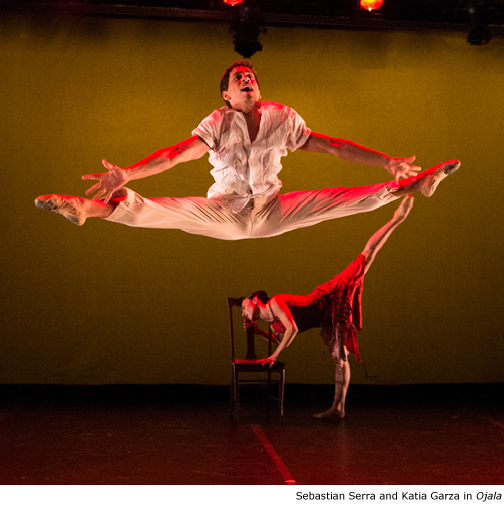 Katia Garza and Sebastian Serra deliver emotion packed performances in the ballet Ojala, choreographed by Ana Cuellar.  There is trouble between their two characters and based on the lovely words printed in the program, they've either chosen to go their separate ways, or they've been separated by death.  Garza's movement is marked with longing and searching.  They embrace, and then with sad faces, they drift apart.  The choreography is punctuated with beautiful lifts and great use of counterpoint.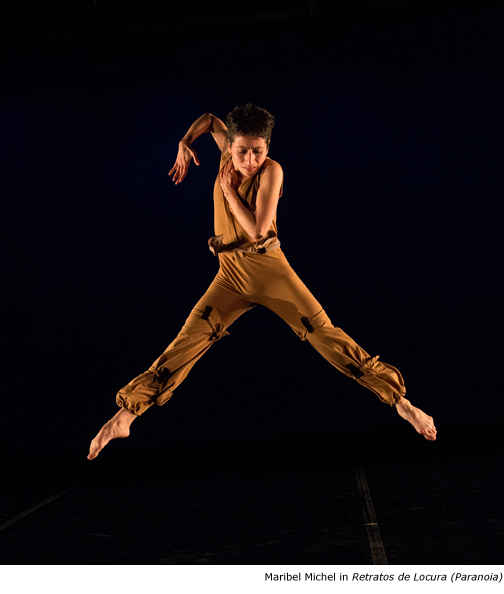 Maribel Michel danced an excerpt called Paranoia from a longer piece choreographed by Miguel Angel Palmeros, titled Retratos de Locura (Portraits of Madness), an intense modern piece with excellent expressive dancing by Michel.  In the harsh lighting, at times she seems possessed by fear or pain — and at other times she seems to be in prayer, but she moves forward nonetheless.  Her eyes are wide, her brow furrowed, her movement defensive.  She stays low to the ground and the industrial sounding music beeps as tension builds.  From time to time, vignettes are played out along the back wall of the stage, by a couple dressed in gray.  They carry out an animated argument until they go static, their fingers still waggling.
I felt a real soft spot for Eloy Barragan's Tree.  This piece addressed life in the diaspora, where the houses don't ever quite feel like home, and the landscape is constantly changing.  Dancer Steven Gray displayed quiet strength, great musicality and seamless transitions between fast and slower motion.  I liked the originality of this piece and its beautiful rolling movement which continuously unfolded and never seemed to stop, accompanying a yearning piece of violin music by Max Richter.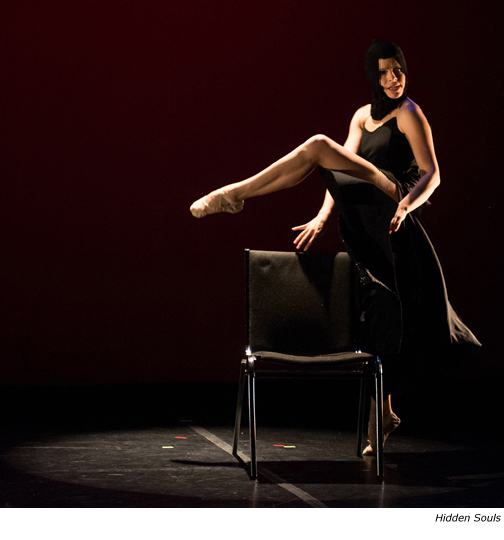 Ursula Verduzco's Hidden Souls, which illustrates the domination and silencing of women, has atmospheres that are at times eerie and almost medieval.  A single woman moves along a diagonal in a ritualistic fashion to choral music by Dead Can Dance.  She is clad in black and her head and mouth are covered.  She struggles to get the attention, or even the mercy of an angry and domineering man who refuses to listen to her.  A small group of dancers, each dragging a chair, pick ups on the canon of movement while the main character seems to have found her own power.  The music changes and she begins to move with authority.  I especially liked this passage in the piece, and the effective use of the chairs to create changes in height and level.  The counterpoint is beautiful and haunting.  It seemed to tell the story of the resilience of the human spirit, and it's determination to keep fighting, even if the battle is already lost.  Then, to tell the sad story of the fate of these women, they wind up moving in unison with their overlord.  This is a very dramatic and gripping piece.
Benjamin Briones' Al Reves, explores the drama of conflicting feelings in a relationship.   Ursula Verduzco and Steven Gray swagger along the edges of the spotlight, eyeing each other like boxers in a ring might do right before the match.  Their movement is confrontational, each one lifting their chest and chin.  They embrace, they push each other away, they chatter at each other so that neither can hear what the other is saying, and despite all this, the tenderness between them keeps rolling up to the surface.  Sometimes much is said in the absence of a movement – Verduzco falls to the floor and Gray offers her a hand up, but she remains still — reluctant to accept his kind gesture.
Choreographer and dancer Felix Cruz gave a compelling and emotional performance of Other Side of Someday, giving voice to life's frustrations and the wish to navigate past stormy seas into calmer waters.  Cruz stands stoically even as he is being attacked.  His hair is pulled and he's slammed to the floor, but he recovers and maintains an impassive stare.  When he is finally punched in the face, he takes on the role of the attacker and turns the violence on himself.  He slaps himself.  The soundtrack becomes menacing as he flails about, falling very heavily again and again, his body tense and stricken.  He recovers as the strains of Judy Garland's Over the Rainbow play, and he lip synchs the lyrics with surprising emotion, sensitivity and yearning.  This was a very touching performance.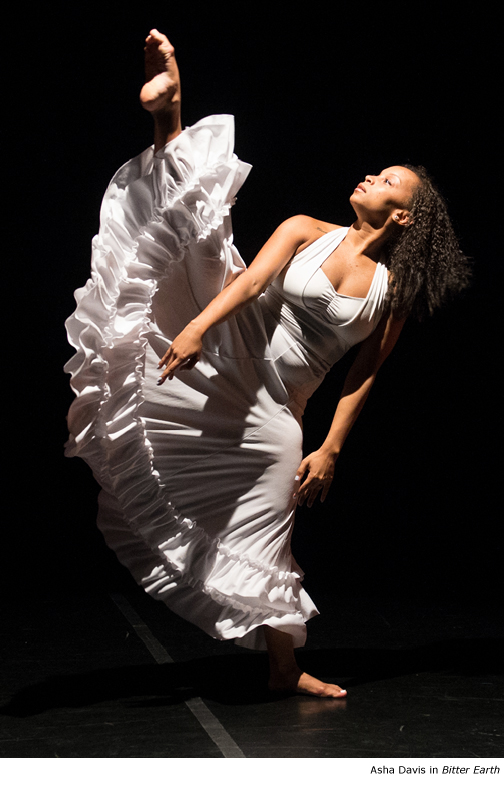 Ferdinand DeJesus' Bitter Earth was danced by Asha Davis to the Dinah Washington classic about the sorrows of love and loss.  She is dressed in white and despite the blues atmosphere created by the music, she appears to be rising up and moving ahead in hope.  The movement was at times reminiscent of Ailey's early work, and Davis delivered a genuine and unpretentious performance.
Manuel Vignouelle's edgy and ambitious In A Box was one of the festival's highlights.  It dealt with matters that have been weighing heavily on me recently – specifically how compartmentalized and "boxed in" we can become in a place like New York City.  Parent wears an arresting expression of innocence and searching — there is an originality to her dancing that I just adored.  As the dance opens, her movement is very confined – she pushes at the invisible walls which have her trapped and she does not travel.  It's only when Vignouelle joins her that the movement becomes a bit more expansive.  They may shake and vibrate, but the energy is then released.  There were some interesting and original canons in this piece, along with a few towering lifts which were resolved with  dramatic falls.  Vignouelle took risks with this piece and they paid off.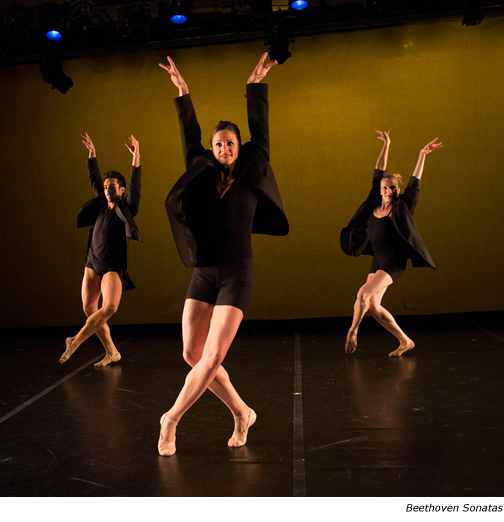 The evening closed with David Fernandez's Beethoven Sonatas, a playful ballet piece full of good humor.  At times the body directly mimics the music – small fast movement of the feet will echo a trill on the piano.  A dancer's hands will fall on an imaginary piano keyboard, miming as if they were playing the closing chord of the music.  The dancers tug on the lapels of their tux jackets, or wag their fingers while doing neck isolations as if to say, "Oh no you didn't."  It was a very sweet piece, danced beautifully by Dorrie Garland, Karina Teran, Laura DiOrio and Roberto Lara