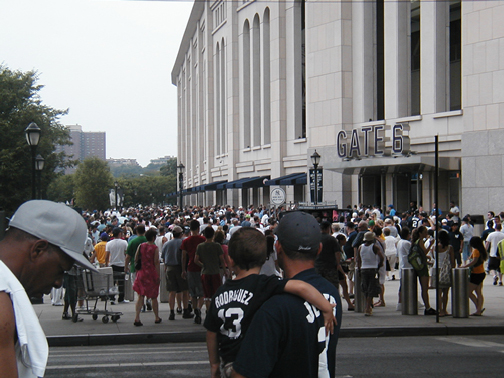 Christmas came early this year.  On Sunday morning, at 10:30, my neighbor called and asked if I'd like to have two free tickets to the Yankee game.  Wow!  How often do you get a phone call like that?
This was my first visit to the new stadium.  Though I follow the team pretty faithfully, it's usually on radio while I'm working in the evening.  I hadn't been to the stadium since 1993 or so.
My first few moments in the new stadium were a bit of a shock.  The place has a completely different ambiance.  The guy with the cowbell in the bleachers is gone.  Robert Merrill is gone.  The cheesey sound on the organ is gone.   I started to feel as if I was in an arena rock concert with a ball game on stage instead of a band.  Worst of all, there was something about it that just felt unfaithful to the legacy of the Yankees as I'd experienced it.  It was all so slick and flashy.
But before I could lapse into my "things were better in my day" frame of mind, I realized that the creation of this new stadium was probably inevitable.  We're living in a different era.
At first I felt bombarded by all the video signs.  But as the game progressed, I came to feel that they were put to really good use.  I got a kick out of the games that were played on the screen between innings.   I felt that they did a great job of displaying stats, so I didn't even need to use the little AM radio that I'd brought out of habit — always a must for me in the old days.
Being at the stadium showed me  that when you watch a game on TV you miss a lot of the defensive feats on the field.   When you watch TV, you see the ball coming toward the fielder and he either catches it or he doesn't.  But what you miss is seeing the degree of difficulty involved in following the ball and catching it from all different angles, especially in the outfield.  One of the most thrilling moments of the game came during a relay to the infield when Russell Martin leapt to catch the ball and tag out a runner at home plate.  It's so much more exciting  when you see all the fielders on the team  go into action together.
The one thing that made me kind of sad was to see that the stadium was about a third empty.  The crowd where I was sitting on the Main Level at Right Field seemed extremely upscale and  much more reserved than the rowdy fans whom I'd loved sitting with in the old days.  Then again, I realized that the family sitting in front of me had shelled out close to $400 for tickets, another $100 for beer, sodas and snacks, God only knows what for parking, and then they were talking about where they were all going to go out for dinner.  I guess that the city is full of people who don't think twice about dropping $500+ to entertain the family on a Sunday afternoon.  But I felt very aware of the absence of those who aren't in that bracket, and I missed them and wished that they were there.
But I've also got to admit that now that I've made my first visit to the new stadium, I can't wait to go back.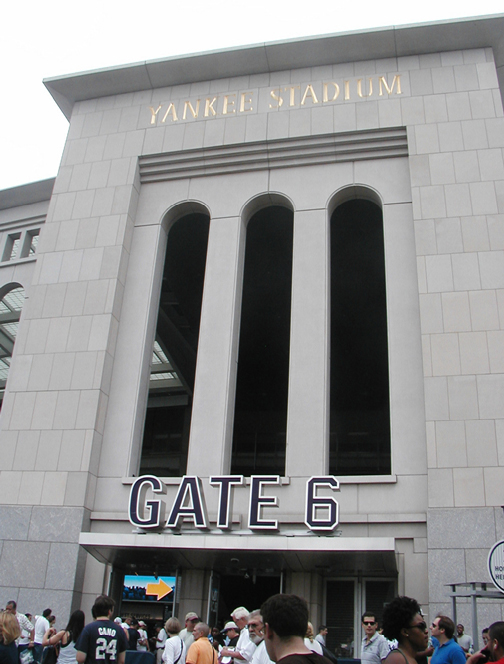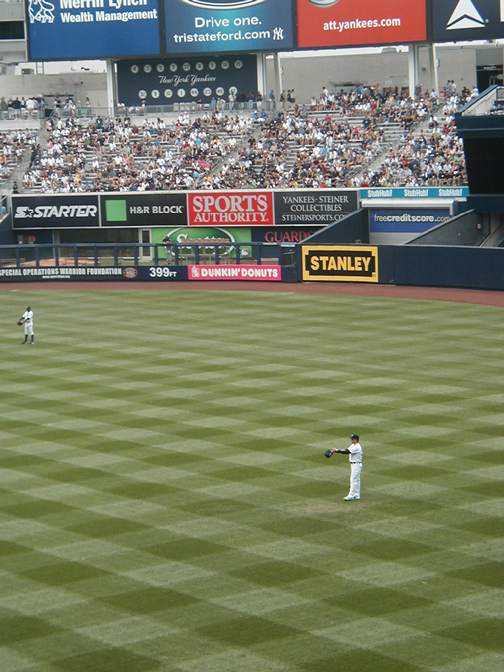 I've been smitten with Nick Swisher (pictured above) ever since he came over to the Yankees.  So it was especially great to see him playing.  How did my neighbor know to get tickets in Right Field?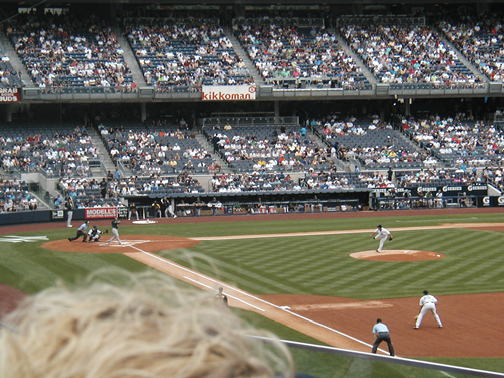 As you can see, I sat behind a woman with big hair.  But that's Bartolo Colon pitching to the Oakland A's.  The fans showed a lot of love to Hideki Matsui (who I think went 5 for 5!).