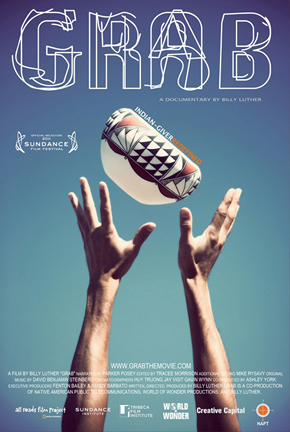 There are people who profess to live a spiritual life and who will tell you in chapter and verse about everything that they do to live a spiritual life, and everything that you should do to live a spiritual life.
Then there are people like those in the families featured in Billy Luther's wonderful film Grab, who never have to say a word, but they wind up touching your heart and soul  so deeply with only the eloquence of the example that they set in the way that they live their lives.
The film gets its title from a 300 year old celebration that is practiced by the Laguna Pueblo, in which families get together to throw food and gifts from the rooftops of their homes to show their appreciation to the community gathered below.
The viewer is invited on to the Laguna Pueblo Reservation to observe three families who will be hosting a Grab Day celebration.  None of those who were being filmed spoke directly to the camera.  Instead, we just watch as, over the course of several months, they make their elaborate preparations.
One family decides to plant a large garden, which will provide a bountiful harvest to be given to the community.  Another family who left the reservation reunites every year ahead of Grab Day, returning to their mother's home to make their arrangements.  Grab Day giveaways are preceded by enormous feasts which take days to assemble, and the entire community is invited to partake.
A third family goes through similar preparations, and as they do, the mother, Josie, is creating a piece of traditional pottery, which will also be thrown from the roof on Grab Day.  I was mesmerized by the scenes in which Josie, sitting in the middle of a rambling family home full of children, takes this hunk of wet gray clay and gradually transforms it into a work of art.   As the film unfolds, the pot itself becomes an important member of the cast.
I felt that Luther, the cast and the crew did a beautiful job of showing humanity at its best.  It is so effectively captured in this film that during the Q&A which followed the screening, one could feel and hear how uplifted the audience was just to be in the presence of the people in this film.
The film also has its fair share of laughs and heartwarming quirks, from the presentation of a model of the town built out of cereal boxes and cookie boxes and other groceries that are collected on Grab Day, down to Luther's idea to display still photos as if seen through a View Master toy.
It's all just beautiful from beginning to end.
I saw the film at the National Museum of the American Indian in New York City, where it will be screening again on Saturday, June 18th at 2:00 p.m. Reservations are suggested.  And again, I have to say that the people who work at NYC's NMAI  are always so warm, friendly and gracious.
Photographs shot during the making of Grab are on view at NMAI through July 31, 2011.
Still photos by Idris + Tony,  Cybelle Codish.