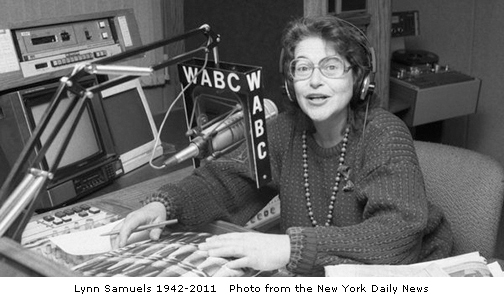 I can't believe that Lynn Samuels is gone.
I have memories of listening to her on WBAI back in the late 1970s/early 1980s in my first apartment.  Back then I was in my early 20s and I rarely had a political thought.  Still I loved hearing her on the radio.  Her voice became a presence in our little household, one that visited on a weekly basis and wound up staying with us from then until now.
As I began to develop a political consciousness, I always admired Lynn for being so well informed and for her courage to tell the truth even when it made her unpopular.  She never shied away from controversy.  During her years on WABC, as the rest of the daily hosts moved further and further to the right, she stood among them as the only woman and she had no trouble speaking her mind.
She'd comfortably shift gears from one subject to the next, and in and out of politics.  She had great stories to tell about her life in New York City.  She'd talk about working at a candy concession in a movie theater, or waiting at stage doors to meet Broadway stars.  She could talk about Folk City and the 1970s punk scene in New York City or working in a West Village laundromat.  She could speak extensively on the subject of cleaning products or supermarket sales.  And it was quite entertaining to listen to her handle an abusive caller, rarely silencing him, and usually giving him all the rope he'd need.
I remember listening to her on New Year's Eve of 1999, when she was sure that Y2K was going to melt down the entire world.
As the years went by, her politics and mine aligned less and less.  While I agreed with nearly everything that she had to say about Barak Obama (though I disliked the way in which she said it), I came to have big trouble supporting the Clintons, and I had to shut off the radio whenever she launched into her "speak English in my country" rap.  Still, more often than not, she spoke the truth no matter how much resistance her words were met with.  I so loved listening to her.  A few months back when Sirius cut her hours and booted her from Sirius Left, I was so upset, because her voice had been a constant presence in my office during the week.
I'd begun to grow comfortable with having her on the radio on Saturday mornings while I ran errands and cleaned the house.  She was like a typical New York City neighbor, one who was well informed about current events and who she had a sharp memory for recent history.  Everyone in my family listened to her.  Around our kitchen table, it wasn't unusual to hear political conversations that went, "And Lynn said . . . "    Lynn.  As if she was the woman down the block whom we'd known forever.
When I realize that she won't be back on the radio this weekend, or ever again, it raises such profound sadness within me.  It seems unfathomable.
The power of talk radio is amazing to me.  There's an intimacy to it.  The talker comes into your home or your car and speaks to you in conversational tones, and plays music that you'll forever link to her.  In the age of e-mail, so many hosts open it up to a two way conversation, even for people like me who'd talk back to the radio but who would never dream of calling in.  Whenever I e-mailed Lynn, she always replied quickly with one or two lines that got right to the point.
I just can't believe that she's gone.  She'll be so sorely missed around our home.
::     ::     ::     ::     ::
On a related note, Monroe Littman, a supporter of WBAI for 50+ years also passed at Christmas.  He seemed so devoted to WBAI and I was saddened to hear of his passing.