For ages, I've wanted to visit the Tabla Rasa Gallery in Sunset Park.  I'd never been there before and I'd been so excited when I first found out that there was a gallery here in southwest Brooklyn, about 30 blocks from my house.  Beyond that, they had an exhibit of paintings by Danny Simmons, whose work I adore.  So I decided to hop the R train and take a little trip to Sunset.
I was so glad that I went .  It was just what the doctor ordered.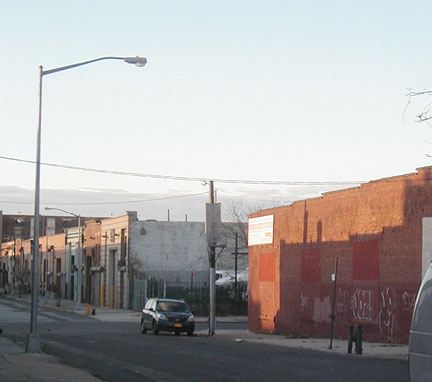 The gallery is tucked away in Sunset's industrial district, near the waterfront.  On a Saturday afternoon, the streets are quiet and empty.
I was met at the door by one of the gallery's directors, Audrey Anastasi, and she made me feel very welcome.  She showed me around the two current exhibits and was even kind enough to show me her own studio and beautiful paintings in the back of the building, along with pieces submitted by artists for their BACKROOM ART SALE – AFFORDABLE WORKS BY GALLERY ARTISTS, (link will open a .pdf) in which no piece will be priced above $400.
The current exhibits are well worth seeing.  The first is DEAR KNIGHTS AND DARK HORSES, photogravures by Thomas Roma, which contrast haunting photos of vulnerable young soldiers about to be deployed overseas to war, and a series of rider-less ponies from the type of kiddie rides that are  found on  sidewalks outside of stores in Brooklyn.  The second exhibit, which just took my breath away, is WHEELS WITHIN WHEELS, recent paintings by Danny Simmons.  His bold use of color and ever changing direction of brush strokes is really festive.  I could have looked at these paintings all afternoon long.
If all this wasn't nice enough, Audrey told me that no one leaves the gallery without receiving a piece of chocolate.
What a lovely gallery with a wonderful director and how cool it is to have this right here in southwest Brooklyn.  Art collectors would do well to pay them a visit.  In addition to selling original artwork, their Backroom Sale will include signed artists books.  The gallery also presents lectures and screen films.
Beatrice Coron (whose work will be exhibited at the Back Room sale)
Wag Mag – Brooklyn's Art Guide.  The November 2010 issue features Tabla Rasa as Critic's Pic
–
In the "wish I had a better camera" department, this is a shot that I took from 4th Avenue looking west before I got back on the train to come home.  There's a ship passing through the bay in the background.