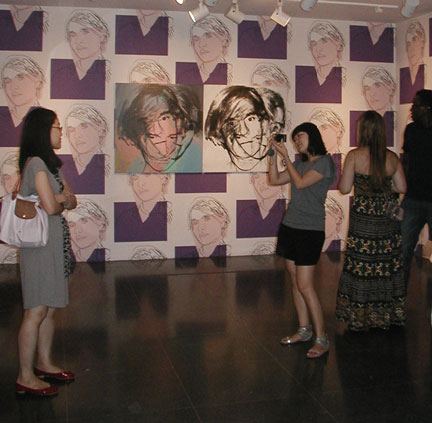 People take pictures of each other in front of Warhol art at the Brooklyn Museum.  Seems appropriate.  Below are a few scenes from Andy Warhol: The Last Decade.
Disclaimer: It's a poor artist who blames her tools, but my camera is old and outdated even by digital point and shoot standards.  Still, the photos do absolutely NO justice to the originals, all of which were so beautiful.  If you're in Brooklyn, go and see for yourself.  The exhibit runs through September 12th.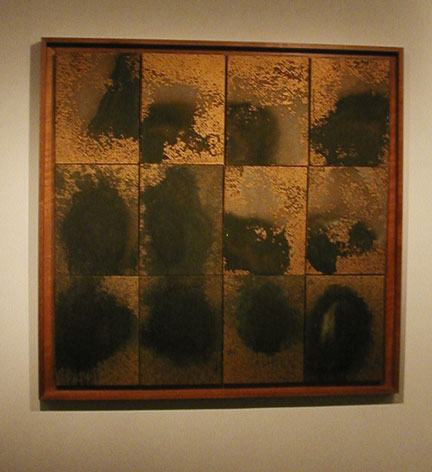 The piece above was my favorite  in the exhibit.  It's called Oxidation Painting [in 12 parts], made in 1978.  Believe it or not,  the materials are acrylic paint and urine on linen.  I love the metallic greens and golds and the textures.  These were among the first abstract paintings that Warhol did.  From the description of the painting:  "By urinating on the canvas he succeeded in creating the 'physical presence' to which he aspired in the act of painting, and simultaneously parodied the act of painting."   Statements like these  made Warhol so beloved and make him so sorely missed.
The exhibit also includes Warhol's films, a television series, and a wall full of covers of Interview magazine in addition to many more paintings, including his religious paintings.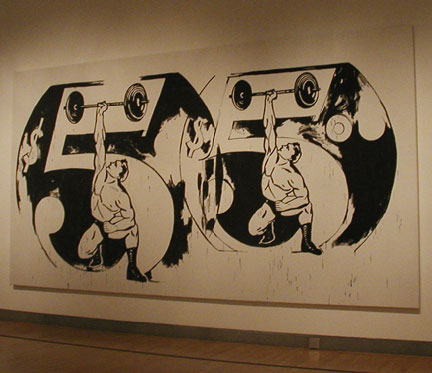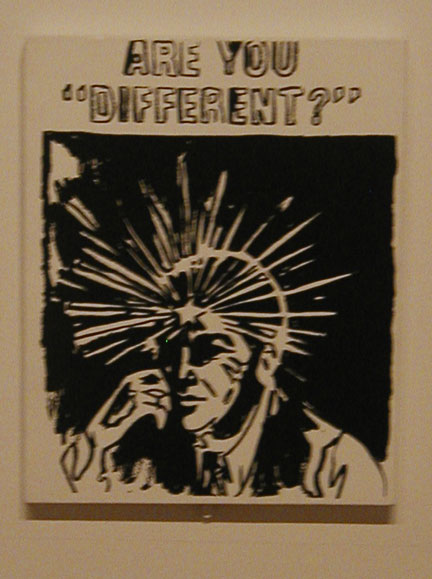 Black and White Ads above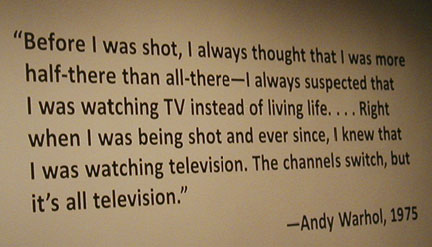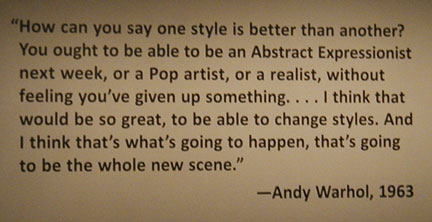 Elsewhere in the museum . . .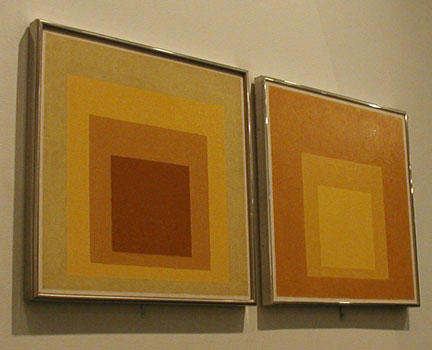 I've had a soft spot for Josef and Anni Albers ever since I saw an exhibit of their work at the Cooper Hewitt ages ago.   These pieces are called Homage to the  Square; they are from 1957.  I worked in an architect's office in the early 1980s where we would turn out page after page of parodies of this type of work.  But I don't love it any less.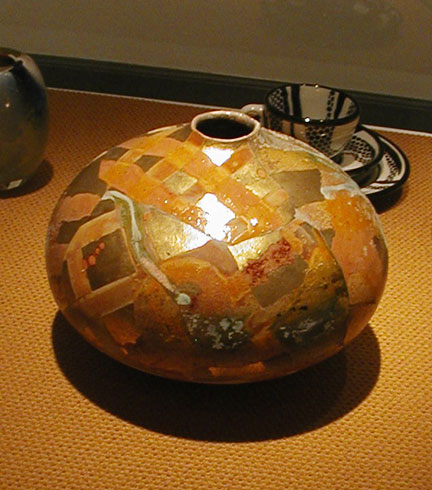 I fell in love with this little vessel by ceramicist Rick Dillingham, whom I'd never heard of before.   On the plaque beneath this piece, I read that the artist was a contemporary of mine who'd already passed away, which broke my heart right on the spot.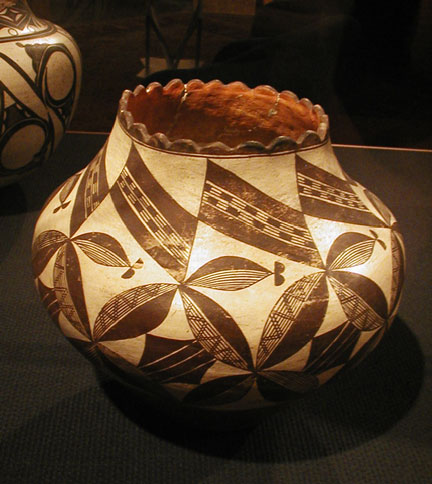 My only complaint about my visit to the museum was that First Nations artists from the so-called "Americas" were barely represented.  It could be that I just didn't know where to look for them and didn't have the time to visit the entire museum.  But amongst one of the American painting collections I found a room which had a few pieces made by Native artists, like the piece above.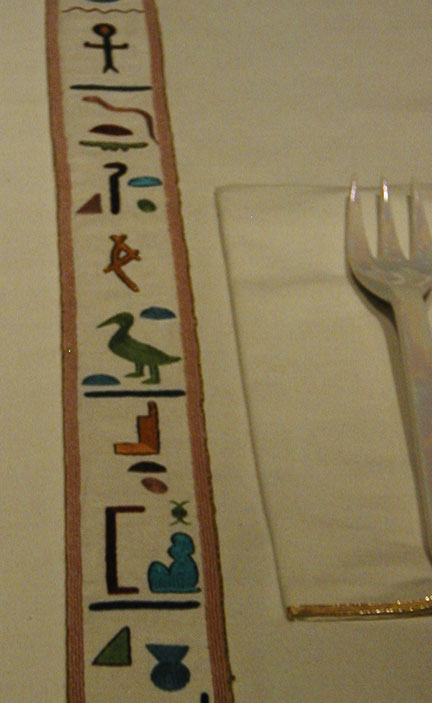 Judy Chicago's The Dinner Party is one of the most stunning works of art I've ever seen.  The degree of detail is amazing.  This is just one little detail that appeared on one of the runners for one of the place settings.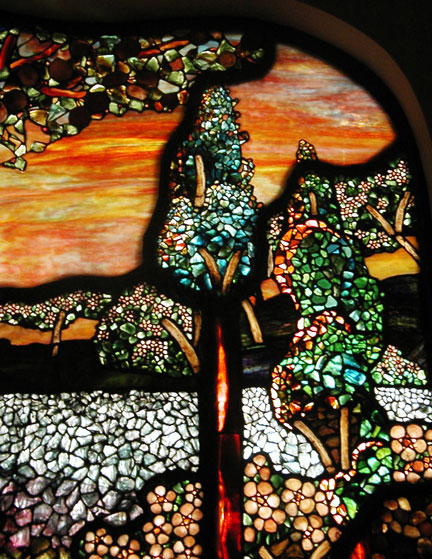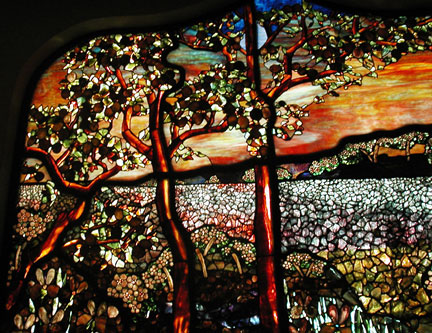 Stained glass from one of the 4th floor galleries [above].
I closed out the visit by seeing works by two of my all time favorites . . .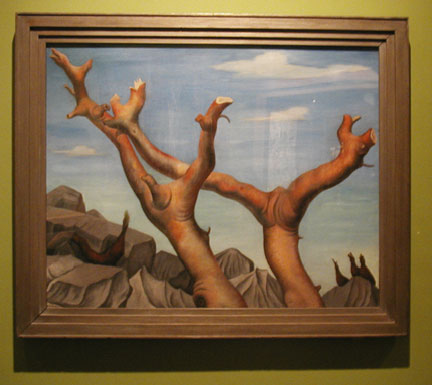 Diego
and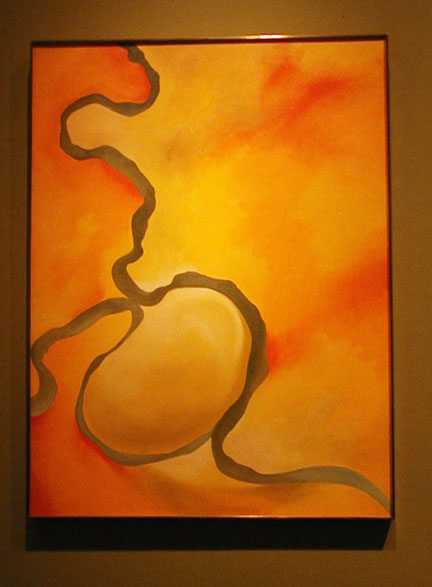 Georgia.