As a child,  I sometimes dreamed of living in a mansion.  If I was passing through a wealthy neighborhood with huge houses and big manicured lawns, I would admire the display and tell myself that I'd live in a house like that when I grew up.  The more embellishment it had, the better.  I wanted lots of ornament, winding staircases, hidden rooms, stained and leaded glass windows and transoms.  Endless stuff.
On the day that I closed on my own house, 25 years ago, the thing that I loved most about it was that the original wood moldings were still intact.  The house had been built in 1907 but unlike most of the houses in its row, it had been left relatively untouched throughout all the eras and fashion crazes that had passed between then and 1985.  The thing that I liked least about the house was that it was a row house, and on the small side.   When we closed on the house, I considered it to be a "starter" home, because we'd surely be moving up the status ladder to a majestic spread in the suburbs with an in ground pool.
I am grateful that, with age, my tastes have changed radically.   Besides, I wouldn't have lasted five minutes in the suburbs.
Here we are in 2010, still in our "starter" house, and my assessment of it is completely different.  Now the thing I like least about it is all the colonial stuff.  I'm sometimes tempted to paint it all white, or some other neutral color.  To just make all that heaviness and old world European-ness go away.   All that  detail sometimes seems too cluttered.
Now I find myself craving the elegance of simplicity.  Now I want to travel light.   Now I don't want to take anything more than I need.
So now, the thing that I like most about my house is that it is small and humble.  It's a row house so it stays cool in summer and warm in winter naturally.  The backyard, where I never built a deck or paved or put in a pool, is now a fledgling urban farm.  At times the house feels like a tight fit for four adults and a business, but it works.  Truth be told, we could probably give away half the things we own, never miss them, and live here  comfortably.
Earlier this year, I developed a fascination for small houses.  The more humble, the better.  In future entries, I hope to write about some of my favorites among them.
A week or so ago, when I saw that this new PBS program called Need To Know was doing a feature on small homes, I knew that I had to see it.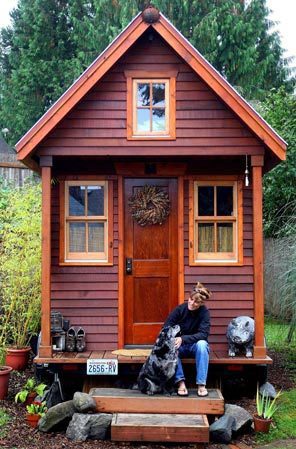 Watch the video or the slide show.
The feature focused on Dee Williams of Olympia, Washington, who built her own 84 square foot house on a trailer [see above] with her own fair hands.  Her total cost was $10K.  She used salvaged cedar, torn-up jeans for insulation and solar cells for power.
Though I really admire her spirit and her confidence in taking on this project and making it work for her, the house, especially the sleeping loft,  left me feeling  a little too claustrophobic.  And I'd prefer to live with indoor plumbing and a shower.
But as is pointed out in one of the comments, a one time investment of $10K, $25K or even $50K for a home can completely change one's lifestyle.  Suddenly there's no pressure to maintain a very high and constantly expanding income.  There can be spare money to invest in good causes.  There's no reason to consume everything in sight, everything that is pushed upon us in the media.  This kind of lifestyle is more conducive to being outdoors, no matter what the weather.  It really tilts the standard middle class life style on its ear, in the best way possible.
Not to mention the most important thing of all — it's kind to Mother Earth.
Violinist Stephanie Arado's prefab house by Alchemy Architects of Minnesota is more to my liking.  [Follow the link!  Their web site is amazing.]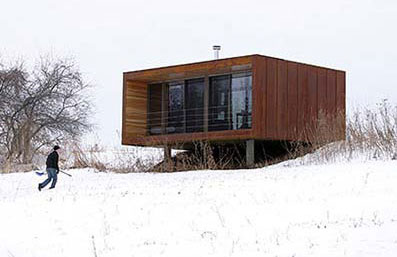 Ages ago, when I was in architecture school and just too young to "get it", my class was given a fantastic project to build a community of similar prefab houses on a Hudson River pier, using freight containers as modules.  If I hadn't been 17 at the time and way too preoccupied with the interests of a typical 17 year old, I might have loved the project.  Now in my old age, I'm probably ready to tackle it!
The series shown on Alchemy's web site reminded me of another series that I read about last winter, the DST Self Sustained Module by Cannata & Fernandes, Arquitectos of Portugal.
Also of great interest:
Tiny House Design where among many fabulous things, I happened to find this really exciting post [complete with video] about Cal Earth Super Adobes. But that's another subject for another time.