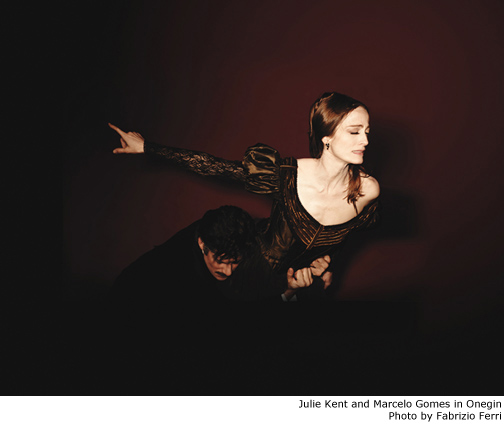 Onegin
American Ballet Theatre
Wednesday, June 6, 2012
A few weeks ago at American Ballet Theatre's Works and Process at the Guggenheim, I heard Reid Anderson discuss his work with John Cranko.  Then he took the audience through the staging of the Book Pas de Deux from Cranko's Onegin.  Before the evening was over, I wanted very much to see ABT's new production of this ballet.  It was wonderful to have been given some insight into the process and into Cranko's intent beforehand, and to be able to take that along with me into the theatre as I was introduced to the full length ballet.
Julie Kent personified Tatiana.  In Act I, she is the very image of bookish innocence as she approaches the dark exotic stranger Onegin, played by Roberto Bolle.  From the moment that the two begin to dance together, my heart ached from the trusting expression of young love that Kent brought to Tatiana, as well as the weary indifference with which it was met by Bolle's Onegin.
Bolle is costumed in black, and his movement is every bit as dark, evoking Onegin's boredom and self absorption.  The only moments in which we see a spark of humanity in Onegin are in his own variations, where he seems to be searching for something outside of himself that will relieve him of his jaded view of the world.  When Tatiana shows him her book, Bolle turns up the cruelty by sharing a mocking look with the audience that she can't see.  As he dances with Tatiana, there are moments where he is almost dragging his own weight from the heaviness with which Onegin seems to experience life.  Bolle was so convincing in the role.  Throughout the evening I grew more and more exasperated with Onegin (the character), to the point where I was all but swearing under my breath by the end of Act II.
Every bit as compelling as the two lead characters, were the two secondary leads, Onegin's friend Lensky and Tatiana's sister Olga.  Jared Matthews and Maria Riccetto were the very image of happy young carefree lovers.  Their exuberance was shown in their sparkling facial expressions, their musicality, and the lilting lyrical way in which they moved together in the pas de deux.  The lively dance of the villagers seems to pick up on this carefree love, and winds up with an electrifying series of grand jete lifts along the diagonals.
Later, among the lovely silvery turquoise sets that make up Tatiana's moonlit bedroom, Nancy Raffa, as the nurse, was really cute as she checked on Tatiana, moving a few steps away from the girl's bed, freezing and peering back over her shoulder, then moving forward and peeking again.  I half expected her to go to Tatiana's desk and read the love letter she'd just written to Onegin.
Again Kent's Tatiana is all sweetness and innocence as she sweeps through her bedroom, barely able to contain the feelings in her heart.  In the lovely Mirror Pas de Deux, as the Onegin of Tatiana's dream, Bolle transforms into the romantic hero, his focus now trained on the woman in his arms.  Julie Kent's depiction of Tatiana's innocent love given so freely nearly drove me to tears.  She seems feathery and angelic, especially as she stands straight and Bolle lifts her, his arm fully extended overhead, so that she appears like a love struck spirit floating through the room.  The partnering is dramatic, with Onegin throwing Tatiana as if she was weightless in her dreaminess, and Tatiana often gliding into a swan-ish landing on one knee with her other leg extended behind her.  Kent and Bolle moved together as kindred spirits.
Act II opens with another merry dance performed by the villagers, which includes a series of festive cabriole lifts.  Those who danced the character roles, including Martine van Hamel as Tatiana's mother, provided some good humored comic relief.  Bolle's Onegin, no longer the imaginary hero of Tatiana's dream, now seems darker still, heartless, annoyed and ultimately cruel.  He has no interest in Tatiana and he doesn't even want to look at her as they dance together.  While all the villagers are dressed in earthy country prints and seem to pulse with life, the conflict between Onegin and Tatiana provides a stark contrast, as she is costumed in white and he in black.  Onegin has broken Tatiana's heart and done nothing to spare her feelings.  As Tatiana's mother spirits her away and guides her to dance with the Prince, played by Roman Zhurbin, Julie Kent casts one last heart rending look at the bored Onegin.
Jared Matthews so beautifully descends into hurt and outrage as Onegin and Olga set to teasing Lensky.  He brought such strong heartbreaking emotion to the role.  Throughout the scene, tension builds and builds, ultimately exploding as Lensky challenges Onegin to a duel.  In his last variation, Matthews' dancing gave clear voice to Lensky's introspection, anguish, resolve and desperation.  He created movement that seemed every bit as searching and bleak as the haunting sets of bare trees of the winter forest.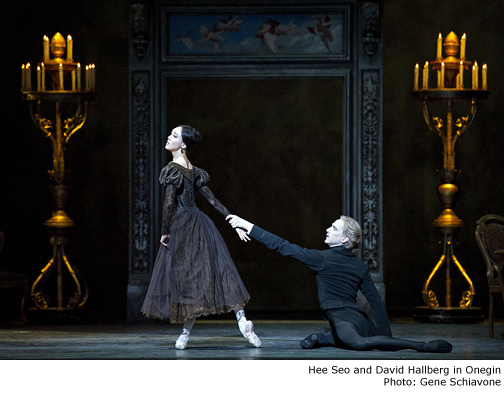 As an older man in Act III, Onegin returns to St. Petersburg years later, where the prince is hosting a ball.  Onegin is still the same bored, jaded individual and Bolle moves with a distinct lack of purpose, his focus never on the woman with whom he's dancing.  His movement really captures the futility that has worn on Onegin, not only through his youth but now weighing even more heavily on him as he settles into middle age.  Julie Kent's Tatiana is now regal and self assured as she dances with the Prince, never even knowing of Onegin's presence or of the fact that he's become smitten with her and has begun to figure out that she's the young woman whose heart he'd broken years earlier.  They are introduced for a brief moment, and Tatiana is cordial, but then she goes on her way with the prince, but not before casting one last look of disbelief at Onegin.  I felt that throughout the ballet, these subtle looks either cast over the shoulder from one character to another, or shared with the audience, formed crisp clear snapshots which spoke volumes of that moment of the story.  In a chilling scene, Onegin stands before the scrim and watches as his time with Tatiana passes before his eyes, culminating with his assassination of Lensky.  Bolle, still dressed in black under a harsh white spotlight, moves stiffly.  His Onegin seems to struggle for balance on flat feet, looking haunted and stunned with regret over the people and times whom he'd never appreciated before.
The closing pas de deux is especially moving, giving voice to complex emotions that we don't often see in classical ballet.  Julie Kent's dancing alternately brings out the enduring hurt and anguish that Tatiana had suffered from Onegin's rejection, as well as her determination to send him away, as well as the little bit of aching love that remained for him in her heart.  Kent moves seamlessly from one expression to the next, conjuring a gamut of conflicting feelings. Bolle partners her effortlessly, portraying Onegin's regret and his new passion, making him seem as human and alive as he had been in the Mirror Pas de Deux.  In terms of the story, it made me wonder how he'd conduct his life after that moment.  Would Tatiana's rejection toughen his hide and make him even more jaded, or, having seen what he lost with her, would he set out to try to find it again elsewhere?
Everything about this new production is very well done.  The atmospheric sets are lovely and haunting.  The ensemble dances are so lively and joyous and the beautiful work of the four dancers who played the lead characters took us through such a wide sweep of intense complicated emotions.