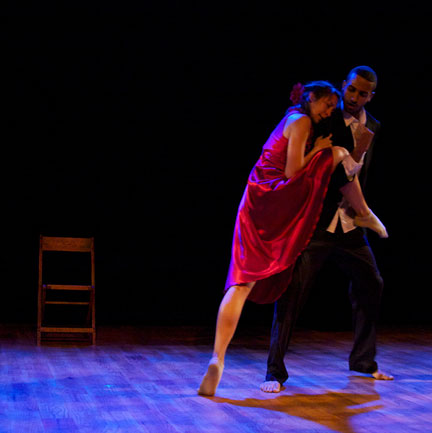 On September 26th the DeMa Dance Company will be performing Yesid Lopez's Poema 15 (I Like For You To Be Still) at the Grand Finale of the DUMBO Dance Festival, which is celebrating its 10th Anniversary this year.  The concert will take place  at the Empire Fulton Ferry State Park on the DUMBO waterfront, right near the Manhattan Bridge, with a spectacular night time view of the New York City skyline as a backdrop.
The festival is part of the 2010 DUMBO Arts Festival which along with dance will feature "music, performance art, literature, theatre, film, a digital design industry component, kids' programming and more."
The dance Poema 15 had its World Premiere last July at the White Wave John Ryan Theater.  Three couples perform in the dance, one at a time, dramatizing different aspects of love and relationships, to the music of Luis Bacalov and Luis C. Amadori, along with spoken word by Glenn Close.
"Poema 15 is a manifestation of love.  It is a trip that most of us have taken.  It is a wake up call to be romantic, to care, to express without boundaries, to live, to laugh, to love.  It's a tribute to Pablo Neruda's legacy as the most influential love poet in Latin America's literature." — Yesid Lopez's program notes from the White Wave program.
I'm really looking forward to the festival and the performance.  Last year at this time, DeMa was just being born and its first dances were being cast.  The company mounted a very ambitious schedule in its first year, setting eight brand new pieces on its new dancers and bringing each one to the stage.  They enjoyed a successful New York season last May at the Ailey Citigroup Theatre as well as two dates in July at White Wave.  Artistic Directors Despina Simegiatos and Matina Simegiatos brought the company a very long way in a short amount of time.
All photos of  Poema 15 by Kimberly Max.  Costumes by Peggy Casey.  Lighting by Jeremy Jones.
View DeMa's demo reel.