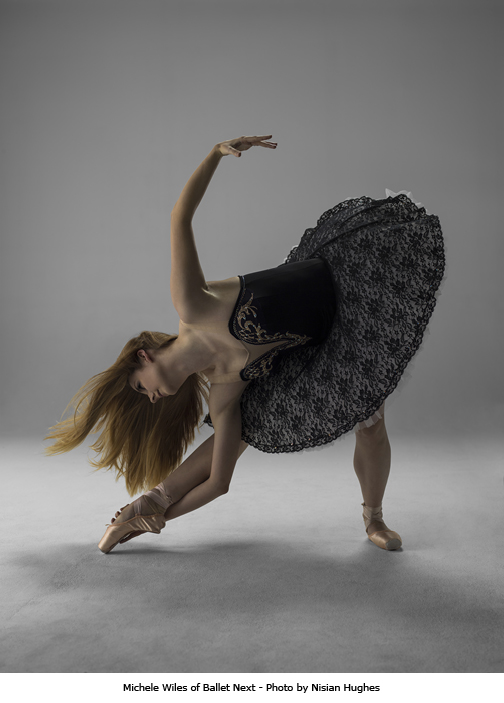 Ballet Next
Residency at Kingsborough Performing Arts Center
Open Rehearsal
August 8, 2013
Photos and video courtesy of Ballet Next
When Ballet Next's Artistic Director Michele Wiles launched into her first effort at choreography, she began by working in her socks.  After years of performing classical and contemporary ballets en pointe, she wanted to take the pointe shoes off.  This approach seems to personify Ballet Next's mission — exploring the art of ballet in a new way.  Her company is doing a residency at Kingsborough Community College in Brooklyn, and throughout an Open Rehearsal, she provided the audience with a glimpse into her process.
She told us that she'd changed her choice of music three times before finding her groove with Infra 4 and 5 by Max Richter.  She placed her palm over her solar plexus as she talked about the search for an energy that felt right.  As the music conjured different emotions, those emotions were translated into different forms of movement.

For this new piece, currently untitled, Ms. Wiles worked with soloist Tiffany Mangulabnan.  Both dancers are en pointe and they trade off solos, each one dancing in the center while the other walks the length of the stage, sometimes with an eye on the soloist.  The movement of the opening solos is lovely and lyrical.  Later, the port des bras becomes staccato.  There are isolations of the shoulders and ribs.  The torso rolls and the dancers undulate, rising out of a deep plie as if riding a wave.
For me, it is the unison movement in this piece that is especially lush and gorgeous.  It is in the unison sections that the chemistry between the two women is given its showcase.  Though their styles are slightly different, they work so beautifully together, and they seem to bring as much power to the moment as a larger ensemble would have done.
Ms. Wiles paused to make a change in a section of the dance.  She instructed  Ms. Mangulabnan to adjust the movement, and then she seemed delighted that Ms. Mangulabnan had inadvertently embellished the phrase.  She instructed her to remember the changes so that they could work on them in the next rehearsal.  Later on, during the Q&A, Ms. Mangulabnan explained that dancers train the memory in the same way that they train muscles.  The training begins as soon as they start taking class.  Day after day, students are made to learn new phrases of choreography and perform them right away.  Because Ms. Mangulabnan had executed the new movement of Ms. Wiles' piece, she declared, "It's in there."  It is easier for her to remember executed movement than it is to remember choreography that she only watched someone else perform.
Ms. Wiles talked about other fortunate accidents that happened in the studio, such as a moment when Ms. Mangulabnan's bun came undone during the second section of the piece.  Those who were watching the rehearsal agreed that the dance looked better when the dancer's hair was loose, and so that became part of the ballet.  They ran the second section, both of the women wearing their hair down, and that little detail did seem to open up the energy of the piece.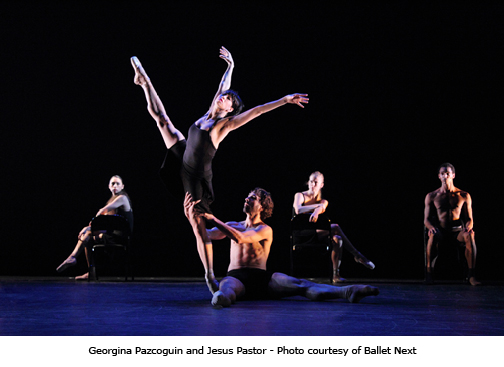 After a lovely vocal performance by singer-songwriter Aurora Barnes, Ballet Next's cellist and Music Director Elad Kabilio talked about the music for Brian Reeder's Different Homes.  He demonstrated the different voices in Benjamin Britten's 1964 piece Suite for Cello Solo.  They each speak melodically and clearly by themselves, then when played together they either "meet or contradict each other".  With this music, Mr. Reeder set out to explore a different type of intimacy and relationship between dancers.
For this ballet, danced by Ms. Wiles and Jens Weber, Reeder set for himself the challenge of creating a pas de deux in which the hands are never used for contact and support.  The dance opens with the dancers standing back to back, their heads resting on the shoulder behind them.  The hand becomes a feathery extension of the arm as unusual lifts are achieved by contact on different parts of the arm.  At several points, Mr. Weber's arms are extended forward like parallel bars and Ms. Wiles' balances against them, or is lifted by them, in a variety of different fashions.  Their promenade happens arm in arm, linked at the elbow.  When Ms. Wiles strikes an attitude front in releve, she is chest to chest with Mr. Weber.  The dance does succeed in opening up an unusual conversation and vocabulary between the partners.
During the Q&A session, Ms. Wiles spoke with fondness about her years with American Ballet Theatre and all of the great artists with whom she worked.  After seven years as a principal with the company, she asked herself, "What do I want to do next?"  She was ready to take the risk of striking out on her own and exploring the art of ballet in another way.
Though the journey has been artistically rewarding, there have also been challenges which led her to find new solutions.  Economic challenges caused her to become much more inventive in creating costumes.  Ms. Mangulabnan, who came from Phillipine Ballet Theatre, a larger company with a more regimented routine, also spoke about the adjustments in her process after coming to work with Ballet Next.  Rather than taking a daily company class and working with the same artists consistently, she now has to take class on her own.  There seems to be nothing routine or predictable about the work that she does with Ballet Next.  "Every other month there are new people in the studio to work with and learn from".
Ballet Next sees itself as a "platform for artists".  Every time that I've seen them, there has always been live accompaniment.  Mr. Kabilio said that the musicians are part of the collaborative process from the very beginning.  "You can't collaborate with a CD," which most companies have to use because their budgets can't cover the costs of live accompanists in the studio.  Because of Ballet Next's close working relationship with their musicians, trust is built between dancers and musicians.
Ballet Next will be appearing at New York Live Arts, January 13 through 18, 2014.