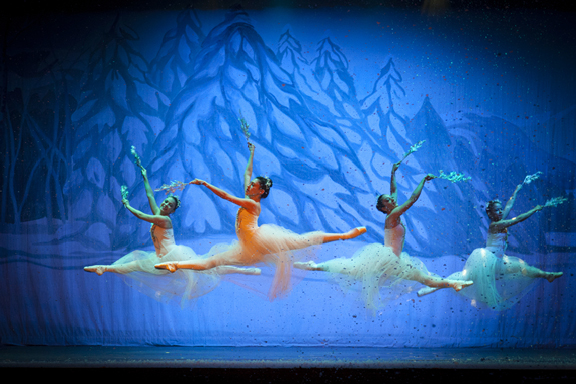 Vicky Simegiatos Dance Company presents The Nutcracker
The Historic St. George Theatre
December 22, 2013 – Matinee
All photos by Kim Max Photo
The Vicky Simegiatos Dance Company was impressive when I first saw them perform back in 1995.  It surprised and delighted me to find that ballet students in a Brooklyn community had come together to form a substantial ballet company.  Artistic Director Vicky Simegiatos and Ballet Mistress Matina Simegiatos have assembled a group of eager youngsters and an impressive corps de ballet, who receive their training free of charge in the company's scholarship program.
The VSDC has come a long way since 1995.  This year they performed the Nutcracker to capacity crowds at the historic St. George Theatre on Staten Island.  Guest artists Rebecca Krohn and Jared Angle, principal dancers of New York City Ballet, joined them in the roles of the Sugar Plum Fairy and her Cavalier.  Vicky and Matina Simegiatos collaborated on choreography for the full length ballet.
The VSDC's Nutcracker has long been one of my favorites because of its intimacy, the likes of which I've never seen rivaled by elite companies.  The dancers of the VSDC manage to create this atmosphere without sacrificing professionalism and clean technique.  Their disciplined training is evident in their performance.
Their warmth could be felt from the opening moments of the ballet when we meet Clara and Fritz (played by Angelina and Athan Sporek), along with their parents Dr. and Mrs. Silberhaus (played by Voytek Sporek and Matina Simegiatos) as they prepare for the arrival of their party guests.  Throughout the evening, even as they executed the steps and the formal staging of the dance, Angelina and Athan never lost that guileless innocence of childhood.  It was as if both children had become their characters.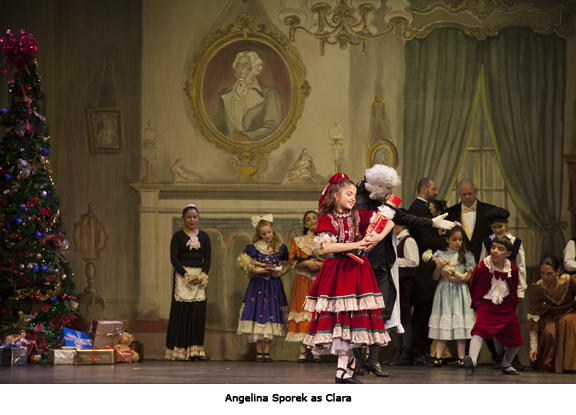 The Party Scene is a display of colorful costuming, gleeful mischievous children, amusing childhood games, and dolls coming to life.  Patricia Casola's Herr Drosselmeyer is charming with great comic timing, as he directs the party and engages the children.  When Fritz is called to account for breaking Clara's Nutcracker, Athan Sporek stumbles and briefly falls, his gaze cast up the adults around him, his face the very image of childlike trust and penitence.
Angelina Sporek's performance was especially moving in the nightmare scene.  As she crosses the floor, at first vaguely aware of the presence of the mice, she casts a glance over her shoulder, as if sizing up the situation and trying to figure out her next move.  She seemed unlike an actress on stage, and more like a child being made to confront something fearful. She moves forward thoughtfully with an undercurrent of hesitation.
Dance of the Snowflakes is a standout piece, marked by beautiful choreography performed by the corps de ballet at a breakneck tempo.  White tulle skirts swirl and paper snowflakes fall. The dancers fly as if blown on a frigid gust of north wind.  They gather as if in drifts which break open in kaleidoscopic patterns.  It takes a big dose of stamina for these dancers to get through this dance, yet the girls never break character.  I can't count the number of times I've seen this dance performed by this company, still it never fails to make me tremble at its beauty.
Lauren Twomley brought fire and sultry passion to the Spanish dance.  She has a poised and powerful stage presence which demands the audience's attention.  Alexis Stefanou's supple movement, beautiful extensions, solemn focus and unwavering balance stood out in her performance of the Arabian dance, one of the audience favorites.  Kira Farberov and Magdalena Palac were exuberant as soloists in the Russian Dance, rousing the audience to share in their enthusiasm.  It was such fun to watch them.  Astrid Castillo and Samantha Rivera were adorable in the Chinese dance.  Lovely Jessica Mena and Eleni Sarris moved with regal ballerina grace and sweetness in Marzipan.  Joseph Beltre executed an exciting series of turns and leaps as the Soldier doll in the Party Scene, his attack as forceful as the music.
Waltz of the Flowers has become another signature piece for this company, a celebration of beauty, color and music.  Pink tulle skirts sway like petals as the dancers create lovely formations which perfectly complement the familiar score.  The dancers' movement is so lyrical that even as one watches from the audience, it's hard to sit still — we feel the urge to sway along with the dancers and the music.  As Dew Drop, Jennifer Pauker is fierce in her strength and technique, moving effortlessly through a never ending series of turns and challenging transitions.  She makes it all look easy.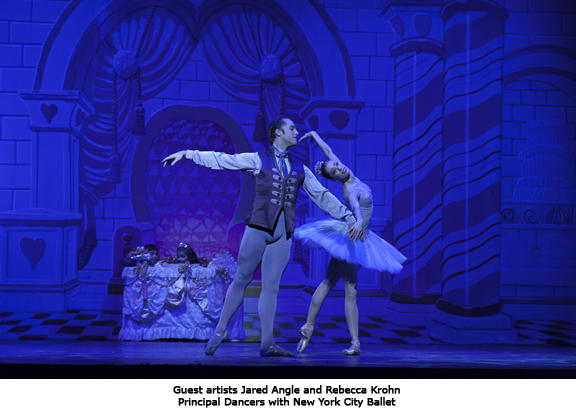 Rebecca Krohn brings a unique innocence to the role of the Sugar Plum Fairy.  She seemed less like a big sister or a prima ballerina, and more like an adult version of Clara, which reminded me of Ratmansky's interpretation of the ballet.  Her movement is stripped of pretense, performed with an uncommon honesty  that I found to be so endearing.  Jared Angle partners her flawlessly, showcasing her presence, before delighting the audience with a brilliant sequence of turns in his solo.
This performance marked a pinnacle in a long series of achievements for the Vicky Simegiatos Dance Company.  It will be so exciting to see where they take things from here.