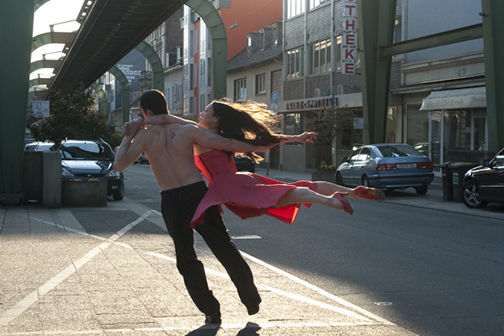 Wim Wenders' Pina in 3D
BAM Rose Cinema
Official Film Trailer
Leonard Lopate Interviews Wim Wenders
.
Wim Wenders' film Pina in 3D is a beautiful love letter to Pina Bausch from himself and her dancers.  It's one of the most beautiful dance films I've ever seen.
Earlier this week, in an interview with Leonard Lopate, Wenders said that there was "something wrong between film and dance period" and I'd have to agree.  Dance works in plot driven films like The Red Shoes, but not so well in straight concert recordings.  Wenders candidly said that when he first began working on the film, he just didn't know how to do it.  But when he first saw the new digital 3D, things began to work for him.  The 3D effects are extraordinary and create the depth needed for the space in which the dancers work.
Pina told Wenders that she did not want a biographical film.  Wenders described her as a woman of few words, so there would be no on camera interviews about the work.  Their goal had been to make a film about the work itself, and so the film takes the audience on a journey directly through the dances.
From the earliest moments of the film, the enormous spirits of Pina and her dancers become palpable.
The first thing we see is Pina's connection to the earth and the elements.  One dance is set on a stage covered with soil and the dancers themselves seem to have been born from the earth.  There are very exciting unison sections danced by large groups, set to music that pulses with urgency.  The men are bare chested and the women are wearing thin pale slips.  The dancers move like a tribe, like a nation of their own.  There is no room for pretense.  Pretty movement is abandoned for that which is raw and primal.
Many of the dances move outdoors to settings that are natural, pastoral or park like.  They also move to an Olympic sized swimming pool, to a floating tram car from the light rail mass transit system in Wuppertal, to an escalator, to a dark underground tunnel full of graffiti and murals, to a busy intersection of city streets.
Woven into the presentation of the dances are remarks made by the dancers.  They do not appear on screen as talking heads, but rather we hear their words as they silently face the camera.  It seemed to me that this worked to reveal who and what the dancers are in a way that their words alone just couldn't.  We see and feel their spirit, their vulnerability, their artistry, their insecurity.  The dancers come from different countries the world over and most of them make their remarks in their own native tongue.  They offer glimpses into what it was like for them to work with Pina .  Many of them speak volumes by just repeating a simple statement that Pina made in the studio.  One dancer says that Pina told her, "You just have to get crazier."  One dancer was told, "Your fragility is also your strength."  One dancer is waiting for Pina to visit her in her dreams.  One dancer speaks of Pina's penetrating gaze and her ability to see through pretense.
For Café Muller, Wenders shows us a recent performance of the dance, then cuts in archival footage of Pina in younger days dancing one of the roles.  Her movement is gorgeous in its detail and musicality.  The simplest port des bras becomes so lush and full of meaning.  She talks about dancing in Café Muller with her eyes closed and I am taken by the amount of trust that was necessary for her to do that and to rely on the other dancers to clear the way for her.
Her dances seem so organic that I can't even imagine that they are rehearsed and brought to stage in a traditional manner.  They seem so raw and so spontaneous.  They bear such little resemblance to collections of  "steps" that we learn in a studio.
Even as the film takes the viewer straight to what is honest and primal, and launches into conversations about the deepest and most heartfelt matters, the dances do not lose their sense of humor.  The film has a few moments in which the audience laughs out loud.
The last moments of the film got me so choked up.  They are not sentimental and I don't want to spoil them for those who will see the film, but I have to say that I left the cinema with my heart overflowing with love and awe.
I highly recommend this film to those who already are dance enthusiasts,  but I think that the humanity of Pina's dances and the brilliant way in which this film was created and presented will give it a universal appeal.
If you love dance, be sure to see this film.