Sokolow Theatre Dance Ensemble
presents
Sounds of Sokolow
Lyric Suite
The Theatre at the 14th Street Y
December 8, 2012
All photos by Meems
In the opening passage of Lyric Suite, Allegretto Gioviale, dancer Richard Scandola stands alone and shirtless.  He looks around, guarding his own back, and he seems careful not to make a sound, as if he is hunting.  Slowly and deliberately, he shifts his weight.  The passage opens up only slightly as he moves forward in a series of turns until, like several of the passages of Lyric Suite, it closes with the same movement with which it opened.  This passage was dedicated by Anna Sokolow to Vaslav Nijinsky, and even though the music and dance are non-narrative, the theatricality is always there.  The dance does not respond literally to composer Alban Berg's atonal music, but rather it works with the music to conjure emotion and atmospheres.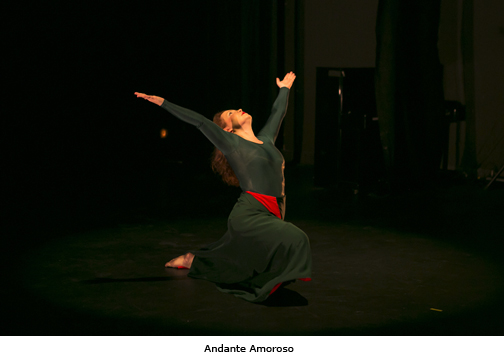 Francesca Todesco dances Andante Amoroso.  There is interesting movement with the hands, fingers woven together as if to make a basket which she holds close to her heart.  They move  behind her neck, pulling on her head before she extends her arms overhead, hands turned palms up.  It made me feel as if she was searching or beckoning to the heavens while reconciling the pull of earth.  In another sequence, she seems to be rocking on the waves of the ocean before her gaze returns upward.  There is a long and dramatic series of turns in which her head sometimes drops.  In the closing moments, she is reaching skyward as her body sinks and finally falls to the floor.
Allegro Misterioso follows, danced by Samantha Geracht.  She enters in a floor length gray skirt.  Her hands tremble as she lifts them.  She seems even further bound to the earth, sinking, falling, and getting back up.  She runs frantically around the stage, at times moving backwards till the end of the passage, where she seems resigned to her fate, stuck on the floor and unable to rise as the stage goes black.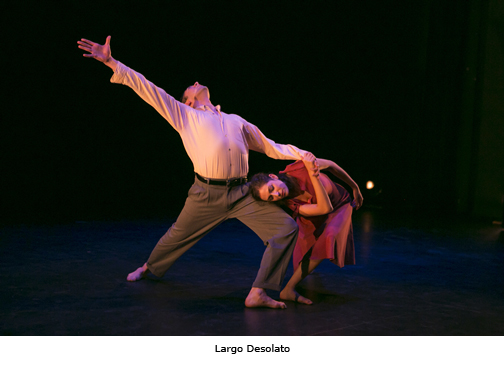 Melissa Sobel and Gregory Youdan danced Largo Desolato.  The partnering is beautiful and the movement in this section is more lyrical and slow, but with intensity.  It reminded me of Anna Sokolow's quote, "True lyricism has to have passion and strength underneath it.  For an arm to come up beautifully and with meaning, it has to have great power and energy."  There was a lovely and unusual sequence as the dancers sit on the floor and advance toward each other with a high developpe initiating each movement.  They stand and grasp each other by the forearms, backs arched backward and chests lifted as if in euphoria.  Simple movements like ronde de jambs and tendus on the floor are used to lovely effect.  The gentle beauty of this passage seems to resolve the tension set up in the Allegro Misterioso.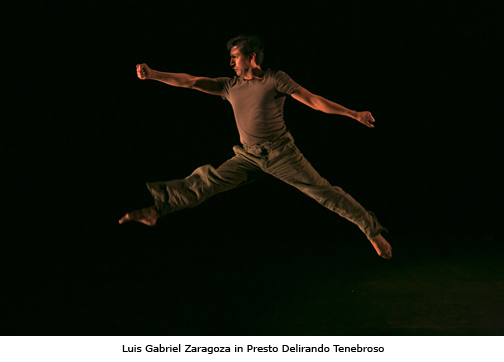 But the tension returns, builds and explodes with a bravura performance by Luis Gabriel Zaragoza in Presto Delirando Tenebroso.  Zaragoza's dancing is riveting and dramatic — I found it impossible to take my eyes off of him even for a moment.  His facial expressions are haunting and heart breaking.  He dances the role of one who's been captured and dehumanized, like a soldier or a prisoner, but the humanity within him struggles to be set free.  There are dramatic changes in direction that pivot rapidly and unexpectedly.  He executes a series of grand jetes but he slowly loses steam, as if the life is being drained from him.  He struggles to open up but winds up falling.
Lyric Suite closes with a quartet, Adagio Appassionato.  Four women dressed in floor length red skirts travel along the stage mostly at close quarters.  The choreography plays with level changes and the rippling swirling of the skirts to great effect.  Some of the patterns seem to be more formal — the women stand in a square at one point, as if for a reel.  Toward the end there is another interesting sequence in which the dancers seem to be moving away from one another, yet the group remains at close quarters.
Anna Sokolow's work was pivotal in the world of modern dance.  It was wonderful to see it performed by Sokolow Theatre Dance Ensemble and it would be great to see more modern companies tackle her repertoire.