New York City Ballet
Concerto DSCH, Sonatas and Interludes, In Creases, Stars and Stripes
David H. Koch Theater – June 4, 2013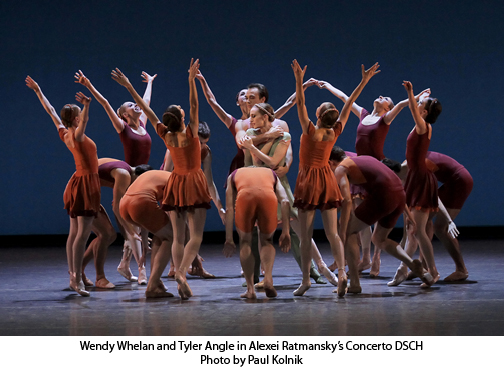 The opening section of Alexei Ratmansky's Concerto DSCH set up a festive atmosphere to start off the evening. Joaquin De Luz and Gonzalo Garcia were jubilant right out of the gate, full of charm, playfulness, quick footwork, high jumps and dazzling turns. The soloists have room to move and I could feel them drawing the audience into the fun. For the Tuesday evening crowd, it was as if the energy in the theatre lifted, rising out of the workaday world and into a celebration. Ashley Bouder was adorable, all dazzling footwork as she executed the lightning fast petit allegro. Tyler Angle and Wendy Whelan were the epitome of breezy lovers as he swung her around him until the circle of dancers closed about them. From my seat high up in the Fourth Ring, I admired the fact that the circular formations worked just as well when viewed from overhead as they did from the perspective of those in the orchestra seats. Whelan and Angle were stirring, lovely and lyrical in their pas de deux, especially as she bourees away from him and he keeps reaching for her, a dramatic passage which ends in a majestic high lift. Angle partners her so beautifully. Their timing is perfect and their transitions are seamless. Angle also brings a boyish innocence to the dance, which really enhances its merry energy.
At this performance, I had my first opportunity to see Sonatas and Interludes and it knocked me out. The duet was danced by Tiler Peck and Amar Ramasar, while pianist Nancy McDill accompanied them on stage. McGill plays the John Cage score on a prepared piano. The program notes explain that Cage would work to change the piano's sound "by inserting bits of wood, paper, screws, or other objects between or on the strings at various points to produced a more percussive sound." While I'd read about this, I'd never before heard this music, nor was I aware that Cage left detailed instructions and diagrams along with his score, explaining exactly how to prepare the piano. The music is exquisite and sounds as if it was being played by a small ensemble with bells and other small percussive instruments. At times the music seemed to have an Asian flavor. It can be stark, full of extended rests, and without the usual classical ornament that we're used to hearing in ballet music.
The stage is bare, with the exception of the piano at the corner. Ms. Peck and Mr. Ramasar wear white unitards with gold belts. Throughout the first section of the dance, they hold hands and rarely let go. The movement can make a lovely lyrical counterpoint against the percussive voices in the music. There is good chemistry between Peck and Ramasar and I found the dance and the performance to be quite powerful. Each dancer stretches out in their own solo section. Peck enters the stage spinning a long sequence of traveling turns which keep changing direction. Recently I have seen her dance roles reserved for youthful high energy dancers, or roles that are theatrical. I felt that this piece showed a new dimension to her range and I was impressed with the performances delivered by both dancers.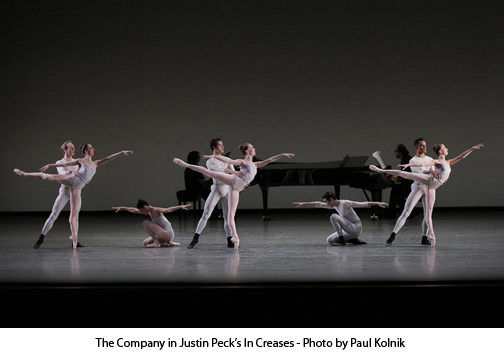 Justin Peck's In Creases had its first New York City performances this season. The dance showcases the talent and the original movement that has made Mr. Peck's choreography so celebrated. The dance's formations on stage delight the eye and Peck also plays very effectively with level changes and the vertical space closer to the floor.  This can be seen in the photo above, in which a dancer on her knee will carry her arms in a similar fashion to a dancer in arabesque en pointe. At moments the movement is sharp and staccato against the cascading piano music performed on stage by Elaine Chelton and Alan Moverman. Peck has a real skill for assembling familiar movements in a fashion that's unusual and exciting, such as in a great sequence in which the dancers line up on their backs on the floor while lead dancer Robert Fairchild hops over them. Every formation seems to open up in an unexpected and kaleidoscopic manner. A wonderful dance!
The evening ended with Stars and Stripes featuring Teresa Reichlen as the Liberty Bell and Chase Finlay as El Capitan. Reichlin had these wonderful flirty moments and Finlay executed great leaps and awesome turns. He winked as he saluted the audience and that gesture alone seemed to sum up the feeling of the evening — extraordinary dancing delivered with a playful twist.