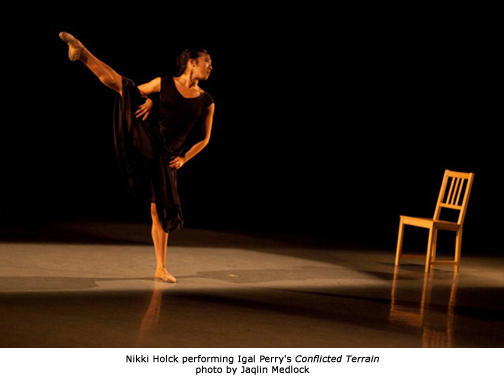 Peridance Contemporary Dance Company
Sunday,  March 10, 2013 – Matinee
Salvatore Capezio Theater
Peridance Contemporary Dance Company is a wonderful group of strong expressive multi-faceted dancers presenting powerful choreography in a unique voice.
In Igal Perry's Conflicted Terrain, the choreography extends beyond the dancers to the live musicians who performed the stirring String Quartet No. 3 by Górecki.  Each player in the quartet is perched on a platform which is moved to different stations throughout the passages of the music and the dance.  The piece opens with one of the dancers seated in one of the musician's chairs, before a music stand.  To me this seemed like a beautiful metaphor for how deeply and intimately a dancer or a choreographer can become with a piece of music and the performance of it — as if there's no real demarcation where the music ends and the dance begins.
In the opening moments of the dance, a woman slowly shifts her weight from one foot to the other, releasing the working leg to a high second.  As she finally holds the extension, her partner enters and bumps into the extended leg.  This motif and a series of other phrases reprise throughout the dance.  There are moments of the dance that flow so smoothly, with lovely and complex partnering, and passages in which the couples move in unison.  All the while, the undertow of conflict seems to be present as the musicians are rearranged on the stage and distance opens between the couples.  At times they are pulling so far from each other that they are only being kept upright by their partner's hold on them.  This was a beautiful performance of an imaginative dance.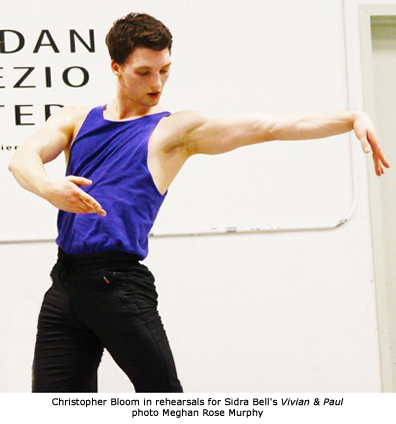 I'd never before seen Ohad Naharin's Mabul, an excerpt of which was performed on this program by Joanne DeFelice and Christopher Bloom.  The clever choreography seemed to revolve around issues of trust and even redemption.  Bloom is folded in upon himself, his arms outstretched, his hands clasped as if he's pleading.  DeFelice backs away from him.  When she allows him close to her, he bangs his head against her chest, as if violence is rising from what could have been a tender moment.  The tension seems to be resolved when DeFelice is mounted on Bloom's shoulders as if they are one being, their arms moving in unison.
Infinity, also by Igal Perry, received its world premiere.  Set to Beethoven's Hammerklavier, it's an atmospheric piece full of expansive movement in which every gesture seemed to contain its own little world — a story of its own.  The women's bodies are unfurled, their chests are open, arms apart and lengthened, legs long and extended in splits or opening up in sweeping grand rondes.  The formations travel the expanse of the entire floor.  There's a strong timelessly classical feel behind the contemporary movement.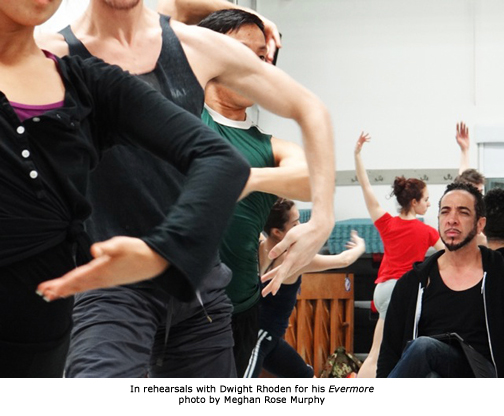 The performance closed with Dwight Rhoden's Evermore, receiving its world premiere.  It's a theatrical piece set to songs sung by Nat King Cole which would have been right at home on a Broadway stage.  The dancers breezed through the complex athletic movement that is a trademark of many Complexions' pieces and the audience seemed eager to join in the fun.  It was great to see the ease with which these contemporary dancers could transition into this Broadway style.
Peridance Contemporary Dance Company will be performing these works again the coming weekend.