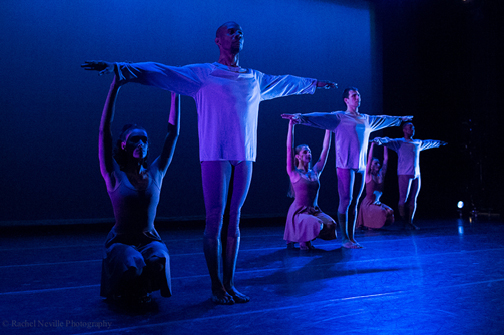 Morales Dance presents
For You
An Evening of Traditional Modern Dance
The Ailey Citigroup Theater
April 18, 2014
All Photos by Rachel Neville
.
Though they've been working together since 1997, Morales Dance is new to me. Yet from the opening moments of their concert, they had me captivated. They presented classic works and premieres, danced in a unique artistic voice, which took me through a gamut of emotions. There were several dances that, once ended, I found myself wishing that they could start from the beginning and be performed all over again.
.
Quiet City, originally choreographed by Leni Wylliams, was danced by three couples to the Copeland piece of the same name. The movement is elegant, complementing the music so beautifully. Throughout the dance, there are passages in which the men strike poses that are sometimes static and unyielding, almost like trees, or like someone who has driven his lance to make a statement. The women, dressed in long floaty skirts, swirl around them. I loved the original movement, especially in the partnering, and I was so impressed by the Morales dancers, who move with an understated authority.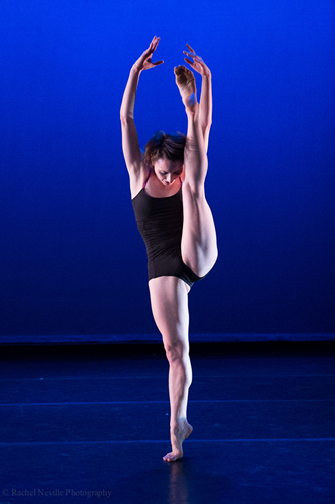 Tony Morales' duet Pleased 2 Meet U showcased the talents and charms of dancers Jessica Black and Karina Lesko. I especially liked the call and response motifs, and the interaction between the two women. The dance could be light hearted and kind of balletic at times before it transitioned seamlessly into a more forceful modern style.
.
Ablution is danced before projections of an image combining symbols of Christianity, Judaism and Islam, to a solemn and sometimes mournful accompaniment of JC Bach. Jerome Stigler performs this solo in ritualistic fashion. He is shirtless in a floor length robe, flexing and contracting, traveling and changing direction as if seeking communication (or communion?) with something ancient and sacred and elusive, or maybe even raising questions around faith. The closing moments of this dance are especially powerful.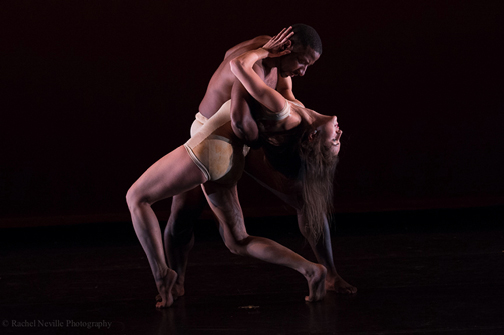 Morales' Transitions, danced by Karina Lesko and Christopher Rudd, touched me deeply.  With her hair long and loose, Lesko seems like a spirit who hovers around Rudd as he stands still, his back to the audience. She seems weightless and ethereal, like a being from an unseen world, and there is a stunning mystical quality to her movement. Rudd pays little attention to her, and only seems to do so out of curiosity. She lays on her back and her feet move up his spine. She seems to beckon to him, not as a lover but as something that has gotten under his skin, like a muse, or like an idea that he needs to come to terms with. The Ravel music and the movement of the dance are both so lush. There is something incredibly beautiful and magical to this dance.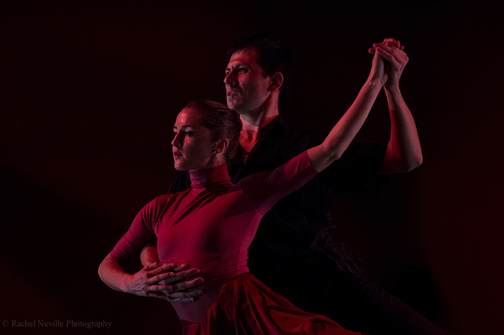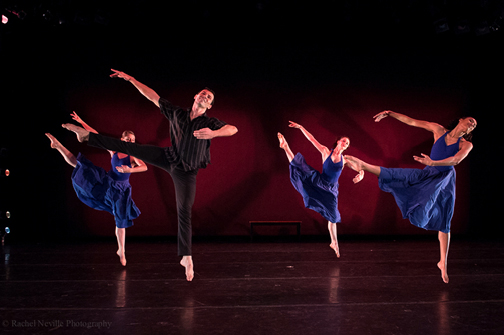 Another emotion packed dance was Morales' Amor Brutal dedicated to the memory of his father, whose music inspired the piece. It tells the story of a couple who are swept apart by destiny. The stage is dark, with mother and father (danced by Karina Lesko and Antonio Fini) sitting on stools under spotlights at opposite ends, their three children (danced by Jessica Black, Elaine Gutierrez and Cassandra Lewis) in the shadows in the center. Everyone is dressed in dark colors, except for the mother, who stands out in red. She does not look at her partner as she dances with him, until the moment when their dance is about to end. When she does finally look at him, he walks away. Passions flare to the sound of pounding piano chords, violence ensues and the couple go their separate ways. The break up throws each member of the family off balance and Morales creates beautiful still images of the mother and her daughters as she rallies their support. The girls lift her high, as if they see her in an exalted position, like an angel or even like Mary. There is a happy passage in which father charms his daughters into a dance, and predictably the children try to bring him back to their mother. The closing moments of this dance are heartbreaking, no matter how familiar they might be in so many families.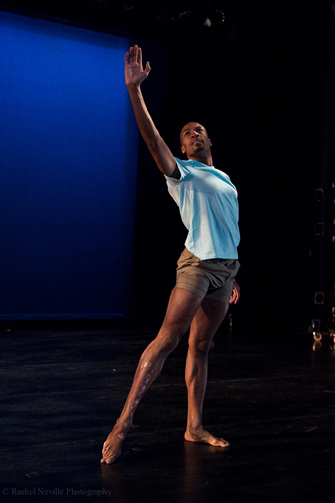 Antonio Douthit-Boyd's solo performance of Morales' For You nearly drove me to tears. Set to Elton John's classic Your Song, Douthit-Boyd expresses his love in gorgeous understated gestures. He could stand still, extend his arm and make a modest gesture with his hand, yet it is packed with meaning and affection. I am old enough to remember when this song was in the charts and I must have heard it over a thousand times. But Douthit-Boyd's performance and Tony Morales' choreography allowed me to experience it as if with new ears, and to enjoy it on a deeper emotional level.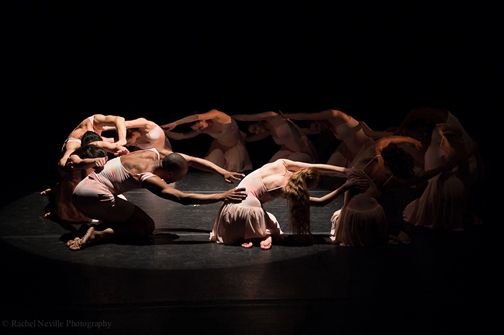 The evening closed with Scenes, inspired by Jose Limon dancer Ruth Currier. In Ms. Currier's obituary, Jennifer Dunning, writing for The New York Times, quoted Dance Magazine's Doris Hering as saying that Ms. Currier possessed "angelic grace" and "a sound sense of phrasing". This came through as Morales Dance, along with members of Ballet Forte, performed this breezy, lighthearted, joyful dance full of prances and jumps which to me seemed evocative of spring or rebirth. Though it sometimes used formal formations, the dance struck me as being earthy and plainspoken. I loved the sighing movement and the communal feeling in the opening section, which was also recalled in the last moments of the dance.