Pacific Northwest Ballet – ­ New York Season Preview
Works and Process at The Guggenheim
Sunday, September 8, 2012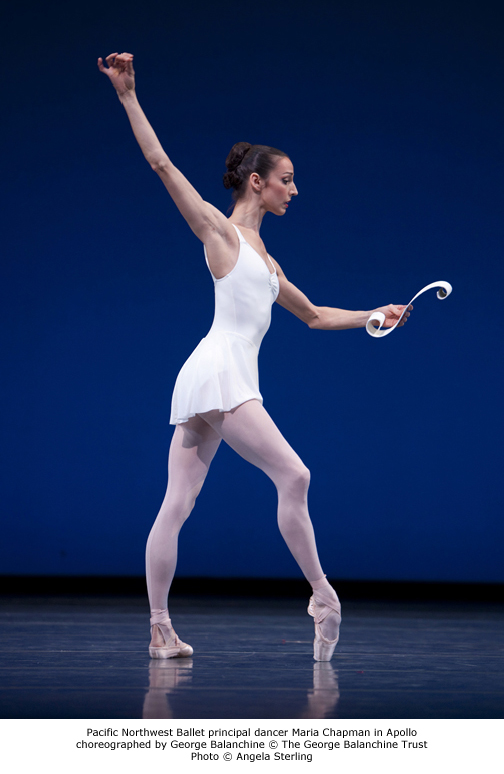 This lecture and performance given by Artistic Director Peter Boal and Pacific Northwest Ballet dealt with the endlessly fascinating topic of Balanchine's choreography.  I have found that no matter how long I spend in the theater seeing Balanchine's works and reading about them, there's always something new to learn, which so enhances my appreciation of the work.  Mr. Boal along with the gorgeous  dancers of PNB, Maria Chapman, Carla Körbes, Seth Orza, Lesley Rausch, Benjamin Griffiths, and Matthew Renko, explored the topic of changes made throughout the lives of the Balanchine ballets.  Ballets discussed included Apollo, Four Temperaments and Tchaikovsky Pas de Deux.
There have been a host of different reasons for the changes made to the ballets.  Mr. Boal told us that in the case of Apollo, "the boss" (Diaghilev) told Mr. B (who was 24 years old when the ballet received its world premiere) to make the changes.  At other times, choreography was adjusted to suit different stages and different casts.  Mr. Boal, who ironically was awarded his first contract with New York City Ballet on the day Mr. B passed away, learned the choreography from Peter Martins, Jerome Robbins, Suzanne Farrell and others from NYCB.  When he went on to learn the same roles with other companies, including PNB, he found their choreography to be different from NYCB's version, and different from one company to the next.
I have only ever seen New York City Ballet's production of Apollo performed live, with its unadorned costumes and bare stage, so I found it really interesting to see still photos from the Ballet Russes production which included ornate costumes (the first round chosen by Diaghilev and a later version created by Coco Chanel) and a set incorporating Mount Parnassas.  Quite a contrast.  Mr. Boal also showed film clips of Jacques d'Amboise dancing the role in 1960, and Mikhail Baryshnikov performing it in 1978.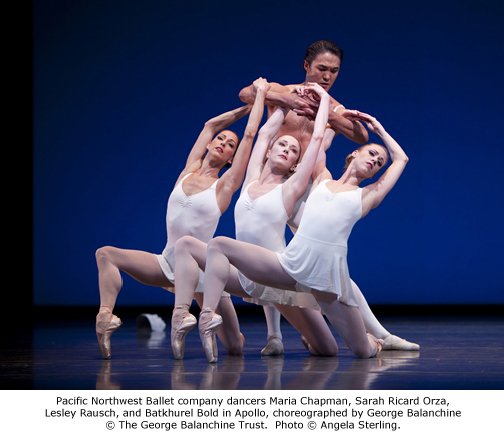 Even as a very young choreographer, Balanchine made the deliberate decision to remove entire passages of the story of Apollo and he was bold in answering his critics when they challenged him on that score.  "I can do with my ballets whatever I want."  He understood the power that existed in editing one's work.
It was wonderful to have Mr. Boal draw our attention to details in the choreography that helped to tell the story.  After Seth Orza danced the first solo with lovely and quiet control, Mr. Boal described the movement in such beautiful language, saying that the dancer was to move like a "newborn colt".  A series of piques which melt in plie symbolize the way a newborn's legs might fail beneath the weight of his body as he first figures out how to walk.
Carla Körbes' Terpsichore left me swooning — she is just stunning.  Mr. Boal pointed out that in her manege, her saute arabesques lead with the chest, rather than with the arm.  This one subtle little difference made her appear as if she was floating above the ground.  As Mr. Orza and Ms. Körbes danced together, Mr. Boal pointed out that Terpsichore doesn't "engage Apollo with the eyes", but rather with the hands.  It's such a small detail, and so crucial to the story being told by the movement.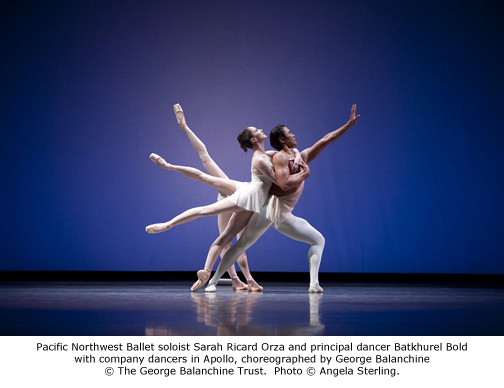 Ben Griffiths  performed a more current version of Melancholic from Four Temperaments, with heaviness in his shoulders and softer lines while Matthew Renko danced an older version which was sharper and more forceful.  Mr. Boal pointed out that in the current version, the stage is empty when the music starts, and that can build tension before the dancer even steps on stage.  The audience becomes concerned that the character is late, or that the dancer may have missed his cue.  In the earlier version, Apollo is on stage when the music starts.
Tchaikovsky Pas de Deux has had the most revisions.  Designed with the intention of being a "showstopper" Balanchine and other choreographers constantly adjusted it to showcase the different strengths of the different dancers who performed the piece.  A series of fabulous film clips were shown, alternating D'Amboise's performance with Baryshnikov's, illustrating the differences in choreography for each dancer.
PNB closed out the evening in spectacular style, performing an excerpt from the ballet.  Though the stage was too small, and there was a wobble here and there, they delivered the most rousing performance that made me want to jump to my feet.  This is a wonderful company that we in New York City just don't see enough of.  Their lines are so pure and their movement is so fluid.  But beyond that, the dancers possess great charisma.  Their dancing was playful, and they seemed to be enjoying themselves so much that the audience could not remain unaffected.
In addition to performing at Fall for Dance in October, Pacific Northwest Ballet will return to City Center to perform an All Balanchine Program and Jean-Christophe Maillot's Roméo et Juliette in February 2013.  Tickets are on sale now.