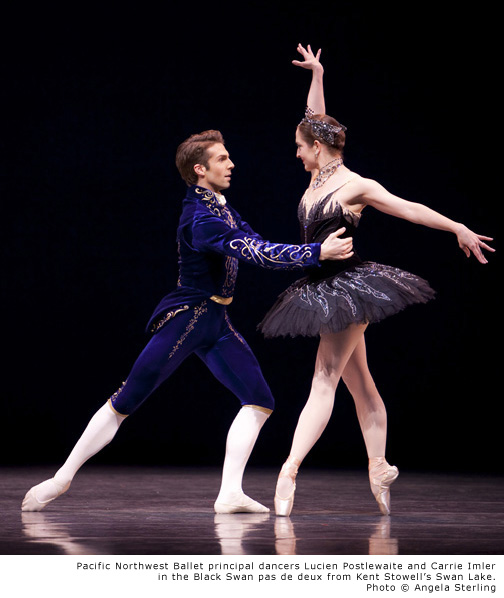 Pacific Northwest Ballet – After Petipa
Works and Process at the Guggenheim
May 14, 2012
Fans of classical ballet often arrive at the theater and open their programs to find the words "After Petipa" next to the choreographer's credit.  For Pacific Northwest Ballet's Works and Process event, dance historian and program host, Doug Fullington gave the audience a detailed and fascinating glimpse into the origins and early years of two well loved ballets – The Sleeping Beauty and Swan Lake — which were born over a century ago under the artistic auspices of Marius Petipa.  PNB's wonderful dancers demonstrated differences in popular variations and pas de deux.
In broad strokes, generalizations emerge about ballet in Petipa's day versus ballet today.  In the late 1800s, ballet stories were slightly different and some pas de deux pieces began life as pas de quatre or pas de six. Many of the famous men's variations began as petite allegro as opposed to the grand allegro that we're accustomed to seeing today.  Today's women's variations bear a stronger resemblance to their original late 1800s versions, but there is a much higher degree of difficulty to the steps now.  Historic maneges would consist of a series of pique or chaine turns, but today the manege tends to incorporate a gamut of complex traveling turns.  In Petipa's day, combinations were sometimes repeated as many as four times in a row, but such repetition is rarely used by today's choreographers.
Throughout the evening Mr. Fullington revealed amazing backstories to the ballets.  For instance, the Blue Bird Pas de Deux had originally been conceived as a dance for two couples the Blue Bird and Princess Florine, along with Cinderella and Prince Charming.  Later, Cinderella and Prince Charming got their own music and their own dance.  I found it interesting that in Petipa's day, several of the male dancers choreographed their own variations.  Blue Bird was originally danced by Enrico Cecchetti, who may have choreographed his own steps.  In the original choreography, the signature brisés volés seem to go on forever and really create the image of the bird taking flight.  Sleeping Beauty is a pretty long ballet even as it survives today, but when Petipa was choreographing, it went through stages in which it contained even more dances.  Mr. Fullington even found historic notation with the comment "too long, too long".
In one sequence, Sarah Ricard Orza and Leta Biasucci shared the stage, executing the same variation at the same time.  Ms. Orza demonstrated the smooth and rhythmic movement of Petipa's original while Ms. Biasucci's 2012 version had fewer repetitions of combinations, more detail, more nuance, more movement for the head and arms.  Both ballerinas danced so beautifully.  All of the dancers who appeared over the course of the evening left me with the wistful feeling that we in New York City just don't see enough of PNB.
Mr. Fullington also took us back to the genesis of the Black Swan Pas de Deux.  The music had originally come from Act I –- a lot of "cutting and pasting" and "surgery" has been performed on the ballet's score.  In an early incarnation, it had been conceived as a pas de quatre for the Black Swan, Prince Seigfried, Von Rothbart and a Cavalier who originally danced the man's variation.  I was also surprised to find out that in earlier versions of Swan Lake, there was no Black Swan.  Back then, Von Rothbart was billed as being an Evil Genie and he had a daughter who dressed in a multi colored costume and she tempted the prince.  The Black Swan wasn't introduced until 1940!
In earlier versions of the Pas de Deux, Odile does not dance with swan like movements.  In the course of the pas de deux, she kept returning to Von Rothbart as if to take instruction from him.  When Odette appears at the window to warn the prince, Odile covers his eyes.  There was a beautiful ending in the original, in which Odile is in a deep penche with her arms in second position while the kneeling Prince holds her hands up.  Then she dips down to place her hands on his knee, which brings the two of them face to face.  It was something that I'd never seen before, and it made such a powerful image.  I wonder how it lost popularity.
Today's Odile moves sharply in contrast to Odette's lyrical movement.  Today the role incorporates the swan impressions with the head and neck and fluttering arms.  The sharpness of her steps asserts her authority –- she is no longer looking to Von Rothbart for instruction.  She's in control.
In the historic version of the man's variation, which used to be danced by an unnamed Cavalier, we see a petite allegro that starts and then never stops.  According to Mr. Fullington, that variation is now lost from the repertoire.  Today's version is more upbeat and powerful, a big grand allegro full of pirouette and tour sequences which allows the dancer pauses to cross the stage and catch his breath because the role is so demanding.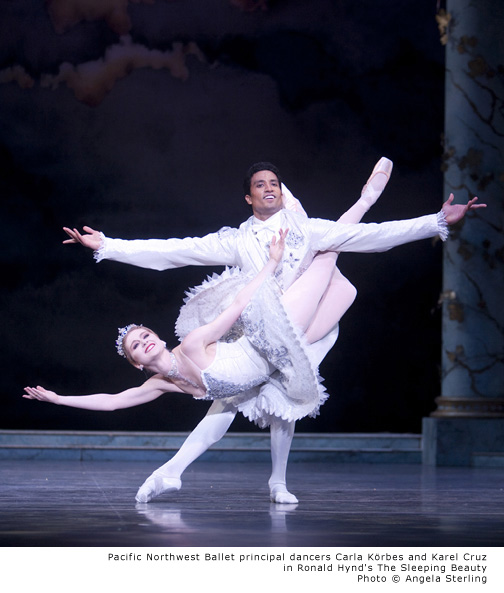 The evening concluded with a series of excerpts from the Wedding Pas de Deux from Sleeping Beauty.  The Petipa version was more intimate than today's version which is more formal.  There are sweet little sequences where the dancers mime phrases like, "I love you", "I'll dance with you", "I'll make him my husband".  The spectacular fish dives that are the signature of this piece were added in 1921.  Dancers also performed a resurrected excerpt for the Gold and Sapphire Fairies.
This was a wonderful program, guaranteed to delight any hard core ballet fan.  I'm grateful to PNB and Works and Process for presenting yet another fantastic evening of ballet and talk.