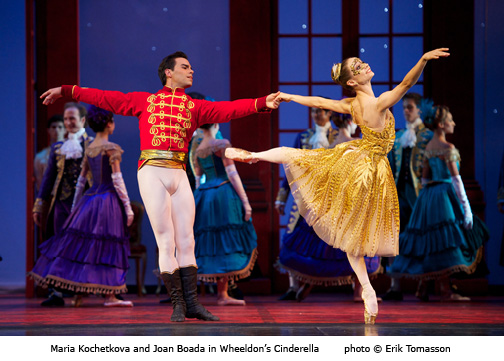 Cinderella
Choreographed by Christopher Wheeldon
San Francisco Ballet
Friday, October 25, 2013
Christopher Wheeldon takes a decidedly different approach to his production of Cinderella.  He shows facets of the characters which don't always come up in the traditional telling of the story.  And he does not shy away from the darker aspects of the story or the sadness of some passages in the Prokofiev score.  Above all, he uses stage craft and special effects to an enormous advantage, making the ballet accessible and attractive to those who might not otherwise choose to attend a ballet.
Based on the Brothers Grimm version of the Cinderella fairytale, the story tugs at our hearts from the earliest moments, before the scrim is even raised.  We meet a happy family — Cinderella as a young girl, playing with her mother and father.  Her mother suddenly takes ill.  As she is ailing, her husband holds her and promenades, with little Cinderella holding on behind him.  As her mother succumbs and ascends to the heavens, Cinderella is lifted and reaches out to her, but their separation by death has begun.  When the girl weeps at her mother's grave, a tree grows, borne of her tears.  The tree itself becomes a major character in the story, protecting her and embodying her mother's spirit.
There is no fairy godmother in this telling of the story.  Instead, Cinderella is protected by Four Fates, men who swirl around her and come to her aid, carry umbrellas when she visits her mother's grave in the rain, assist her with her chores and lift her when she's grieving.  Wheeldon's prince grows from a waggish boy to a rebellious young man uninterested in his royal responsibilities.  He is often accompanied by an equally mischievous friend, Benjamin.
Vanessa Zahorian's Cinderella can be girlish or wise beyond her years.  She is grounded and she moves with purpose.  Though she can appear to be lost in a dream, she's never overtly pouty or swooning.  Davit Karapetyan's Prince Guilliame is a bit more understated and sometimes eclipsed by the presence of Hansuke Yamamoto who played Benjamin with great charm.
Shannon Marie Rugani played Cinderella's stepmother with sharp comic timing.  For her, and for the step sisters (Sasha DeSola and Clara Blanco), there is always something of a flat note present in their choreography — it's just slightly off and it always gets a laugh.
While there is no bravura in the choreography, there is plenty of sweetness and loveliness present when Ms. Zahorian and Mr. Karapetyan dance together.  When the prince and Cinderella first meet, he is disguised as a beggar and Cinderella does not know his real identity.  Still they sway together, barely traveling, and we can feel the attraction that has ignited between the two of them.  Their pas de deux passages are most romantic.
Cinderella prepares for the ball in a stunning and atmospheric scene, staged by Basil Twist, which takes place beneath the full grown tree.  Small groups representing the seasons dance with the Four Fates.  Their costumes are gorgeous and the movement is gentle, very much mimicking the natural world.  When the Fates slide on the ground, it's as if sledding on the snow.  They jump in a la second, and they look like snowflakes themselves.  As the scene builds, the tree truly looks as if its blowing in the breeze and that a storm might be on the way.  The leaves come lower to the stage as if they're heavy with rain.  The most spectacular effect of the evening happens when Cinderella emerges in her dress for the ball, which has a train that could take up half the stage.  In a feat of amazing staging, her train turns into the coach which she rides to the ball.
The ballroom scene is a never ending swirl of dancers and colorful costumes in turquoise, navy and purple.  Everything is bold and nothing fades into the background.  Even when the soloists are performing, the party guests are usually dancing too.  They barely rest throughout the entire scene  — their dances sometimes creating lanes along which the principals travel.
Act Three finds the prince and Benjamin dealing with a never ending line of chairs filled with women (and a man and a puppet and a knight in armor) who want to try on the gold slipper.  Moments of this scene reminded me of the bench dance Our Favorite Son from Will Rogers Follies.  The line eventually winds its way into Cinderella's kitchen and her stepmother isn't beyond whipping out a hammer and attempting to pound the slipper into place on to her daughter's foot.
Wheeldon's Cinderella is a wonderfully theatrical piece, a delight to the eye, with strong appeal to the ballet fan as well as to a general audience.