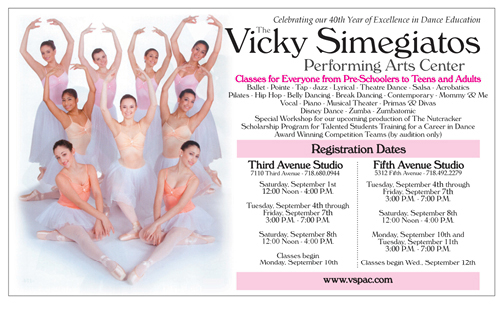 I've had a life long love affair with dance, especially with ballet.  It began in the 1970s when I took class at American Ballet Theatre School.   These days I work behind the scenes for a couple of dance companies and studios.   I also review dance concerts for Body Wrappers / Angelo Luzio.
We started working on marketing materials and theater programs for the Vicky Simegiatos Performing Arts Center back in 1999.  I was so happy to find a studio in Bay Ridge that was so strong in ballet, and all the work that I've done for VSPAC throughout the years has been a labor of love.  (It's also been really touching to have had such a long relationship with the studio — some of the beautiful ballerinas pictured above were just little ones when I first met them.)
Every year at this time, we prepare their marketing materials for September Back-to-School Registration.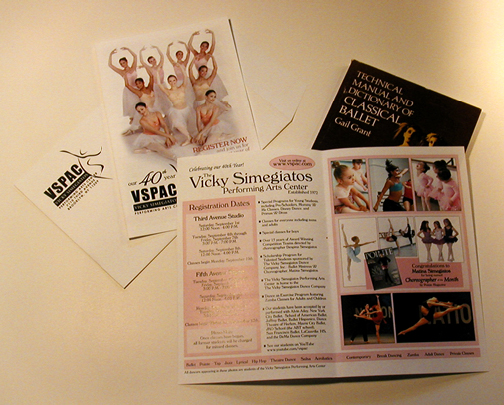 Being surrounded by all of these dance images always reminds me of how deeply I love ballet.  The discipline, the ritual, the exertion, the glamour, the music, the artistry, the spirituality, the community, the communion, and the inspiration of all the great primas and masters who came before and those who continue to work today.
I also love the promise that's contained in every September as we're poised on the cusp of a new season.
::    ::    ::    ::    ::
Photo of ensemble of VSPAC ballet students by Jesse Stein for Body Wrappers/Angelo Luzio