Some Dance Company
Choreography by David Fernandez
Featuring Stars From New York City Ballet and American Ballet Theatre
February 27, 2012
El Museo del Barrio
Photos by Jesse Stein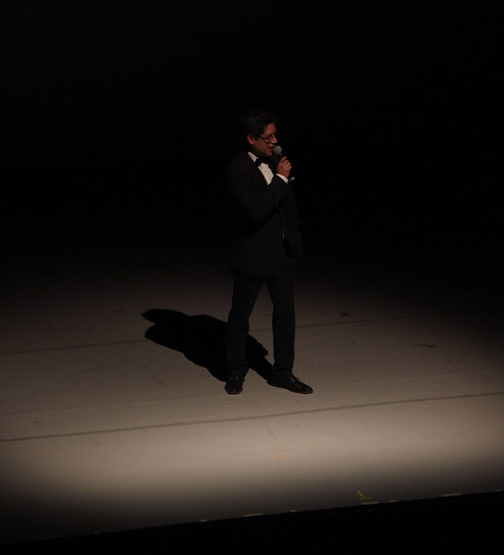 Some Dance Company brought stars of New York City Ballet, American Ballet Theatre and Dance Theater of Harlem together with local artists and students to celebrate the choreography of Artistic Director David Fernandez and to raise funds for Career Transition for Dancers.
In his program notes, Fernandez embraced the idea of dancing just for the sake of dancing, without attempting to be revolutionary or to deliver a profound message.  Across the program pages drifted the word, "Some steps, some music, some dances."  The evening did succeed in having a relaxed and familial atmosphere or dancers coming together for no reason but to dance, and to support a beloved choreographer and a worthy cause.
Dance Theater of Harlem opened the night with Six Piano Pieces (Harlem Style) a stylish contemporary ballet piece with strong classical undertones and shades of uptown jazz.  The men are dressed in suits while the women wear elegant party dresses.  The dance conjures an atmosphere of a night stepping out on the town.  It's lovely and captivating and the dancers move with glamour and flair.
White Shirt, Black Tie and Black Pants describes the costumes worn by Lili Nicole Balogh, Nicola Curry and Nicole Graniero as they dance to Bach's Violin Concerto No. 2 in E.  It's a lovely classical ballet piece interlaced with moments of strutting, adjusting one's tie, finessing one's appearance and shimmying the shoulders before straightening up.
Beethoven Sonata was danced by Kristin Draucker, Dorothea Garland, Kimberly Giannelli and Katie Moorhead.  They are dressed in black jackets and black shorts, and they move to the soaring Beethoven Allegro, sometimes recalling the dramatic gestures of a passionate concert pianist.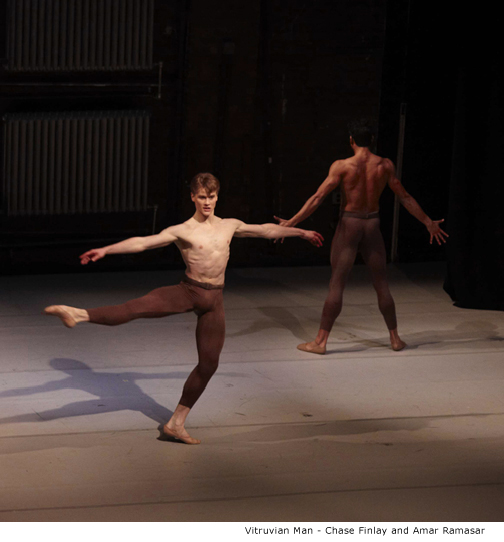 One of the highlights of the evening was Vitruvian Man, danced by Chase Finlay, Ask La Cour and Amar Ramasar to a gorgeous piece of music called First Movement by Jenkins Palladio.  A dance of rugged masculinity, the men are bare chested as they execute exciting turn sequences and spectacular leaps – often with the arms open wide.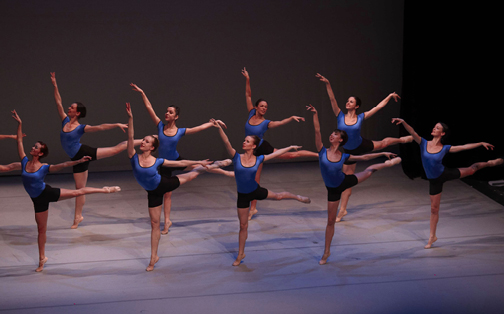 A large ensemble piece danced to Mozart's Eine Kleine Nachtmusik, juxtaposes a host of different dance styles with good humor.  The women look electrifying in sapphire blue leotards by Body Wrappers / Angelo Luzio.  They execute lovely ballet sections, sometimes against a conga line complete with bunny hops.  Lovely formations appear on the stage as a group mime a performance by a chamber orchestra while two party guests enjoy cocktails.  The piece ends with a wedding, complete with a line of festive trumpet players and weeping women.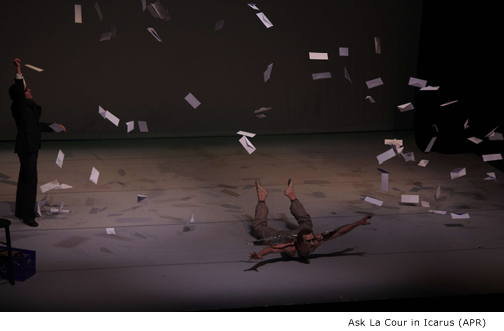 Another highlight was Ask La Cour's performance of Icarus (APR), danced to Pink Floyd's Money.  La Cour's character is dressed like a laborer.  He is sorting through items in a milk crate before he tucks some money into his wallet.  He knocks a stool against the crate in time with the famous cash register bells which open the song.  La Cour's dancing seems to transcend the boundaries of the stage.  He flies across the floor until a man in a suit and dark shades enters and deliberately bumps against his shoulder. He signs a check and surrenders it to La Cour, along with a pair of shades and wings.  The story of Icarus plays out as Fernandez's choreography juxtaposes the lust for money and the lust for flight.  As La Cour's character ascends, envelopes rain down from the sky.  When his hubris ultimately leads him to ruin, he collapses on his stomach, only to be relieved of his wallet by the man in the suit and shades.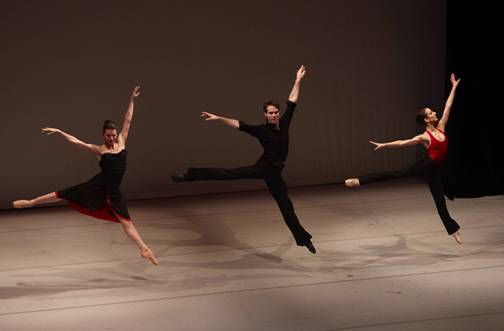 Fenandez had a sensual take on Libertango.  Gonzalo Garcia gives a sultry and breathtaking performance along with Nicole Graniero and Luciana Paris.  A sweeping and beautifully partnered pas de deux is at the center of the piece while a woman dances a solo counterpoint behind them.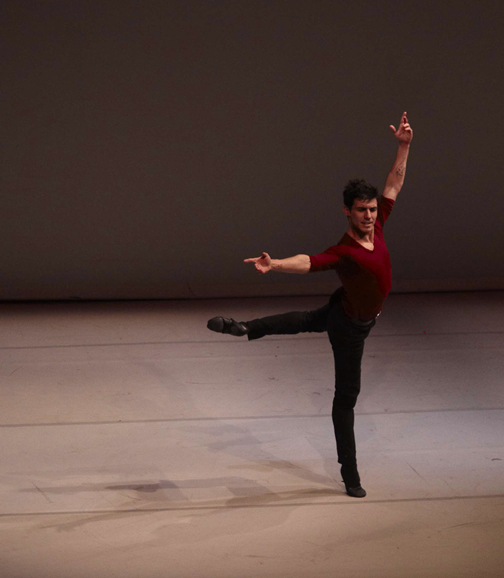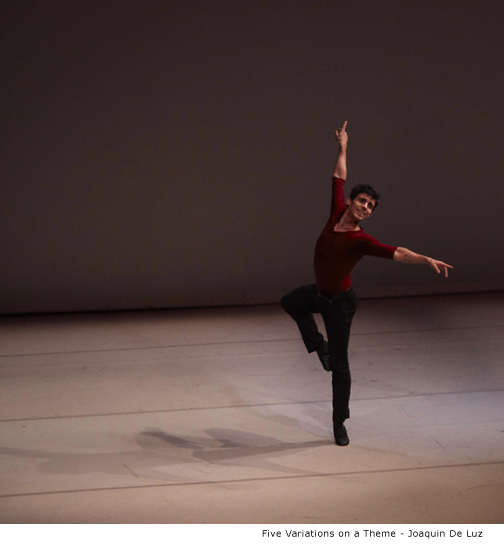 Joaquin De Luz delivered an endearing performance of  Five Variations on a Theme to Bach's Violin Concerto in G.  I loved the energy that he brought to this light hearted piece full of big turn sequences with unexpected and humorous landings.  He carries off the subtle humor of the movement beautifully, as if he's sharing a private joke with the audience.  I love his precision and his musicality.  He did not spare the bravura, delighting the audience with his awesome speed and a great series of tours and pirouettes.
The evening ended with the entire company and students clad in a rainbow of colored leotards first taking solos and then dancing together to Journey's Don't Stop Believing.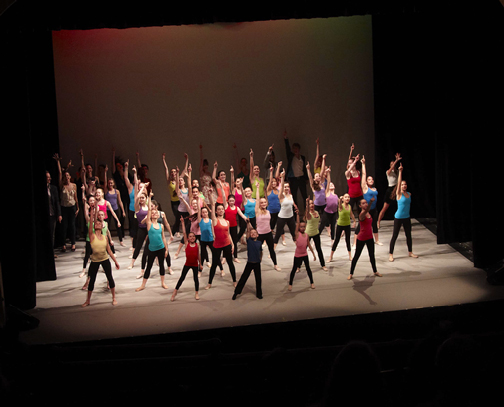 It was a most enjoyable evening.  It was so generous of the men of NYCB and ABT to have appeared, and for David Fernandez to have arranged this performance to raise funds for as great a cause as Career Transition for Dancers.