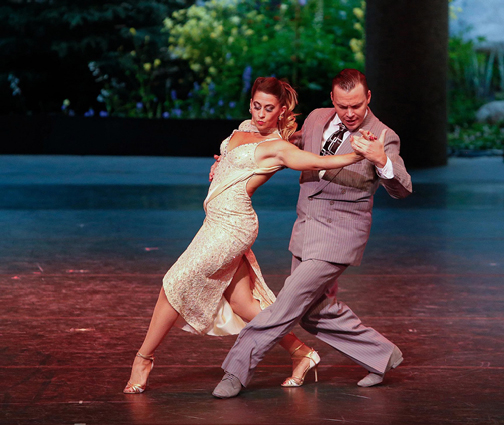 Gabriel Misse & Analia Centurion
Teaching Seminar at Dardo Galletto Studios
August 12, 2014
To lay my credentials on the table up front: I am not a tango dancer, nor did I have any prior experience or knowledge of tango before attending this seminar. I felt it was important to say this because Gabriel Misse ended this event by cautioning people not to go online and write about tango if they don't know what they're talking about.
So instead of writing about tango, I've chosen to write about my introduction to tango, and how I received it from two artists who revere its existence, its history, and its code. This event was graciously hosted by Karina Ramos of Dardo Galletto Studios in Manhattan, and facilitated by the charming Maria Quintanilla, who deftly translated for the dancers. The atmosphere was so lively and informal, and the conversation so heated and passionate, that the exchange of words lapsed casually back and forth between English and Spanish.
Gabriel Misse is the kind of artist and teacher you dream of. He can be stern and serious in one moment, pained by the disrespect that he feels is currently being shown to the tango of early 20th century Argentina. He's animated and humorous in the next, challenging the audience with thought provoking questions about tango or taking to his feet to demonstrate a point he is making. His movement is pure elegance, even if he's only standing still and holding his partner before the figure begins. Even as he and Analia Centurion were seated at the table fielding questions, their appearance was every bit as sophisticated as their movement is on the dance floor. In discussing tango, Mr. Misse speaks with reverence, and he would like to see the world maintain the same degree of reverence toward this art. We can see that this is something that he's held as being sacred from the time he was a boy.
When asked who their tango idols were, Mr. Misse answered with an authority which would become the theme of the evening's conversation. He voiced his respect for the artists and milongueros who took care of the tango and protected it, passing it down through the generations without selling out. He is not happy with the way that tango is currently being marketed in the United States and he voiced frustration that many younger audiences do not appreciate tango as it was in Argentina from 1917 through the 1950s, or disrespect it outright.
Both he and Analia Centurion named the work of Pupi Castelo as a great influence on their dancing. They showed grainy old videos of Pupi dancing with Graciela Gonzalez, while pointing out the small details that made their tango so beautiful.
Mr. Misse explained that tango is lead with the man's arm, not with his chest. With Ms. Centurion, he demonstrated how the movement of his elbow leads one of her legs and his hand leads the other. He is troubled by the fact that today, in New York City, this technique is not being taught. Today teachers instruct the man to lead with his chest and the embrace sometimes breaks open so that a pose could be struck. "It's the easy and lazy way that new people come to tango. If you learn to lead with the chest, within two weeks you're dancing, but you're doing it wrong."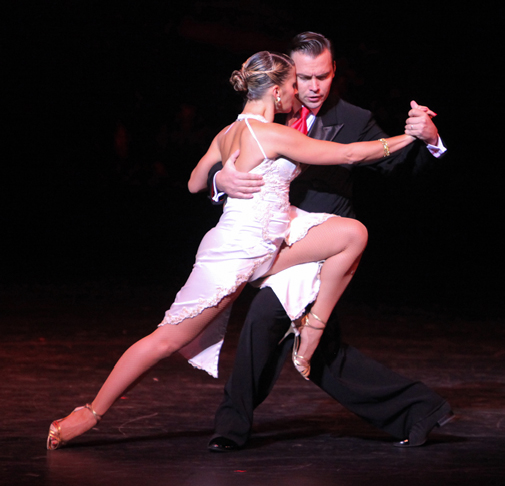 Both Mr. Misse and Ms. Centurion knew from an early age that their lives would be devoted to tango. He was seven when his love of tango began. At age eighteen he went to the milongueros themselves to learn tango. (He has a strict interpretation of the word 'milonguero' — he holds tango dancers to an extremely high standard and they have to earn the title. He claims that there are maybe five or six true milongueros left in the world today.) Ms. Centurion started studying ballet at age six, eventually attending milongas and learning tango there. She chose to leave school — she had often been absent because she was always dancing.
Both artists stressed the commitment and the holistic approach that they bring to tango. Their practice of tango is not something that they crank up each day when they come to the studio. Rather, it is their lifestyle. It's in the blood and it's part of them from the moment that they wake up each day. "Everything that life throws at you — you bring it to the tango." As Ms. Centurion said, "You start getting in and then you can't get out. You wake up thinking about what you're going to wear." Mr. Misse would spend eight hours per day working on his technique. He'd walk back and forth to better understand how the body moves. His feet are silent on the floor as he demonstrates figures. "Tango becomes part of your house. Not just at a milonga."
Mr. Misse also stressed the importance of listening to the best orchestras, citing the music of Carlos di Sarli and Mariano Mores as among the best. He played several different recordings and described the importance of the voices and instruments over the beat. He feels that the devoted tango dancer should learn Spanish and understand the lyrics of the tango songs in order to properly dance to them. They must also understand and respect Argentine culture.
As Mr. Misse tells it, tango began around 1917, created in Argentina with influence from Napoletanos who had emigrated from Italy. It began as a dance of the people, danced in the streets. In the 1930s, it moved indoors to salons with smooth wood floors, and this gave the dancers the ability to turn and lead with the arm. Carlos Alberto Estevez, better known by the nickname Petroleo, had been a construction worker in Argentina. He was influenced by the motion of the pulley and he is credited with inventing the figures in which the woman revolves around her partner as he turns. A milonguero who didn't perform on stage, Petroleo is credited as an important figure in tango in the 1940s.
Mr. Misse is not impressed with today's world championships in tango. Too often the judges are competition organizers, singers, sports stars or inexperienced tango "experts". Not milongueros. Both he and Ms. Centurion bristled at the idea that a competitor would arrive dressed in jeans and carrying their costumes. "You don't change your clothes to dance the tango. You are always like this."