American Ballet Theatre
On to Act II
Works & Process at the Guggenheim
Sunday, May 1, 2011
Isadora Duncan famously said, "If I could tell you what it meant, there would be no point in dancing it."  While I understand this sentiment completely, I've found that there is definitely something to be said for having dancers talk to their audience.  As a dance fan and a perennial dance student, I've found the Works & Process series, in which artists discuss their process before an audience, to be a wonderful educational resource.  I've attended several of their events this season and each one was so illuminating.  When one watches a dance performance, the experience is a personal one, different for each member of the audience.  But I have found that if the dancer is willing to pull the curtain back just a little bit, and speak candidly about what goes on behind the scenes and how decisions are made, it winds up increasing my enjoyment of the dance performance exponentially.
ABT – On to Act II was the final event for this Works & Process season.  The evening introduced us to several dancers who spoke of the paths they traveled either when they retired from the stage or moved on from the company.  This session opened with a slide show of beautiful dance photographs by Rosalie O'Conner, who danced with ABT for fifteen years before retiring in 2002.  She is now associate staff photographer for ABT and company photographer for Aspen Santa Fe Ballet, Ballet Arizona, Boston Ballet and Tulsa Ballet.
Wes Chapman, former ABT principal and current Artistic Director of ABT's Studio Company, served as moderator for the evening.  He presented the students of the Jacqueline Kennedy Onassis School, ABT's pre-professional training program.  They performed the waltz from Les Sylphides.  They were absolutely lovely, despite being a little crowded on the Guggenheim's small stage.  Later in the evening, the students performed Jessica Lang's beautiful Vivace Motifs.  Great work.
Rachel Moore, Executive Director of American Ballet Theatre, appeared next.  Her story was especially compelling, as it illustrates that dancers are usually multi-talented, multi-dimensional individuals.  They bring additional talents with them when they join the ballet world, or they develop them alongside their ballet career.  And then these talents can ultimately wind up serving the ballet world somewhere up the line.  In Ms. Moore's case, she is the daughter of two economists who had experience in fund raising and working with unions.  Her early exposure to economics guided her to transition to arts administration when she retired from the stage.
She'd danced with ABT for four years before becoming sidelined with an injury.  She wound up attending college at a time when most ballet dancers didn't do so.  She interned for the National Endowment of the Arts and she moved on to become an arts advocate in Washington, DC.  She served as Director of the Boston Ballet School before becoming Executive Director of ABT.  Her background as a dancer and an administrator enables her to "speak both languages" — to translate economic realities so that dancers can understand them, while translating the world of ballet so that it can be understood by those who fund it.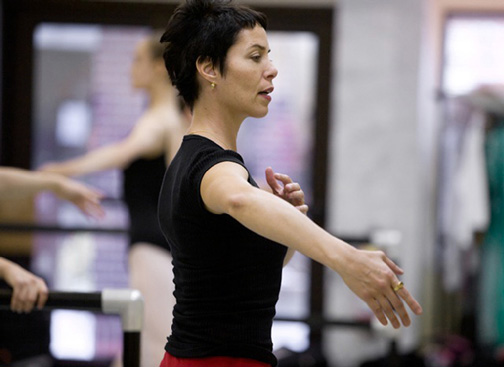 Next, we met Susan Jaffe.  Ms. Jaffe joined ABT in 1980 and danced with them through 2002.  Today, she is Ballet Mistress for ABT, as well as a choreographer and teacher.
Mr. Chapman asked her who had influenced her as a Ballet Mistress.  She gave the reply that I love most "Everybody is an influence."  She went on to speak with great affection for those who trained her, especially for the Kirov Ballet's former Prima Ballerina Assoluta, Irina Kolpakova.  Ms. Jaffe said that working with Ms. Kolpakova was like beginning again from scratch.  She said of Ms. Kolpakova that, "she would run like a butterfly around the room calling, 'Be free!'".
Ms. Jaffe went on to demonstrate the responsibilities of the Ballet Mistress.  This segment really drove home to me how focused and smart dancers have to be.  I have always been in awe of the way that pros can memorize so much choreography.  But as I watched Ms. Jaffe coaching the lovely Sarah Lane who performed Swanhilde's entrance from Coppelia, it became clear that the steps of the choreography are only the beginning.  Each phrase of the variation is loaded with small details and each one of those details has to be committed to memory too, even when they change on the fly.
Ms. Jaffe urged Ms. Lane to demonstrate Swanhilde's excitement in the way she runs when she first enters the scene, even if it meant delaying her entrance by a breath so that she could run faster when she finally does appear, and still hit her mark on time.  Ms. Jaffe urged Ms. Lane to be less lyrical, to display Swanhilde's happiness through the quickness of her movement.  Ms. Jaffe also demonstrated what is called a "pick up", in which a dancer who is facing one direction, is about to turn to face the opposite way, but leads by turning her head slightly before turning her entire body.   Another little nuance was demonstrated in the gesture in which Swanhilde wonders why her fiance keeps blowing kisses to the doll.  At first, Lane just opened her arms as she mimed, "Why?"  Ms. Jaffe suggested that she take a step backward as she opened her arms, and that one subtle little detail really magnified Swanhilde's bewilderment and the urgency she feels to have her question answered.
As Lane moved across the stage on the diagonal, Ms. Jaffe coached her to have her arm arrive in position before her leg reached its maximum height – to travel on the cabriole, but not on the pique.  There is so much for the ballerina to memorize, so much for her to commit to her heart and mind so that she can ultimately forget it all and just play the role in the moment of the dance.  What amazing skill it all takes!
Martine van Hamel appeared next.  She joined ABT in 1970 and danced with them for over twenty years.  She now plays character roles, and she treated the audience to an excerpt from Cinderella in which she plays the step mother.  In James Kuldelka's choreography, the step mother is "a faded beauty and a drinker".  As Ms. van Hamel rose from the interview chair, she reached for her robe and said, "Let me put on my shmattah."   The moment that she donned that robe, she transformed into her character.  She talked about the way that Kuldelka had instructed her to shuffle her feet rather than to walk, to show how the drink had affected her.
The evening ended with the appearance of Jose Manuel Carreno.  This is his final season with ABT after sixteen years with the company.  He spoke of how he's looking forward to freelancing, coaching and teaching.  He wants to do more contemporary dance and even Broadway.  The evening ended with a performance of Transparante performed by Carreno and Melanie Hamrick.
Chapman did a great job of moderating for the evening.  He raised all of the questions that I'd have wanted to ask and then some.  Thanks to the Guggenheim for a fantastic Works & Process season.