Sylvia
June 25, 2013
Choreography by Sir Frederick Ashton
American Ballet Theatre
Metropolitan Opera House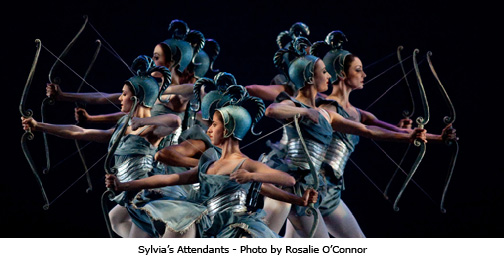 From the opening moments in the Sacred Forest, I was reminded that Sylvia and her Attendants occupy a unique role in classical ballet. It's not often that we see a woman depicted as being fierce and self sufficient, in command of a weapon and well aware of her power. As Polina Semionova danced the role of Sylvia, she struck the perfect balance of courageous huntress and beautiful young woman — feminine in her courage and power. In Act I, she repeatedly raises her fist in celebration of a successful hunt, and as a display of her strength. At the same time, the sweetness of her face and the girlish grace of her movement remain in evidence.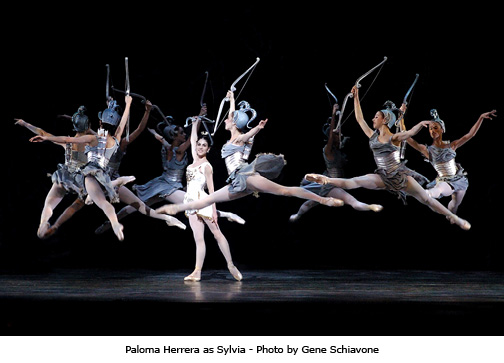 There were lovely moments in the Act I ensemble dances. Each man wraps a garland around his partner's waist. Each man lights on one knee and holds his partner on his back in a boat lift. There is a lovely closing gesture in which the partners fold over on each other. Their powder blue costumes create a lovely haunting atmosphere against the sets of the woodlands.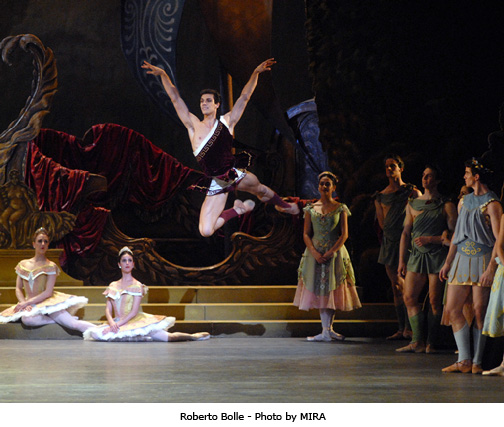 Roberto Bolle is manly and gallant as Aminta, humble in his expression of love, yet powerful enough to hold his own among the ensemble of women who travel with their bows and arrows. His movement is every bit as lush as the gorgeous Léo Delibes score.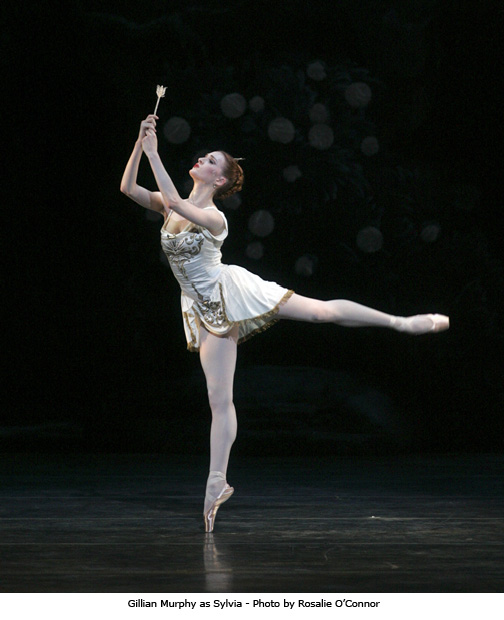 When Sylvia's helmet is removed, her fierceness becomes eclipsed by her softness and femininity. It is in the moments after Eros casts his spell on Sylvia and she falls in love with Aminta that Semionova is at her most moving. With only the smallest, most understated gestures, softly flicking her hands, gently staggering forward, clinging to the arrow that Eros had aimed at her, she displays her grief and her heartache. It is such a stirring passage.
Jared Matthews is cool and self-possessed as the evil Orion. As he attempts to seduce Sylvia in Act II, she's clearly in control, yet Matthews' Orion is not acknowledging it, and soldiering on with complete confidence that he will win her as his lover. The bass and the drum take over and Julio Bragado-Young and Kenneth Easter, as Orion's slaves, perform a rhythmic comic dance. Semionova's Sylvia remains poised and focused on her goal of tricking Orion and escaping his cave. She portrays Sylvia as being clever and intelligent even in flirtation — her movement is all ballerina grace, charm and allure, but at the same time, she carries the attitude of the triumphant hunter.
Act III is a display of splendid pageantry at the Temple of Diana. There are processionals with men carrying golden statues of Bacchus. Colorful skirts swirl and the company dances reels and ensemble dances. Sarah Lane and Joseph Gorak, as the Goats, clearly an audience favorite, nearly stole the show. Bolle makes a triumphant entrance carrying Semionova in a dramatic and very high lift. Both were brilliant in their solos and pas de deux — they have wonderful chemistry as partners and their dancing seems effortless. An enormous and prolonged outburst of cheers went up from the very appreciative audience at the end of the pas de deux.
Leann Underwood was captivating in her final scene as Diana. She carries herself with such authority in the closing moments of the story. There is an earthiness and a seriousness to her decision that is just arresting. It created great tension, which is so beautifully resolved at the end of the story. A lovely production.