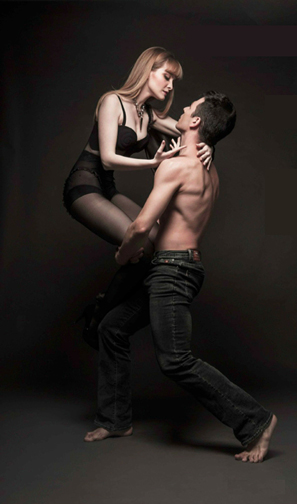 Italian International Dance Festival
October 24, 2014
Julia Richman Theater
.
The Italian International Dance Festival presented an abbraccio dell'arte (embrace of art) featuring dance companies from Italy and New York which are directed by Italian artists. The festival's Artistic Director Antonio Fini and Creative Director and host Tabata Caldironi presented a delightful program of folk dances, contemporary ballet, jazz and musical theater.
.
Tarantella, opened with an intense solo danced by Fini, who also choreographed the piece. His tambourine rattles with passion and urgency as he sinks to his knees and arches his back. The program notes tell us that according to Southern Italian legend, the bite of a spider or the bite of love could kill a person. To rid yourself of the poison, you have to "dance, dance, dance and dance". The tenth grade students of Talent Unlimited High School join Fini for a festive folk dance. Their hair is down and they are barefoot, dressed in swirling white skirts. The girls are fresh faced and smiling, the very image of young love. It was delightful to see the many ways that each one brought her own unique expression to the choreography. They seemed to tell so many different stories. Wonderful!
.
Fini returned in Dancing with Noa, a very moving pas de deux danced with Noa Guy, a woman of sixty who'd been partially paralyzed in a car accident. The piece employs creative movement in shifts of weight, floor work, gorgeous lifts and turns, and swooping falls. The dance captures what is universal in movement — it can still be so expressive, even when it comes in an unfamiliar or unpredictable fashion. The closing moments are especially dramatic — Ms. Guy is stock still, being held upside down by Fini, her long white hair fanned on the floor as her feet point toward the heavens.
.
Michael Mao choreographed Song of Helena for students and dancers of Staten Island Ballet. It's a lyrical contemporary piece, set to Gorecki's Symphony of Sorrowful Songs, telling the story of a young woman in Poland incarcerated by the Gestapo during World War II. On the wall of her cell, she wrote a note to her mother telling her that that the Immaculate Queen of Heaven supported her, and that her mother needn't cry. The dancers wear long white dresses. At times they seem like angels weaving through formations and encircling one central character. Or maybe they are fellow inmates collectively resigned to their fate. The ballet movement is haunting and lovely with expressive port de bras and luxurious unfolding extensions. The closing moments remind me of Balanchine's Serenade. Instead of one girl arching toward heaven, the dancers rest on the floor as one walks into the distance, toward her fate.
.
Antonio Fini wowed the audience with Gym-Me, a comic look at the antics of gym rats. Dressed in workout clothes down to the sweatband around his forehead, he trains fanatically, stretching, planking, doing crunches. He flexes and runs laps and makes a huge display of how hard he's working. Then comes the posing, down to kissing his own biceps. Very entertaining.
.
It was a thrill to see none other than Edward Villella appearing on stage to accept a Lifetime Achievement Award. His list of accomplishments is dazzling, from his career as principal dancer with New York City Ballet, to Artistic Director of Eglevsky Ballet and Oklahoma City Ballet, to his founding of Miami City Ballet. At 78 he remains fit, handsome and charming. He received a standing ovation as Mr. Fini and Ms. Caldironi presented his award.
.
SLK Ballet performed Amaciza (Italian for 'friendship'), choreographed by Sara Knight, to music by Inti-Illimani. It's a jubilant ballet with a folk flavor, danced with hair down and bare feet. The dancers kick up their whirling white skirts and perform festive turns with their hands reaching skyward. This dance has a wonderfully joyous atmosphere and the dancers were just lovely.
.
Dancer Alessandra Corona has something so special — you feel it from the first moments that she steps on to the stage. Antonio Fini partnered her in a romantic pas de deux from Dinner With Friends, Ms. Corona's new production, which will open in Rome in November. She is riveting as her back arches and she ascends into a high lift. There is something girlish and innocent in her movement, along with a strong expression of passion. It was a pleasure to be introduced to her work. She was recipient of the Extraordinary Dancer Award from the festival.
.
Jazz great Luigi was honored in Jazz Tango, performed in smooth style by Dianna Folio and Joey Doucette. Ms. Folio's Homage to Luigi featured three electrifying young men. The dance begins by chronicling the exercises of the jazz class. As it opens up, we see travelling floor work that evolves into some iconic phrases from great old Hollywood films. The boys perform spectacular silent leaps. Their technique is so clean and they move with great flair.
.
The evening closed with a musical theater performance — excerpts from a show that is about to open in Italy called La Sposa in Blu (The Blue Bride.) The show stars famous Italian drag queen Platinette, who comes home to find that her home has been burglarized. It was tough to follow the story, given that the entire production is in Italian, but the performance of the songs was quite rousing and Samantha Fantauzzi was especially captivating in the role of the neighbor. Platinette is a wonderful comic who later opened her arms, looked toward the sky and expressed gratitude to Joan Rivers.
.
Bravo to Mr. Fini and Ms. Caldironi for bringing this evening of Italian culture to New York City. Mr. Fini's Alto Jonio Dance is offering a Summer Intensive in Italy in 2015. Visit the festival's web page for further information.